Fri. April 4 -- Joe Baiza's Mecolodiacs get bluespunkfunky (10:15pm); Very Be Careful rock the Brazilian riddims (11:30pm). At Café NELA, 1906 Cypress Ave., Glassell Park 90065; beer & wine.
Fri.-Sun. April 4-6 -- Rachelle Ferrell is a singer beyond jazz and beyond just about everything. Read my review from a show last year here. At Catalina Bar & Grill, 6725 Sunset Blvd., Hollywood 90028; 8:30 & 10:30pm; $30-$40; (323) 466-2210; www.catalinajazzclub.com.
Sat. April 5 -- Putting on any Sun Ra record can put you in contact with our universal pre-human alien ancestors, and seeing his theatrical sorcery works even better. Though Ra died in 1993, we can still experience his image exactly 100 years after his birth in vibrational documentaries such as "The Magic Sun" (1968), "Space Is the Place" (1974) and "A Joyful Noise" (1980), all of which screen this afternoon, accompanied by a lecture from Loyola Marymount's Dr. Adilifu Nama. At the Allendale Branch Library, 1130 S. Marengo Ave., Pasadena 91106; 2pm; FREE; www.pasadenapubliclibrary.net.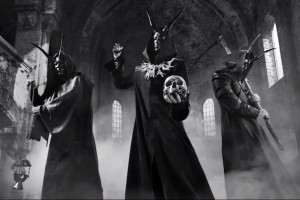 Sat. April 5 -- Nergal, vocalist-guitarist of Polish death dealers Behemoth, bounces back from leukemia with a triumphant new album and tour; read my review of the band's finely wrought new "The Satanist" here. With lurching modernism from New Orleans' Goatwhore, plus 1349, Inquisition, more. At House of Blues, 8430 Sunset Blvd., West Hollywood 90069; 7pm; $28; (323) 848-5100; www.livenation.com.
Sat. April 5 -- Madonna's guitarist Monte Pittman closes a bill featuring two seriously excellent '70s hard-rock throwbacks, Holy Grail and Gypsyhawk, plus Selanum, Echoed Silence, Vlad the Impaler. At the Whisky, 8901 Sunset Blvd., West Hollywood 90069; call for time and price; www.whiskyagogo.com; (310) 652-4202.
Sat. April 5 -- Dio drummer Vinny Appice, Pantera bassist Rex Brown, singer Dewey Bragg and guitarist Mark Zevon are Kill Devil Hill, haulin' the heavy rock freight. All Hail the Yeti and Black Map open. At the Viper Room, 8852 Sunset Blvd., West Hollywood 90069; doors 8:30pm; $15; (310) 652-7869; www.viperroom.com.
Sat. April 5 -- This month's surreptitious corruption of little kids via weird sounds offers Sarah Peterson and Karen Adelman, doing vocal-oriented concepts and installations. You can't spank your tots? These women are multidisciplinary aritists. "Soundspark," a SASSAS presentation at the Children's Theater in West Hollywood Library, 625 N. San Vicente Blvd., West Hollywood 90069; noon; FREE.
Sun. April 6 -- Might be worth a couple of C-notes to express your appreciation for Jazz Bakery founder Ruth Price when she's honored at a fund-raiser for the California Jazz Foundation. Sweetening the pot is music by a battalion of the best: Jimmy Heath, Tootie Heath, John Clayton, Jeff Clayton, Billy Childs, Gerry Gibbs, John Beasley, Tony Dumas, Dwight Trible and a bunch more Ruth fans. At the Hyatt Regency Los Angeles Downtown, 333 S. Figueroa St., downtown 90071; 4:30-10pm; get $200 tickets here or call (818) 261-0057.
Sun. April 6 -- Jazz baroness Mimi Melnick presents a tribute to the late bandleader and community activist Horace Tapscott on the occasion of what would have been his 80th birthday. The band's loaded with Tapscott vets: bassist Roberto Miranda (who'll also talk about the boss at 1pm), saxist Michael Session, drummer Fritz Wise, poet Kamau Daáood, plus pianist Bobby West and altoist Tracy Caldwell. Gonna be tumultuous. At the Mayme Clayton Museum, 4130 Overland Ave., Culver City 90230; music 2pm; $20 tickets here; limited seating; (310) 202-1647.
Sun. April 6 -- Traditionally rooted guitarist Anthony Wilson keeps tapping his conceptual side (songs about places) with his revolving The Curators band, this time enlisting keysman Larry Goldings, drummer Mark Ferber, violinist-singer Petra Haden and bassist Gabe Noel. This one's at a spectacular South Pasadena home, and admission includes a flight of wines personally selected by Mr. Wilson. A presentation of the Pasadena Conservatory of Music; 4pm; $50; visit here to buy tickets and learn the address.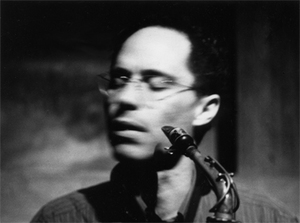 Sun. April 6 -- Acclaimed multiwind genius Ned Rothenberg spends a lot of time in New York and precious little in L.A., so grab your chance to let him blow your fragile mind with his Einsteinian solo improvisations. That'd be enough, but you also get the electro-conceptual abstract Emily Hay Trio, featuring the flutist-vocalist and sympathetic old pals Wayne Peet (keys) and Steuart Liebig (bass), for the same low, low price, with free delivery from the stage to your ears. At Center for the Arts, 2225 Colorado Blvd., Eagle Rock 90041; 7pm; $10; (626) 795-4989.
Mon. April 7 -- Ned Rothenberg is back with a superlative ensemble of equals: New York avant legend Marty Ehrlich, the gods' drummer Alex Cline, and cosmobeat guitarist G.E. Stinson. At the Blue Whale on the third level of Weller Court Plaza, south of East First Street between South Los Angeles Street and South San Pedro Street, Little Tokyo 90012; 9pm-midnight; $10; parking $5 underneath off Second Street at the sign of the P in a circle; (213) 620-0908; www.bluewhalemusic.com.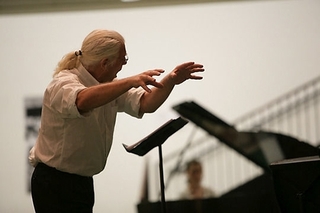 Wed. April 9 -- The 40-piece Vinny Golia Large Ensemble is a very special outlet for the multiwindman's oozing, twisting, tripping, exquisitely colored modern-symphonic compositions. An infrequent and highly recommended display. At REDCAT, 631 W. Second St., downtown 90012; 8:30pm; $25 (students $20); www.redcat.org.
* * *
Read Don Heckman's jazz picks here and MoshKing's metal listings here. Read John Payne's plutonic Bluefat.com here.