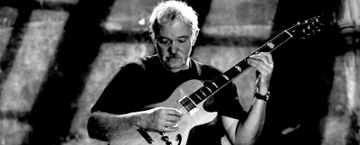 A parade of riches and sincere obeisance. Guitar icon Jim Hall was supposed to center this multiguitarist tribute, then, last December, he died at age 83. His wife, Jane, attended at least the Sunday I was there, receiving fond acknowledgments aplenty. Drummer Joey Baron (whisking groove) and bassist Scott Colley (intuitive walk & decisive counterpoint) flexibly supported all the pluckers, who were parceled out over three nights and six sets; tribute notables I did not hear included guitarists Bill Frisell and Nels Cline, and saxists Chris Potter and Greg Osby.
John Abercrombie (pictured), an ECM Records perennial and ideal representative of Hall's tasteful adventure, introduced the proceedings. Twitching his trademark white Fu Manchu mustache, he recalled how his youthful head had been turned around like Linda Blair's by two examples: Scotty Moore with Elvis, and Jim Hall on Sonny Rollins' "The Bridge." He told the story of a gift he once received from Hall: two guitar picks and two 10-franc coins. "It's the least I could do," read the note, "and I did."
Revisiting a quiet "I Hear a Rhapsody," Abercrombie demonstrated Hall's skill at doing less. Each second, he walked the ledge of invention, choosing an unlikely note, giving it context, sliding it into a natural ebb & flow with his distinctive peachfuzzy treble tone. You can't teach that.
The event's format provided that a guitarist would play a tune, be joined by the second guitarist, then the first guitarist would leave the stage to the second, who would be joined by a third after a song, and so on. Next up, the metronomic style of Chris Potter ally Adam Rogers on the Sergio Mendes waltz "Some Time Ago" contrasted with the rhythmic spontaneity of Abercrombie, but they made it work. Although Rogers' own fleet, aggressive statement on "For All We Know" whipped up the crowd, it was the least Hall-marked span of the evening.
Pianist Bill Charlap, on the other hand, called up the spirit of Hall while also sparking the whole history of jazz, from stride to Tyner. Although I've dug his recordings for ages, I was knocked out by his live excitement and engagement. Moving into a sensitive mood, he tried to hush Baron's traps with eye contact; Baron wouldn't hush, but Charlap rolled with it. When Satoshi Inoue hunched over his guitar to fire off bluesy slides and gentle bursts of soul on "All the Things You Are," Charlap looked for a comp opportunity, couldn't find one, smiled with admiration and eased the lid of his keyboard shut -- only to open it minutes later for some beautifully spare plinking in duo with Inoue as Baron and Colley laid out; he ended his stint with dense, intense drama. Inoue's subtle interpretation of Jane Hall's complexly chorded ballad "The Answer Is Yes" had us all feeling it.
Russell Malone plucked slick & concise on the lilting "Beija-Flor" ("Hummingbird"). Then pianist Gil Goldstein and guitarist Julian Lage, the most modernistic musicians in the first set, got Monkishly rambunctious and bluesy while retaining the flavor of Jim Hall wholeness.
We had to split without hearing Nels Cline, who walked in between sets wearing one of his outlandish ties just as we were leaving. S'okay, dude; we'll catch you when you join Medeski Martin & Wood in L.A. next month.