Fri. May 2 -- Here's my theory on why Mastodon have been adopted for crossover recognition (they get wider press; they got signed to a major label; they've played Coachella), while comparable prog-metal bands such as Between the Buried and Me or Cephalic Carnage stay underground. 1) Paul Romano's gold-leaf CD covers on their first four albums grabbed the eye. 2) They've done a bunch of concept albums, and critics like that. 3) They broadened their fan base by adding clean vocals. 4) Although their songs are often delivered in suites, individual cuts tend to be short. 5) They keep delivering intelligent, passionate, well-crafted product, and not excessively often. Their success certainly ain't based on their looks. Mastodon are supported tonight by heavy-drifting Frenchies Gojira, plus Kvelertak. At Club Nokia, 800 W. Olympic Blvd., downtown 90015; 7:30pm; $25-$35 (sold out unless you threaten the right sucker); www.clubnokia.com.
Fri. May 2 -- Guitarist Jon Schaffer's Iced Earth have been cranking the heroic melodic metal for some 30 years. Supporting: Sweden's Sabaton, the band most likely to inspire glorious tribal swillin' & stabbin'. Plus Revamp. At House of Blues, 8430 Sunset Blvd., West Hollywood 90069; 6:30pm; seems to be sold out, but check in; (323) 848-5100; www.livenation.com.
Sat.-Sun. May 3-4 -- Fusion's sharper edges get honed by contrasting veteran guitarists Michael Landau and (making a rather rare L.A. appearance) Wayne Krantz. They got Jimmy Johnson on bass and Gary Novak on drums, too. At the Baked Potato, 3787 Cahuenga Blvd. West, Studio City 91604; 9:30 & 11:30pm; $30; (818) 980-1615; www.thebakedpotato.com.
Sun. May 4 -- You like different, right? Barnett Band gives it to ya with poetry and avant jazz and the extreme vocals of Bonnie Barnett, abetted by windman Richard Wood, bassist Hal Onserud, drummer Garth Powell and cornetist Dan Clucas, topnotchers all. And you mighta thought you knew what an acoustic guitar sounded like until you hear the quiet genius of Jim McAuley's Gongfarmer, featuring bassist Mary MacQueen, windman Andrew Pask and drummer Alan Cook. Original! At Center for the Arts, 2225 Colorado Blvd., Eagle Rock 90041; 7pm; $10; (626) 795-4989.
Sun. May 4 -- You can really hear the richness of those country harmonies when I See Hawks in L.A. go acoustic. Paige Anderson and the Fearless Kin open. At the Coffee Gallery Backstage, 2029 N. Lake Ave., Altadena 91001; 7pm; $18; reservations (626) 794-2424; cash or checks only; no booze; www.coffeegallery.com.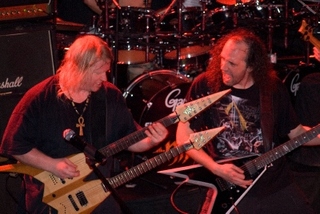 Tues. May 6 -- Technical metal imagination gets no more distinctive than Egyptophile Karl Sanders and Nile, whose 2012 "At the Gate of Sethu" communicates more clearly than anything from their previous catalog. A "Book of the Death" thing, you might say. At House of Blues, 8430 Sunset Blvd., West Hollywood 90069; 8pm; $18; (323) 848-5100; www.livenation.com.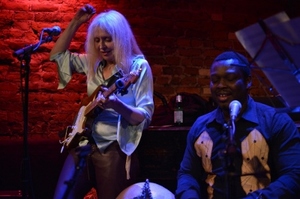 Wed. May 7 -- Though Leni Stern's career has diverged considerably from that of her old ally Wayne Krantz (see Fri.-Sat.), they share a similar delicacy in the way they pluck electric guitar. Tonight with her telepathic African Trio (bassist Mamadou Ba, hand drummer Alioune Faye), Stern will investigate some of the music from her current "Jellel," a quiet marvel that can make you tap your foot and get lost in the rhythmic complexity and incredible variety of the country she's been calling a second home for close to a decade. Stern knows where the blues comes from, so you'll hear that and probably a bit of fusion -- this is the B.P., after all. She's developed into an ace on the little stringed n'goni, too, and her voice always gets inside your head. In many encounters with Stern, I've never seen an audience anything but enthralled. At the Baked Potato, 3787 Cahuenga Blvd. West, Studio City 91604; 9:30 & 11:30pm; $20; (818) 980-1615; www.thebakedpotato.com.
Thurs. May 7 -- You never know what you'll get from The Nels Cline Singers, but with Scott Amendola on drums, Trevor Dunn on bass and Cyro Baptista on percussion, there will surely be some breakaway grooves to attend the chameleonic guitarist's passionate noise-inflected rips. You want a blast of something wild, try this. The singerless Singers have a new record, "Macroscope," and Cline also just dropped a jam with Medeski Martin & Wood, "The Woodstock Sessions (Vol. 2)." At Largo in the historic Coronet Theater, 366 N. La Cienega Blvd., L.A. 90048; 8:30pm; $30; (310) 855-0350. www.largo-la.com.
* * *
Read Don Heckman's jazz picks here and MoshKing's metal listings here. Read John Payne's plutonic Bluefat.com here.