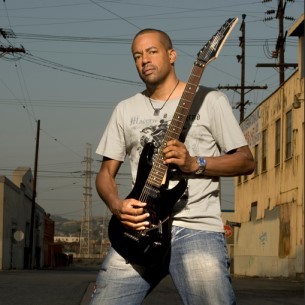 Sat. May 31 -- The CAB tradition of extreme fusion continues with a now-inaccurate acronym but with the same standards of musicianship: blazing guitarist-keyboardist Tony MacAlpine, bassist Bunny Brunel and drummer Sam Aliano. At the Baked Potato, 3787 Cahuenga Blvd. West, Studio City 91604; 9:30 & 11:30pm; $25; (818) 980-1615; www.thebakedpotato.com.
Sat. May 31 -- Long Beach? Chicken? Waffles? Jazz? Booze? Can't beat the star post-Trane quintet of Miles tenor menace Azar Lawrence, with Grammy-hoarding pianist Billy Childs, Weather Report drummer Alphonse Mouzon, trumpeter Nolan Shaheed and bassist Jeff Littleton. At Roscoe's Seabird Jazz Lounge, adjacent to Roscoe's Chicken & Waffles, 730 E. Broadway, Long Beach 90802; $15; 9pm-1am; (949) 680-5705; www.seabirdjazzlounge.com.
Sun. June 1 -- Europe's where the international jazz avant took root, and where it's maintained strength as nowhere else. Tonight you get proof from Italian soprano saxist Gianni Mimmo and Brit violinist Alison Blunt, joining forces with S.F. bassist Lisa Mezzacappa and eternal L.A. wind genius Vinny Golia. Opening is the spontaneous trio of Michael Vlatkovich (trombone), Anna Homler (creative vocalizations, accessories and mythologies) and Rich West (timbrally conscious drums). At Center for the Arts, 2225 Colorado Blvd., Eagle Rock 90041; 7pm; $10; (626) 795-4989.
Sun. June 1 -- I See Hawks in L.A. contribute their virtuosity and rebellious post-traditional viewpoint to "The Grand Ole Echo," starting at 3pm with The Fontaines and proceeding through Ashleigh Flynn, Jimmer (Podrasky of the Rave-Ups, I'm guessin') and The Chapin Sisters until the Hawks fly at 7. At the Echo, 1822 Sunset Blvd., Echo Park 90023; FREE; (213) 413-8200; www.attheecho.com.
* * *


Read Don Heckman's jazz picks here and MoshKing's metal listings here. Read John Payne's plutonic Bluefat.com here.