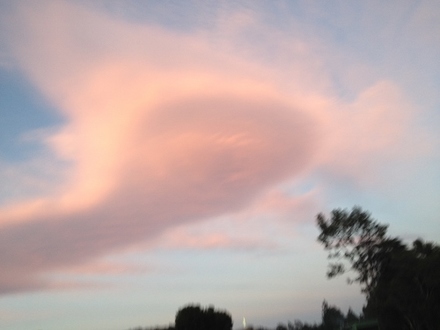 As the sun set just before the show, its rays lit up surreal orange-pink cloud formations above the Bowl: a supergigantic cockroach and comparable tarantula, dueling in the blue. A brisk breeze smoothed out the outlines, until the creatures became two butt cheeks. No, I was not smoking anything. Speculations: 1) God was commenting on Black Sabbath's choice to schedule a major show for the Jewish Sabbath. 2) God was giving us something to look at on the 500th anniversary of Copernicus' first observations of Saturn. 3) Ozzy has found a way to moon us FROM THE HEAVENS. (Black Sabbath does have a classic song titled "Hole in the Sky.")
The overhead display generated a festive mood that diminished not at all during the full-on opening set of Reignwolf. Jordan Cook began his career in Saskatoon, Canada, as a one-piece: himself on guitar and simultaneous drums. He got discovered in Seattle a couple of years ago, expanded to a two-piece, and Reignwolf opened for Black Sabbath as a trio for all the dates of the North American tour of which tonight was the last. (Do I sense the hand of Jack Osbourne?)
Cook has fragments of 1969 (Sabbath's first year as such) all over him. He tossed his guitar like Pete Townshend, cranked distorted riffs like Jimi Hendrix, belted like a more crazed Paul Rodgers. More than anything, Reignwolf bashed like Taste, the heavy blues-rock trio Rory Gallagher fronted before he went solo. Although Cook lacks the ax chops of his inspirations, he's got hair, high intensity, megawatt charisma and a helluva voice. Glad he's employing a bass player; power rock never sounds full without one. And I guess he can now lose his personal kick drum, which in current context seems gimmicky. This kind of midtempo rampage rings fresh again two generations after the fact; crucially, the sold-out, Sab-hungry crowd dug it. No album yet, even! Just a couple of tunes downloadable.
All us old followers were mumbling about what Black Sabbath would sound like live without the exiled Bill Ward, one of the all-time drum monsters. Last year's "13" album enlisted Rage Against the Machine's Brad Wilk, whose big thump worked fine. Sab have been touring, though, with Tommy Clufetos (Ozzy, Ted Nugent, Alice Cooper, Rob Zombie), and we itched to scope him out.
Ozzy cackled from offstage, the de rigueur siren wailed, the high-hat ticked into the two-note hammer-hit of "War Pigs," and we were all singing along in the ecstatic party revolt that is Black Sabbath, so we didn't want to think about changes, but let's fast-forward through Clufetos' whole contribution to the evening. He had long wavy hair, a headband, a beard and no shirt, all like mid-'70s Bill Ward. He was also a third as wide as the thinnest Ward. Ward was about gravity, forward motion and second-to-second spontaneity; Clufetos was about precision, quickness and tensile strength; his stunning drum solo on "Rat Salad" whipped like a tornado of tennis balls, not a Wardian typhoon of crankcase sludge. Two entirely different approaches, but Clufetos understood Sabbath's need for jazz and eagerly supplied it. He didn't plow as heavy/scary as Ward; no one can. We respected him on his own terms.
This was the fourth time I've seen the Ozzy version of Black Sabbath live, following Spokane 1972 and Ozzfest San Bernardino 2001 & 2004. And it's finally dawning why they don't like being called heavy metal: because they're a progressive rock band that happens to play heavy riffs. I was driving across Washington in 1971 when I first experienced the dark weirdness and multiple tempo changes of "Iron Man," and it nearly made me veer into Moses Lake. Heaviness alone could not have done that.
This Bowl night as every night, Geezer Butler (originally a guitarist) thrummed finger bass like three musicians, giving Sabbath's bigness depth and movement. Tony Iommi's guitar not only cut and shredded, it nailed the rhythmic axis, the band switching segments with such ease that we hardly noticed their skill. What made them stand out in 1970 and what kept us coming back was more than their riffs, it was their sense of adventure. When some early-'70s critic called them "four really dumb guys," he was just saying, as so many penheads did and still do, that Sab weren't Byron, and that he himself, an educated American hippie, could not grow ears to absorb the industrial clangor that inhabited the brains of young working-class Brummies. Critics called Led Zeppelin and Grand Funk dumb, too. Insert last laugh here.
Again I noticed new things about this band. For instance, "Black Sabbath," with that line "Find out I'm the chosen one," is about the universal prehistoric practice of sacrificing selected youths -- think Iphigeneia -- to appease the gods. As the slaughter continues, such racial memories keep their resonance; thank you, lyricist Butler. I also zeroed in on the atmosphere Sabbath generates: a "master of reality" suspension of time and place that lets us connect with the "spiral architect" (DNA) and travel "into the void." I mean, they rock.
Here in Ozzy's second home (a region where every member has lived at some time), we received a longer set than Sabbath has been playing on most of this tour. "Fairies Wear Boots," "N.I.B." and "Children of the Grave" were more familiar than our own teeth, but we were glad to get 'em. The omission of "Sweet Leaf" was understandable given the Bowl's weed-unfriendly policy, though security applied little heat. The proggy "Under the Sun" (from "Vol. 4") made for a smart injection of less familiar material.
Sab pumped max confidence with the inclusion of three selections from last year's ironclad "13": "Age of Reason" (Iommi's solo caught fire), "End of the Beginning" (doom incarnate) and "God Is Dead?" (Ozzy's moan sounding genuinely troubled). Although Ozzy often approximated pitch rather than skewering it, his very presence riveted 17,000 yobs -- few singers come close to that kind of command. After 45 years, this band is still growing. Filled up an old fan's heart, it did, especially when Ozzy told us we were (sob) special. Can't blame us if we believed him.
Keeno laserwork shot through the Bowl, sparkling the trees behind the back rows; fireworks banged and burst at the end. Satisfying music, big spectacle, emotional release. As a friend said, "Nothin' wrong with THIS."
PHOTO BY FOZZY BARK.