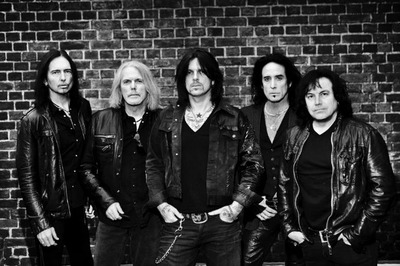 Q: What's the difference between retro and rooted? A: Growth. This '70s/'80s-oriented rock night dealt out two retros and one rooted. It also made points about the value of a star front man.
L.A.'s Stonebreed opened with a set of heavy roadhouse rock that nailed 1976 and stayed there. It had proficient, energetic guitarists almost old enough to remember, decent riffs, and a strong young drummer with buff pecs and no shirt. It also had a singer of modest ability, covered with skulls, striving cheerfully to engage the customers gnawing steaks at tables (a tough order), in one song telling his girlfriend she'd miss him when he was gone, and in another begging her to save him. We weren't drunk enough for that yet.
Okay, then Black Star Riders. Background: '70s-born Thin Lizzy, known for its twin guitars, rock jigs and "The Boys Are Back in Town," lost its sweating, magnetic Irish front man and bassist, Phil Lynott, to drugs in 1986. Lizzy guitarist Scott Gorham kept the brand alive for ages without adding new material. Then he and some of his recruits started writing songs, and he saw that it was good. So he started Black Star Riders, and they made a superfine Lizzyesque album last year. Although strong albums don't always make for strong live shows, this show was real, real strong.
A lot of it came down to the Irish singer, Ricky Warwick, formerly of the Almighty. Having heard his growl and seen his picture, I was expecting a big guy. Instead, here was this wiry, tattooed little terror in a kerchief headband, looking like Stiv Bators and absolutely commanding center stage. When he told us to sing along or get out of our damned seats, we f*cking well did it.
Plus, you know what Black Star Riders showed? Personality. Gorham, once an overhandsome Cali surfer, pulled off a wizardly look, his goatee and long white hair undyed; it was swell to see him give Warwick props and a sincere bear hug. Skinsman Jimmy DeGrasso thundered gleefully through his huge kit, keeping up what seemed like one unremitting drum roll as he snapped an authoritative beat. Veteran bassist Marco Mendoza, his arms cut like a gym rat's, continued to rivet the chicks at age 51 (nice pogoing to the Celtic riddims, too). Rapt with eyes skyward like some ecstatic poet, lank-haired Damon Johnson drifted around the stage whilst whipping out razor leads and locking in with Gorham on the many dual-guitar riffs.
BSR shuffled the tunes evenly between new numbers and Lizzy classics, losing no momentum during the less familiar material for two reasons: 1) The high-caliber tunesmithing meshed perfectly with tradition; 2) Warwick's rabble-rousing patriotism and streetmate lyrics updated the passionate Lynott aesthetic to today's less sentimental and more desperate attitudes. BSR's contributions included "All Hell Breaks Loose," "Bloodshot," "Hoodoo Voodoo," "Kingdom of the Lost," "Hey Judas" and "Bound for Glory." The Thin Lizzy hit parade compiled "Are You Ready?," "Bad Reputation," "Jailbreak," "Rosalie," "Emerald," "Whiskey in the Jar," "Cowboy Song" and "The Boys Are Back in Town," all delivered and received with relish.
This is a band with a future.
Skid Row rocked, sounding punkier than their glam-metal pigeonholing despite Dave Sabo's supertechnical guitaristics -- maybe a blurry sound mix encouraged that impression. Good for them for continuing to knock out new records long after parting from singer Sebastian Bach, but both parties lose by the separation: The Skidmen can't replicate the chemistry they generated with Bach's chill/manic virtuosity and eye-sucking stage presence; and I dunno who wrote the sometimes artful words in Skid Row (bassist Rachel Bolan?), but Bach tends to wax platitudinous when left to his own notepad.
Anyway, "Piece of Me" still dug a groove like a steamshovel, "18 and Life" remained a lovely piece of schlock, "Psycho Therapy" battled the Ramones for turf, and the 2003 rockrumbler "Thick Is the Skin" (created with current singer Johnny Solinger) made a case for Skid Row's continued vitality. Moving forward, though? Not exactly.