Fri. July 18 -- With a résumé ranging from Archie Shepp to Hampton Hawes, veteran bassist Henry "The Skipper" Franklin has the technique to excite and the seasoned band of post-boppers to make it a festival. At LACMA, 5905 Wilshire Blvd., LA 90036; 6-8pm; FREE; Friday summer jazz schedule here.
Fri. July 18 -- They roil, they blast, they jam: Chilis drummer Chad Smith and Bombastic Meatbats, featuring guitarist Jeff Kollman, keyboardist Ed Roth and bassist Kevin Chown. At the Baked Potato, 3787 Cahuenga Blvd. West, Studio City 91604; 9:30 & 11:30pm; $31 (first set sold out); (818) 980-1615; www.thebakedpotato.com.
Sat. July 19 -- The Summer Slaughter Tour presents an exceptional metal marathon with technical extremists Morbid Angel, death raspers Dying Fetus, prog extenders Faceless, spasmodic devils Goatwhore, plus Thy Art Is Murder, Origin, Decrepit Birth, Within the Ruins, Fallujah. At House of Blues, 8430 Sunset Blvd., West Hollywood 90069; 2pm; $31; all ages; (323) 848-5100; www.livenation.com.
Sun. July 20 -- For grungy American black metal sans the church-burning Euro connotations, try Olympia's excellent Wolves in the Throne Room. With Volahn, Nommo Ogo. At the EchoPlex, 1154 Glendale Blvd., Echo Park 90026; 8pm; $15; all ages; www.attheecho.com.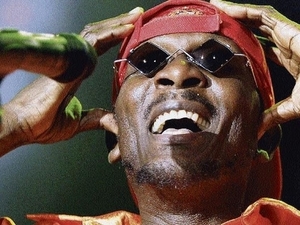 Sun. July 20 -- Jimmy Cliff had many rivers to cross before he got reborn with 2012's acclaimed "Rebirth," but here he is to deliver the classic roots & ska and lilt his latest hit, "I've Got One More Bullet in My Gun, So Bite My Black Rod, Hollywood Posers." The album also has a hoppin' tune called "Bang," and he covers the Clash's "The Guns of Brixton." Do you sense a theme? And: Though dancehall tends to leave me bored and sweaty, I have a soft spot for the gritty growl of Shaggy. Plus Don Carlos & the Dub Vision Band. At the Hollywood Bowl, 2301 Highland Ave., Hollywood 90068; 7pm; $39-$108; (323) 850-2000; www.hollywoodbowl.com.
Sun. July 20 -- Cellist Jacob Szekely peels out with a challenging yet beautiful trio featuring omni-pianist Josh Nelson and drummer Christopher Allis; grab their quite original CD, and if you don't like it I'll buy it off ya. At the Blue Whale on the third level of Weller Court Plaza, south of East First Street between South Los Angeles Street and South San Pedro Street, Little Tokyo 90012; 9pm-midnight; $10; parking $5 underneath off Second Street at the sign of the P in a circle; (213) 620-0908; www.bluewhalemusic.com.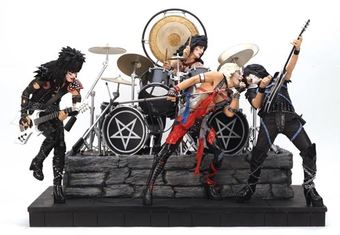 Mon. July 21 -- I actually believe this is Motley Crue's "Final Tour," not because they hate one another (who doesn't?), and not because this original lineup is their only possible option (they've played with a different singer and a different drummer), but because these heavy glamsters would never quite cut it without guitarist Mick Mars, and well into his 60s, virtually immobilized by a nasty bone condition, this cruel-toned, perfect-grooving axman is not likely to be hitting the stage again at the usual five-year superstar interval. Alice Cooper, on the other hand, could still be staging "No More Mr. Nice Guy" when he's 97. At the Hollywood Bowl, 2301 Highland Ave., Hollywood 90068; Fri. 8pm, Sat. 7pm; $50-$480; (323) 850-2000; www.hollywoodbowl.com.
Thurs. July 24 -- Joe Baiza's Mecolodiacs (9pm) and Paul Lacques' Double Naught Spy Car (10pm) duel to the death in a fearsome exhibition of individualistic guitar flashery; David Dominique & Friends close at 11pm. At Café NELA, 1906 Cypress Ave., Glassell Park 90065; $10; beer only; 21+; www.cafenela.net.
Thurs.-Sat. July 24-26 -- I know bassist Ron Carter made great recordings with Miles Davis and Eric Dolphy and many other giants in addition to his own slabs, but they really oughta tell us who's in his durn trio. At Catalina Bar & Grill, 6725 Sunset Blvd., Hollywood 90028; 8:30 & 10:30pm; $25-$40; (323) 466-2210; www.catalinajazzclub.com.
* * *
Read Don Heckman's jazz picks here and MoshKing's metal listings here. Read John Payne's plutonic Bluefat.com here.