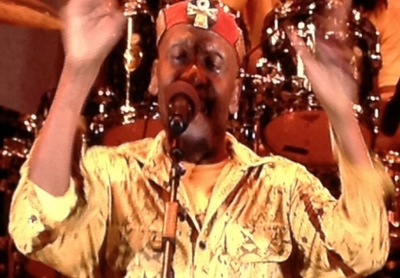 Folks who consider reggae a peaceful monolith shoulda dug this year's Reggae Night at the Bowl. The stylistic divisions ran about as harsh as the Israel-Gaza border; we half expected rocket fire.
The war began calmly with lanky graybeard dreadlocker Don Carlos, who inspired envy with his humidifying vocal riddim, his loose-limbed locomotion and his spectacular white brocade suit. White also was the former Black Uhuru singer's entire seven-man band -- unemployed journalists? The guitarist, playing through two Marshalls, was inaudible, the beat a bit stiff; righteous horn section, though. Don Carlos rolled us into an unvarying ganja trance (nice touch that the Bowl hired a braided black chick to shake down the early smokers), and we were swaying just right.
Then the revolving stage rotated, and with hardly a breath's transition, Shaggy busted out the grenades. Now, I remember Shaggy (who moved from Jamaica to Brooklyn at 18) as a sweat-it-up '90s dancehall dude, but live in 2014, he was an ironic postmodernist with a contempt for his audience matched only by Frank Zappa's. Luckily, his loyal fans missed the joke, managing to wiggle their butts to a medley of hits that his skillful band chiseled into rhythmic shards; the average "groove" lasted about half a minute, same as the average teenager's sexual encounter/attention span. Hip-hop ball cap askew, cordless microphone erected in belt, a goofily strutting Shaggy minimized his growly vocal talents in favor of ur-cynical cheerleader moves -- pitting one seat section against another, demanding our hands in the air, shaming the mob to stand up before he'd even earned a smile. Soulful vocal spotlights for Rayvon and SaMira Taylor provided some jerkus interruptus but another reminder of what kind of music this wasn't: Despite constant appeals to his "reggae people," Shaggy's Jah quotient rated about 10 percent, the rest being rap and pop. And even the pop was ripped from "Peter Gunn Theme," "Angel of the Morning," "The Joker," "Girls Wanna Have Fun" and, tellingly, "Tears of a Clown." His biggest hit, y'know, is "It Wasn't Me." A fascinating cultural experience. I hated it.
Jimmy Cliff, on the other hand, was everything he needed to be and way more. The 66-year-old legend ain't a purist either; his "Many Rivers To Cross" and his cover of Johnny Nash's "I Can See Clearly Now" simply rate as timeless classics, outside of genre. Still, knowing what a reggae night is, Cliff laid reverent groundwork from the start, squatting in a drum line to beat out the foundational Nyabinghi rhythms of "Rastaman Chant" before strapping on his left-handed electric guitar and launching into his remarkable ska-reggae catalog: "You Can Get It If You Really Want," "The Harder They Fall," Cat Stevens' "Wild World." All about peace and harmony, he showed how to reach that state via topnotch material from his much-praised 2012 album, "Rebirth": the skankin' protest "Afghanistan," the defiant "Rebel Rebel, " and especially the never-say-die "One More" -- one more song to sing, one more arrow in his quiver, one more bullet in his gun, and his resilient chirp made us feel he's got plenty more than that. Cliff pranced around with youthful energy and a beaming smile, his eyes pinballing with an odd combination of ecstatic possession and, beneath his tidy ankh crown, royal bearing. A king he is.
PHOTOS BY FUZZY BWAI (DON CARLOS, MAIN PAGE) AND SJ FRIEDEN (JIMMY CLIFF, ABOVE).