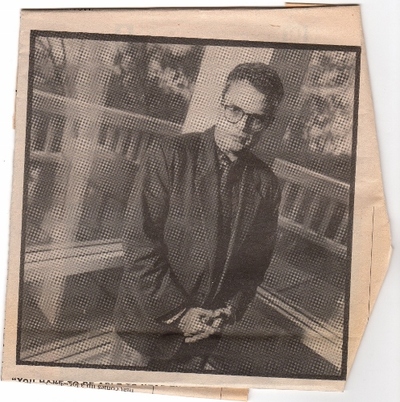 When we saw Charlie Haden at REDCAT in December, we knew the great bassist's time with us would not be long. For years he had been severely afflicted with post-polio syndrome, which prevented him from swallowing, and his ability to summon the energy for rehearsing and performing with his CalArts Liberation Music Orchestra seemed almost miraculous.
I'll leave to others the task of summarizing Haden's prodigious career, and I've described his distinctive musical approach in previous stories (links below). But I want to share a few personal memories.
Although he came off outwardly meek, Haden was a fighter. When I was working at L.A. Weekly in 1991, an editor asked if I knew who Charlie Haden was; he said this guy kept calling, demanding that his music be covered by a publication that clearly shared his progressive views. I described Haden as a jazz giant. Well, then, did I want to write something? Oh yeah.
Knowing the breadth of Haden's knowledge, I asked if him if he'd like to audit some wide-ranging musical selections (from Penderecki to Carcass) and share his reactions to them. Not only did he agree, but he drove a long way to my Hollywood slum and sat down on my wartorn couch for three hours. His focus and sheer joy in listening made me smile; he glowed with admiration for his fellow musicians; he was candid about his own occasional failures; he showed total commitment to his social and musical ideals.
Yes, Haden later twisted my arm to take a couple of unflattering things out of the article, and I did -- he was the kind of guy you wanted to make happy. I mean, he made me happy; hearing him play and talk gave me faith in sorry-ass humanity.
We talked again in 2004 at his favorite Beverly Hills restaurant. He was full of optimism and proud of his kids' musical achievements. He called me "man," the way he did everybody, because it made us all feel like fellow soldiers. He ordered the house-specialty truffles, which he enjoyed mightily -- looking back on that makes me all the sorrier for the fate of his esophagus.
After he died last Friday, I went to my record collection and started pulling out albums he played on, beyond the many obvious Ornette classics. I had a lot -- records with Dewey Redman, Sam Rivers, Carlos Paredes, "Silence" with Chet Baker (which Haden gave me himself), a couple of sympathetic collaborations with Alice Coltrane, who long ago chose Haden to fill in a lost Jimmy Garrison track when she added posthumous string arrangements to John Coltrane's "Leo." I listened to the Liberation Music Orchestra's "The Ballad of the Fallen," named after a poem by a student killed by the U.S.-backed National Guard at an El Salvador sit-in: "My life continues in that which goes dreaming." I threw five discs into my CD changer and put it on random play.
CD changers can be uncanny sometimes. This one kept turning up selections from an especially sympathetic duo album with pianist Hank Jones made just before Jones' death, including "Danny Boy" -- "the pipes, the pipes are calling." It picked a Geri Allen-Paul Motian trio version of Haden's finest composition, "First Song," written for his wife, Ruth Cameron, the woman he credited with saving his life.
And the first thing I heard when I pushed play was Haden's voice at a 1989 Montreal tribute to his music. He was looking at two collaborators on the same stage: Ornette bandmates Don Cherry (who died in 1995) and Ed Blackwell (died 1992). "Thank you very much," he said in response to the ecstatic applause that greeted him. "I'm in heaven."
FRIEND JIM PEARSON ADDS: Sometimes gestures that seem trivial -- like Charlie Haden playing a piece of music in Portugal that lands him in jail -- have an enduring effect to embolden others to consider that the world is malleable and can be shaped to expand justice and tranquility. Charlie's music is what will last, but his willingness to speak his truth to power is what makes him heroic. This courage also came through in his music, as did his gentle confidence in the transcendent beauty in the world.


* * *


Read my 1991 blindfold test with Charlie Haden here. This is a new posting. I pulled it out of the closet because it's fun.
Read my 1991 interview here.
Read my 2004 interview here.
Read Matthew Duersten's collection of Haden quotations in Los Angeles Magazine here.
1991 PHOTO BY DEBRA DiPAOLO.