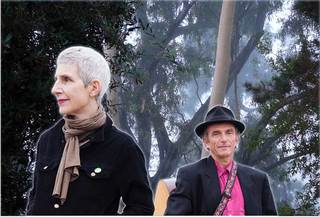 Fri. Aug. 1 -- Weba Garretson & Ralph Gorodetsky give Westsiders a chance to breathe the air of their lovely & dangerous nature/city multimedia song cycle, "What Must the Hummingbird See?" Read my review of a March performance here, and wish Weba a happy birthday. At Electric Lodge, 1416 Electric Ave., Venice 90291; 9pm; FREE. Photo by Ann Summa.
Fri. Aug. 1 -- Nick Mancini, vibraphonist-composer diggable by anyone with a brain and a heart, presents a fresh trio with bassist Artyom Manukyan and drummer Sash Aghamyan. At Brand Library and Art Center, 601 W. Mountain St., Glendale 91210; 7pm; FREE.
Fri. Aug. 1 -- Trumpeter John Daversa's small band swings while honing a modern (postmodern?) edge. (Three great free options today, from one side of town to the other -- socialism is awesome.) At LACMA, 5905 Wilshire Blvd., LA 90036; 6-8pm; FREE; Friday summer jazz schedule here.. Daversa also brings his big band to the Baked Potato on Sunday.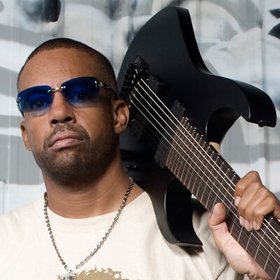 Fri. Aug. 1 -- The quartet of ultraspeedy guitarist Tony MacAlpine (guitarist Nili Brosh, bassist Pete Griffin, drummer Aquiles Priester) performs the Mac man's 1987 album "Maximum Security" in its entirety. At the Baked Potato, 3787 Cahuenga Blvd. West, Studio City 91604; 9:30 & 11:30pm; $30; (818) 980-1615; www.thebakedpotato.com.
Sat. Aug. 2 -- Los Angeles Metal Fest 5 drags early death pathfinders Morbid Saint all the way from Wisconsin, plus Exmortus, Sakrificer, Velosity and several more. At the Black Castle, 855 W. Manchester Ave., LA 90044; 7pm; $15; bar; all ages.
Sat. Aug. 2 -- Durable local metalmen Letum Ascensus top a bill with Acromony, The Prodigal Son, more. At Airliner Club, 2419 Broadway, Lincoln Heights 90031; 7pm; $5; 18+; (323) 221-0771.
Sat. Aug. 2 -- Versatile enough to keep you guessing, melodic enough to satisfy traditionalists, trumpeter Ambrose Akinmusire delivers the whole package with a quartet co-led by virtuosic Kneebody saxist Ben Wendel and Chick Corea-Brad Mehldau drummer Jeff Ballard. At the Blue Whale on the third level of Weller Court Plaza, south of East First Street between South Los Angeles Street and South San Pedro Street, Little Tokyo 90012; 9pm-midnight; $20; parking $5 underneath off Second Street at the sign of the P in a circle; (213) 620-0908; www.bluewhalemusic.com.
Sun. Aug. 3 -- Roam the wilds with the all-avant-star trio of Sacramento drummer Alex Jenkins, Sacramento guitarist Ross Hammond and L.A. wind genius Vinny Golia. Opening is the no-standards trio of trumpeter Bruce Friedman, guitarist Haskel Joseph, bassist Darryl Tewes and drummer Breeze Smith, a.k.a. Hyperbolic Quartet. Eagle. At Center for the Arts, 2225 Colorado Blvd., Eagle Rock 90041; 7pm; $10; (626) 795-4989.
Mon. Aug. 4 -- Fine amospheric metal instrumentalists Scale the Summit put on their own show with Glass Cloud, Erra, Reflections Monuments. At the Lyric Theater, 520 N. La Brea Ave., L.A. 90036; 6:30pm; $15 here; www.lyrictheatrela.com.
Wed. Aug. 6 -- Members of Roots Radics, the rhythm section that backed most every reggae/dub artist in Jamaica circa 1980, tonight support the '70s vocal duo (formerly trio) Israel Vibration. With Blaze Mob and master DJ Tom Chasteen. Dub Club at the EchoPlex, 1154 Glendale Blvd., Echo Park 90026; doors 9pm; $20; 21+; www.attheecho.com.
Tues.-Wed. Aug. 5-6 -- Deep Purple plays the Ventura County Fair on Tuesday and Pacific Amphitheater in Costa Mesa on Wednesday. Just sayin'. "Best hard-rock album of 2013" (MetalJazz.com).
* * *
Read Don Heckman's jazz picks here and MoshKing's metal listings here. Read John Payne's plutonic Bluefat.com here.