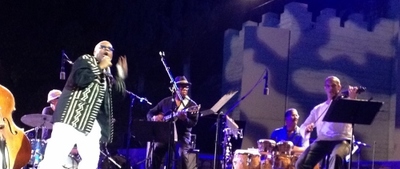 Happy 25th anniversary to Leimert Park's World Stage, home to music, poetry and universal artistry since its 1989 founding by Kamau Da'aood and Billy Higgins. A lot of fine performers couldn't wait to pay tribute to drum legend Higgins, who died in 2001. So let's get with it.
This wonderful outdoor venue's horrible parking constrictions regrettably kept me from experiencing the Women's African Drum Circle, a special concern of Mr. Higgins.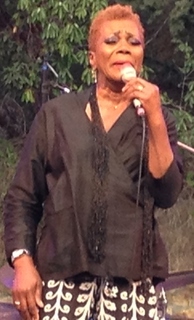 But women stood strong. Patrice Rushen (pictured on main page) pulled effortless sequences of flowing melody, harmonic challenge and fusionistic jolt from her piano. The voice of Carmen Lundy (above) flitted and darted like a finch, pure black expression. Poet Jaha Zainabu recited about our heavenly status.
Griot Da'aood himself took over for a strong span of inspirational rhythmic rant and praise -- he always leaves some memorable lines, so consider "Snort the white lines of chalk off asphalt through a didjeridu." With the tribute's professorial musical director, John Beasley, jamming behind him on piano, Da'aood got a knowing laugh from the heavily South-Central crowd when he mentioned that Higgins attended the now closed (and apparently little respected) Jacob A. Riis High School.


Backed by Munyungo Jackson (congas), Darek Oles (bass), Lindsey Hundley (piano) and a canny young drummer whose name I didn't catch, Bennie Maupin packed in a tenor sax, a soprano sax and a bass clarinet to emphasize the more rhythmic and festival-friendly aspect of his five-decade oeuvre, holding the blues close but nonspecific within his chesty tone.
Vocalist Dwight Trible (top of this page), seized by the spirit, spasmed across the boards as his resonant voice leaped between fragments of Congolese chant and '60s souljazz; Miguel Atwood-Ferguson acted as a foil, his electric viola somehow sounding more like a New Orleans clarinet.


Ambrose Akinmusire, at 32 one of the younger Higgins devotees, applied considerations of space and beauty to his intelligent improvisations, which sat well within his own compositions but felt awkward when he strayed outside the unison lines of Higgins mate Ornette Coleman's "Una Muy Bonita"; guitarist Jacques Lesure, on the other hand, knew exactly where Ornette's harmolodic gold lay buried.
Present by audio recording were jazz greats Sonny Rollins, Bobby Hutcherson, and Charles Lloyd ("Master Higgins gave me the breath; I could arrive empty and be filled with the blessings of the water"), each extolling the openhearted virtues of Higgins' musicianship and personhood. An award of special merit goes to bassist Trevor Ware, whose big, solid embrace held the music together through most of the event, from bright sunshine to starry backdrop.
I missed the sets of sax bristler Kamasi Washington and summerbreeze flutist Hubert Laws because I was mistaken for a journalist and beheaded by terrorists. If only I had lived to see the future world of peace and unity that Higgins and his friends envisaged.
THE GOOD PHOTOS ARE BY DIANA DIAZ; THE BAD ONE IS BY FUZZY BREAUX.