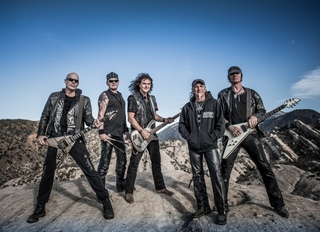 Fri. Sept. 12 -- With their new "Blind Rage," guitarist Wolf Hoffmann and Accept, last of a dying Teutonic power-metal breed, drag you in the dirt and scream for post-Priestly vengeance whilst mixing moth/flame metaphors and ensuring that the legacy of Spinal Tap lives on. If Mark Tornillo (front man since 2009) doesn't woof their 1984 hit "Balls to the Wall," you can claim my ceremonial Viking cutlass. Newcastle proto-metal thunderheads Raven, still featuring the bass-guitar team of John & Mark Gallagher 40 years on, open. At the Saban Theater, 8440 Wilshire Blvd., Beverly Hills 90211; 8pm; $40; www.ticketmaster.com.
Fri. Sept. 12 -- Dan Hicks & the Hot Licks had to postpone their last Pico show due to the ill health of Mr. H., but he's regrouped to toss out that cool & jazzy weirdness to his legion of masochistic aesthetes. Just cuz he hates you doesn't mean he doesn't hate himself too. At McCabe's, 3101 Pico Blvd., Santa Monica 90405; 8pm (sold out) & 10pm; $27; (310) 828-4497; www.mccabes.com.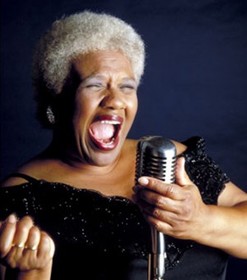 Fri.-Sat. Sept. 12-13 -- Jazz-blues torchbearer Barbara Morrison gives it up down-home-ritzy-style; Friday's set features renowned saxist Houston Person. And that's just the start of her weekend. At Catalina Bar & Grill, 6725 Sunset Blvd., Hollywood 90028; 8:30 & 10:30pm; $20 Fri., $25 Sat.; (323) 466-2210; www.catalinajazzclub.com.
Sat.-Sun. Sept. 13-14 -- You think you can keep up with a singer who lost both her legs to diabetes three years ago? Probably not. Barbara Morrison celebrates her 65th birthday with "A Walk With Barbara," where you tramp around seven venues (including the World Stage) in Leimert Park to take in performances by Dr. Bobby Rodriguez, Dwight Trible, Keb Mo', the spirit of Gerald Wilson (who died this week) and about 30 more each day, many shows featuring Morrison herself. Damn inspiring. (Photo by Tony Maddox.) At Leimert Park Village, 4305 Degnan Blvd., Leimert Park 90008; walk with Barbara at 3pm; doors 4:30pm until lawd knows when; $20 tickets ($65 with VIP buffet) contribute to fighting diabetes and supporting the Barbara Morrison Performing Arts Center; www.barbaramorrison.com.
Sun. Sept. 14 -- Amateur & pro electronic/experimentalists mix signals in the freeform unisphere of "Soundshoppe." Sign up yerself if you think you're so plugged in. A SASSAS presentation at Center for the Arts, 2225 Colorado Blvd., Eagle Rock 90041; 1pm; FREE; www.sassas.org.
WHAT IF IT WERE ONLY A WEEK AWAY and you hadn't made plans for the September 19-28 Angel City Jazz Fest, thereby drifting perilously close to the bubbling lava pit of loserhood? This year choose from Anthony Braxton, Toshiko Akiyoshi, a tribute to Arthur Blythe and many more thrillifications from grizzled vets and young stars alike. Check the schedule here.
* * *
Read Don Heckman's jazz picks here and MoshKing's metal listings here. Read John Payne's plutonic Bluefat.com here.