* indicates entries in the Angel City Jazz Fest. Get more info & tix here.
* Fri. Sept. 26 -- For several decades, jazz Hall of Famer Toshiko Akiyoshi has been known largely for her big band, but be glad to hear her trio with bassist Paul Gill and drummer Aaron Kimmel, where you can really hear one of the few pianists who credibly represents the Bud Powell tradition, not to mention her own far-ranging compositional excellence. Opening is Cathleen Pineda, an up & coming pianist with a pensive, coloristic aesthetic who premieres a new composition that features a collaboration with poet Eloise Klein Healy; her all-star local quartet includes trumpeter Kris Tiner, bassist Dave Tranchina and drummer Paul Kikuchi. Don't be late. At REDCAT, 631 W. Second St., downtown 90012; 8:30pm; $35 (students $25); www.angelcityjazz.com.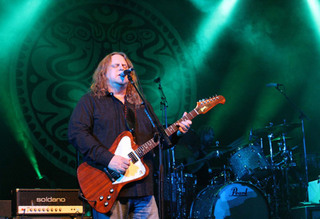 Fri. Sept. 26 -- Gov't Mule's current "Shout" is one disc sung by Warren Haynes and another with the same tunes sung by a raft of star guests such as Elvis Costello, Dr. John and Steve Winwood. The well-made point? Haynes is a hell of a songcrafter, not just the best blues-rock guitarist on the planet. But tonight he'll probably slant more toward boogiejamming your jammies off. With The Stone Foxes. At the Orpheum Theater, 842 S. Broadway, downtown 90014; 9pm; $30 (nearly sold out); all ages; (877) 677-4386; www.laorpheum.com, www.ticketmaster.com.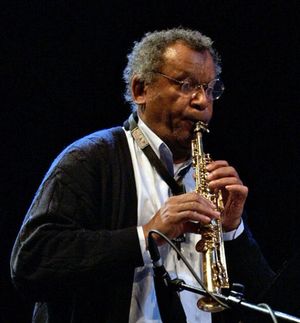 * Sat. Sept. 27 -- Windman Anthony Braxton is the most extreme professor of conceptual creative music I've ever seen, which is saying something; here he mounts a typically unusual electronified trio with trumpeter Taylor Ho Bynum and vocalist Kyoko Kitamura. To open, Braxton's old AACM associate Wadada Leo Smith presents the trumpeter's highly abstractive 15-member Silver Orchestra, featuring Vicki Ray, John Lindberg, Mark Trayle and video art from Jesse Gilbert. Your head's gonna be bigger after this one. At the Colburn School's Zipper Hall, 200 S. Grand Ave., downtown 90012; 8:30pm; $45, students $25; www.angelcityjazz.com.
Sat. Sept. 27 -- Fusional shred will never die as long as some version of CAB survives, this one with guitarist Tony MacAlpine, bassist Bunny Brunel, drummer Sam Aliano and keyboardist Mitch Forman. At the Baked Potato, 3787 Cahuenga Blvd. West, Studio City 91604; 9:30 & 11:30pm; $25; (818) 980-1615; www.thebakedpotato.com.
Sat. Sept. 27 -- Non-hayseed country rockers I See Hawks in L.A. close a benefit for Friends of the Los Angeles River, also featuring Cashew & Cleary and Rated X. At the Frog Spot, 2825 Benedict St., L.A. 90039 (east of the 2/5 junction, near the river); 5-8pm; empty yer wallet and encourage a few herons to stick around and amuse the hawks; www.folar.org.
Sat. Sept. 27 -- Singers Moira Smiley & Voco combine folk, choir, Bartók and maybe original mourning music into something ethereal and soul-touching. At Caltech's Beckman Institute Auditorium, 1200 E. California Blvd., Pasadena 91125 (campus map here, building 74); 8pm; $15; email events@caltech.edu or call (626) 395-4652.
* Sun. Sept. 28 -- Today is the Angel City Music Festival's big dawg. The outdoor/indoor event closes with an 8pm tribute to and benefit for the pathfinding alto saxist Arthur Blythe, who's been ailing for years; the phenomenal band includes World Saxophone Quartet legend Oliver Lake, longtime Blythe tuba foil Bob Stewart, modern sax touchstone David Binney, old friend Gust Tsilis on marimba, drum driver Alex Cline and plenty more you'll recognize. Here's the rest of the day's roster: the knotty Brad Dutz Quartet (2:30), the emotionally charged Gavin Templeton Trio (3:30), the bright & embraceable Josh Nelson's Discoveries (4:00), the historic violin eclecticism of the Michael White Quintet (4:30), the Cuban piano energy of the Aruán Ortiz Trio (5:00), the brainy modern fusion fire of the Daniel Rosenboom Quintet (5:30), the delicately avantish ECM piano of Craig Taborn (6:00), the powerful Supremetrane elevation of the Azar Lawrence Trio (6:30) and the conceptual travelogues of Taylor Ho Bynum's West Coast Ensemble (7:00). All are recommended. Although beautiful, the hilltop location, with its Frank Lloyd Wright edifices, may present a parking and access challenge for some (lotta stairs). At Barnsdall Art Park, 4800 Hollywood Blvd., Hollywood 90027; $80 full day, $55 half day, $35 for the tribute or individual indoor shows only, $20 suggested donation for the outdoor shows (less for students); ticketing details here.
Mon. Sept. 29 -- If there's such a thing as wimpy metal bombast, Finland's Sonata Arctica have it hairpinned ("You sucked out my will to live"). I bet there are opening bands, but I can't prove it. At House of Blues, 8430 Sunset Blvd., West Hollywood 90069; 7pm; $28; (323) 848-5100; www.livenation.com.
Tues. Sept. 30 -- Andy Milne & Dapp Theory blapp the keyboardist's funkified crossgenred contempo jazz. At the Blue Whale on the third level of Weller Court Plaza, south of East First Street between South Los Angeles Street and South San Pedro Street, Little Tokyo 90012; 9pm-midnight; $10; 21+; parking $5 underneath off Second Street at the sign of the P in a circle; (213) 620-0908; www.bluewhalemusic.com.
Thurs. Oct. 2 -- Three decades and counting, Hellion brings back singer Ann Boleyn's classic L.A. hard-rock plod with an all-star lineup featuring drummer Simon Wright (Dio), keyboardist Scott Warren (Dio), bassist Greg Smith (Rainbow) and guitarist Georg Dolivo (Rhino Bucket). Plus, Betsy Bitch has brought her whips & chains back to the band Bitch; support comes from The Roadkill, Seven Days Lost, Doctors of the Earth, 3 Days in the Grave, Black Vulture Conspiracy. At the Whisky, 8901 Sunset Blvd., West Hollywood 90069; www.whiskyagogo.com; doors 7pm; $15; (310) 652-4202.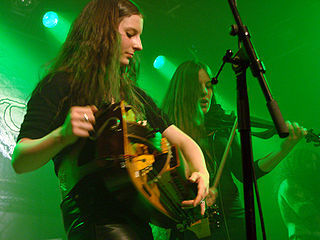 Thurs. Oct. 2 -- When it comes to Swiss folk-metallers Eluveitie, heavy shred, hurdygurdy and prancing around in a kilt are not incompatible; singer Chrigel Glanzmann even pounds her chest Sinéad-style sometimes. Their name is Etruscan, one-upping other bands' mere Latin references. Once again, no opening acts are listed on the HOB site; if the name suppression is a trend, it's a bad one. At House of Blues, 8430 Sunset Blvd., West Hollywood 90069; doors 7pm; $33; all ages; (323) 848-5100; www.livenation.com.
* * *
Read Don Heckman's jazz picks here and MoshKing's metal listings here. Read John Payne's plutonic Bluefat.com here.