Fri. Sept. 5 -- Storied jazz vocalist Ernie Andrews was singing "Till Daddy Comes Home From the Army" in 1945. Maybe he should revive that number. At LACMA, 5905 Wilshire Blvd., LA 90036; 6-8pm; FREE; Friday summer jazz schedule here.
Sat. Sept. 6 -- Trumpeter Elliott Caine has found another Italian joint to jazz up. Start calling him Elio Cano and requesting "Volare." At Pinocchio's Pizza, 1449 N. Lake Ave., Pasadena 91104; 8-11pm; no cover; (626) 791-7591.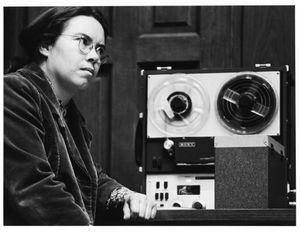 Sun. Sept. 7 -- The Southland Ensemble has been teaching kids to play The Music of Pauline Oliveros, the pioneering electronic/experimental composer. Now you get to hear the result, thanks to SASSAS. Go have a meal after, and come back to the same place for the Sunday Evening Concert (below). At Center for the Arts, 2225 Colorado Blvd., Eagle Rock 90041; 2pm; FREE; limited tickets here.
Sun. Sept. 7 -- Unfettered Slumgum drummer Trevor Anderies swings his own ensemble with vocalist Alina Roitstein, guitarist Greg Uhlmann, windman Andrew Conrad and bassist Emilio Terranova. Opening is The Los Angeles Trumpet Quartet, featuring four all-stars of the L.A. avant: John Fumo, Daniel Rosenboom, Kris Tiner and Jeff Kaiser. At Center for the Arts, 2225 Colorado Blvd., Eagle Rock 90041; 7pm; $10; (626) 795-4989.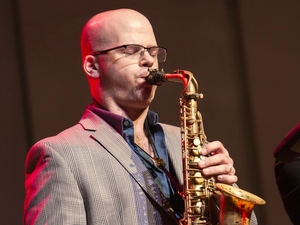 Tues. Sept. 9 -- The subtly subversive saxophones of Peter Epstein first came to my attention on '90s records by fellow CalArtsian James Carney; since then he's established his career on the other coast, often collaborating with the now well known CalArts-pedigreed trumpeter Ralph Alessi, whose cool but cutting lines are prominent on Epstein's new Songlines recording, "Polarities," along with bassist Sam Minaie (his rugged riffs and rhythms are central to the project) and drummer Mark Ferber (notable for the way he simultaneously pushes and refreshes the rhythm); they're all onboard tonight. "Polarities" represents one of the few recent efforts that unapologetically reference the '60s avant, especially Ornette but with echoes of major composers such as Bill Dixon, Wadada Leo Smith, and John Carter (with whom Epstein studied). A special evening. At the Blue Whale on the third level of Weller Court Plaza, south of East First Street between South Los Angeles Street and South San Pedro Street, Little Tokyo 90012; 9pm-midnight; $15; 21+; parking $5 underneath off Second Street at the sign of the P in a circle; (213) 620-0908; www.bluewhalemusic.com.
Wed. Sept. 10 -- Prong's Tommy Victor invented his own edgy, desperate, squealing guitar technique; while also bracing the Danzig and Ministry substructures, he's stuck to his personal craft like a blood stain for three decades. His advice, from 2012's "Carved Into Stone": "Keep on living in pain." With Rivet, Motheride, The Erkonauts. At the Whisky, 8901 Sunset Blvd., West Hollywood 90069; doors 7pm; $15; www.whiskyagogo.com; (310) 652-4202.
Thurs. Sept. 11 -- Minuteman (etc., etc.) bassist Mike Watt places his seal of quality on Sogno del Marinaio, his "experimental rock trio" with singer-guitarist Stefano Pilia and drummer Andrea Belfi. Support comes from LITE and Jon Wahl & the Amadans. At the Echo, 1822 Sunset Blvd., Echo Park 90023; 8:30pm; $17; (213) 413-8200; www.attheecho.com.
Thurs. Sept. 11 -- Hunker down and evaluate the late Shirley Clarke's polarizing '80s Ornette Coleman documentary, "Made in America," followed by appropriate Ornette-influenced rockjazz from guitarist Joe Baiza and his Mecolodiacs. Read a New York Times review of the film here. A co-presentation of Angel City Arts at the Echo Park Film Center, 1200 N. Alvarado St., Echo Park 90026; 8pm; $10; www.echoparkfilmcenter.org.

EITHER FREEZE YOUR NADS OFF in the cultural void or make plans for the Angel City Jazz Fest, September 19-28, this year featuring Anthony Braxton, Toshiko Akiyoshi, a tribute to Arthur Blythe and many more thrillifications. Check the schedule here.
* * *
Read Don Heckman's jazz picks here and MoshKing's metal listings here. Read John Payne's plutonic Bluefat.com here.