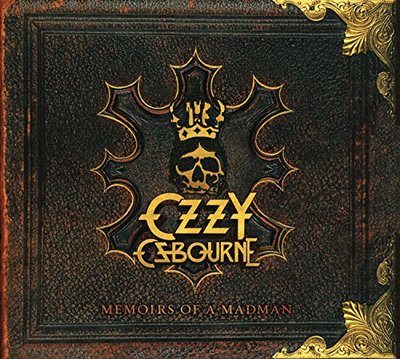 You see stoned Ozzy, sober Ozzy, Ozzy with a wig, psycho skull-shaved Ozzy; you see Ozzy trim & fat, glittery & gothy, sad & funny, lyin' & truthin', but always great, which is way more than Neil Young or Eric Clapton or Diana Ross or anybody else with a comparable music career can say.
Ozzy Osbourne has just issued "Memoirs of a Madman," another package documenting his 30-some-year post-Sabbath solo span: a DVD of videos, a DVD of live sh*t and interview clips, plus a CD of hits. All worthy, but the live sh*t is the major treasure.
The live DVD lifts off with five songs featuring scarce documentation of founding Ozzy guitarist Randy Rhoads -- 1981-82 performances previously available (officially) only on the $150 "Blizzard of Ozz" 30th-anniversary boxed set from 2011. (The first four aren't identified as a live-in-the-studio session on a small TV station, but you can tell there's no audience because Ozzy looks lost.) The band drives tight, the sound & image stand clear, and though the staging is static and Ozzy's voice is treated with a weird chorus effect, you get to see the late Rhoads do his innovative classical-metallic thing up close.
Some of the disc's footage is fuzzy; most is pro; little is easy to acquire. And as it unspools, one thought keeps cropping up -- good gawd, Ozzy managed to enlist a boggling army of the most talented and stage-commanding musicians. Guitarists: the distorto-shredding Jake E. Lee, the insanely rocking Zakk Wylde, the fluidly ripping Joe Holmes. Bassists: the defined & godly Rudy Sarzo, the oak-tree powerhouse Robert Trujillo, even the perpetually boiling Geezer Butler from Black Sabbath. Drummers: pounding exciter Tommy Aldridge, irresistible thumper Randy Castillo, behind-the-beat syncopator Mike Bordin. And many more.
Aside from Wylde, all these players had established themselves in well-known bands, but after flocking to Ozzy they jacked up the level of their playing and composing; the result was a dozen platinum-plus albums. The common denominator? Not the main writers or players, but one dyslexic, addicted, discombobulated singer named Ozzy Osbourne.
Although he was born with a voice like none other, Ozzy owns a more important talent that can't be quantified: He connects. He's our superstar drinking buddy. Neither excessively handsome nor excessively graceful, he packs the schoolboy humor of his idol Benny Hill and a grandmotherly devotion to the Beatles. His darkness is the Halloween kind, not the satanic kind; when he croons to Aleister Crowley ("Did you talk to the dead?"), it's just to snigger at the pretentious old creep.
Ozzy yells that he loves his fans, and they believe it, because it's true. And after he's rocked out their frustrations, they sleep better, even if he doesn't.
In the DVD's performances and the interviews between (he pets his "satanic" poodle, moans about poncy rock stars), Ozzy's careless charm shines through like a barfly's nose. Add stunning musicianship and topnotch songcraft ("Bark at the Moon," "Killer of Giants," "Perry Mason," "Miracle Man," "Desire," "No More Tears") and you've got something perennially huge.
The disc of videos showcases Ozzy's gifts as a comic actor and encapsulate the whole history of the form, from amateur goofing to layered sophistication. Good enough. And you can't complain about the CD of enormous hits, which is a reasonable place to start if you're coming to Ozzy cold. Swell textured faux-leather packaging, too.
This thing has the feel of a well-composed career obituary. Hope it ain't.