Fri. Oct. 24 -- Topmost vibraphonist Stefon Harris, a subtle composer of swing-to-classical range, leads a trio with renowned Clayton-Hamilton bassist John Clayton and young drummer Jonathan Pinson. A show to consider, regardless of your slant -- the late classical critic Alan Rich told me he dug Stefon. A presentation of the Jazz Bakery's Movable Feasts at the Colburn School's Zipper Hall, 200 S. Grand Ave., downtown 90012; one show 8pm; $30 (add $25 for each student); www.jazzbakery.org.
Fri. Oct. 24 -- The New (now Old) Wave of British Heavy Metal will never ebb if Satan, still retaining a full circa-1983 lineup, has anything to say about it. With Magic Circle, Arsynic, Maniacz, Widow, Destroyer, Perfect Nightmare. At the Whisky, 8901 Sunset Blvd., West Hollywood 90069; doors 6pm; $20; www.whiskyagogo.com; (310) 652-4202.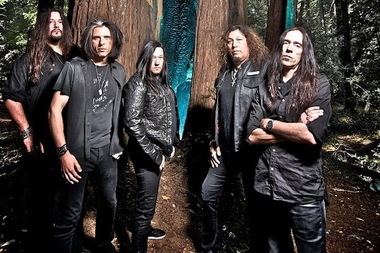 Fri.-Sun. Oct. 24-26 -- Popular masked extremists Slipknot have assembled a three-day Knotfest of the highest-quality metal platoons; I'm just listing my own favorites, but go to the web site for the full bountiful schedule. Sold-out Friday is VIP/camping night (the hardy can camp all three days) with Suicide Silence and The Black Dahlia Murder. Saturday, the main event, lines up Danzig, Black Label Society, Testament (pictured), Carcass, In This Moment, The Faceless, Otep, Prong and more. Sunday's more emotic bill nevertheless includes Napalm Death, DevilDriver, Hellyeah and Whitechapel. Read all the fest provisos (no unsealed tampons or cigs! no lawn chairs! no BLANKETS!) and get there around 9am if you want to see any of the early bands, because the lines will stretch for miles. At San Manuel Amphitheater, 2575 Glen Helen Parkway, San Bernardino 92407; 11am-midnight; $30-$130; (909) 880-6500; www.knotfest.com.
Sat. Oct. 25 -- Jazz Funk Fest celebrates the Beat tradition of spoken word and freeform improv with Eric Ahlberg's Jazz Workshop, Rag'nBones and Julio Rodriguez. At UnUrban, 3301 Pico Blvd., Santa Monica 90401; 7-10pm; FREE; (310) 315-0056.
Sat. Oct. 25 -- Heart & spirit saxist Azar Lawrence assembles yet another all-star ensemble with trumpeter Gilbert Castellanos (remember him from Black Note?), pianist Theo Saunders, bassist Jeff Littleton and everybody's drummer Smitty Smith. At Roscoe's Seabird Jazz Lounge, adjacent to Roscoe's Chicken & Waffles, 730 E. Broadway, Long Beach 90802; $15; 9pm-1am; (562-787-0899); www.seabirdjazzloungelbc.com.

Sat. Oct. 25 -- Supertechnical drummer (and challenging composer) Terry Bozzio gives it a solo whack on "the world's largest tuned drum set." Probably a lot more entertaining than you think. At Catalina Bar & Grill, 6725 Sunset Blvd., Hollywood 90028; 8:30pm Sat., 7:30pm Sun.; $30 & $25; (323) 466-2210; www.catalinajazzclub.com.
Sun. Oct. 26 -- Creative windman Bennie Maupin (Miles Davis, Headhunters) does his soulfully varied chamber-to-blues thing with handpicked cohorts Munyungo Jackson (hand drums), Darek Oles (bass) and Gene Coye (drums). At Fais Do Do, 5257 W. Adams Blvd., LA 90016; 3pm; $20 (students $15); limited seating; tix here.

Sun. Oct. 26 -- Pianists Andy Milne (Dapp Theory) and Benoit Delbecq, along with the koto duo TsuguKaji-Koto, conceptualize an East-West union while visualizer Saki Murotani projects abstractions. Multi-x, y'know. At REDCAT, 631 W. Second St., downtown 90012; 8:30pm; $25 (students $20); www.redcat.org.
Tues. Oct. 28 -- Personalized vibraphone connecter Nick Mancini makes an intriguing alliance with equally original (but totally different) percussionist-vibraphonist Brad Dutz and bassist Bruce Lett. Get in on the ground floor of Mancini's new series here. At WitZend, 1717 Lincoln Blvd., Venice 90291; 7pm; $10 (bring a guest for free, one item minimum); bar & food; all ages; (310) 305-4792; www.witzend.com.
Wed. Oct. 29 -- Liberation beats manifested powerfully in '70s Jamaica, and Nyabinghi master Ras Michael was right there, thumping away in the dirt yard; he and his latter-day Sons of Negus will chant you into feeling like a fellow upsetter. L.A.'s Empresss Akua opens, backed by Quinto Sol; the unequaled Dub Club DJs spin all night. Dub Club at the EchoPlex, 1154 Glendale Blvd., Echo Park 90026; doors 9pm; $10; 21+; www.attheecho.com.
Wed. Oct. 29 -- Classical-eurofolkjazz pianist Vardan Ovsepian inspires rhapsodies with Trifield Trio. At the Blue Whale on the third level of Weller Court Plaza, south of East First Street between South Los Angeles Street and South San Pedro Street, Little Tokyo 90012; 9pm-midnight; $15; 21+; parking $5 underneath off Second Street at the sign of the P in a circle; (213) 620-0908; www.bluewhalemusic.com.
* * *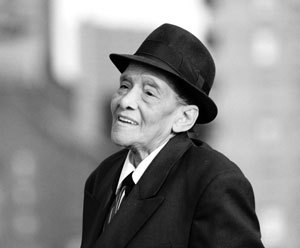 JIMMY SCOTT R.I.P. I still tremble when I remember hearing "Little" Jimmy Scott onstage for the first time 20-some years ago. (And his career was already half a century along.) Here was an artist who would not allow a rhythm or a melody to distract you from the emotional meaning of what he was singing in that sinewy high plaint; he dragged every syllable like barbed wire through your heart until you could barely imagine someone feeling that deeply yet surviving -- all with the most ghostly smile on his lips. "Musician" doesn't quite say it. He died in June at the age of 88, and I only heard about it a week ago because there's a tribute in New York this Saturday. His passing should have been bigger news, or I should subscribe to a jazzman-obit alert (well, too many).