Fri. Oct. 31 -- One of metal's most consistently radical musicians since the '80s, facepainted Danish shrieker King Diamond rules Halloween. At the Wiltern, 3790 Wilshire Blvd., LA 90010; 7:30pm; $109; (213) 388-1400; www.livenation.com.
Sat. Nov. 1 -- Dig the noisy rockabilly, jangly atmospherics and lazy charisma of Elias Rønnenfelt and Iceage, again outa Denmark. This is what rock stars used to be like. With Helm, Heatsick, DJ Mahssa. At the Echo, 1822 Sunset Blvd., Echo Park 90023; 8pm; $15; (213) 413-8200; www.attheecho.com.
Sat. Nov. 1 -- Harmolodobop alto man Gavin Templeton sails through tunes from his inspired new album with his sharp & flexible trio mates, Richard Giddens (bass) and Gene Coye (drums), who left a deep impression at the Angel City Jazz Fest recently. At the World Stage, 4344 Degnan Blvd., Leimert Park 90008; 8pm; $10; www.theworldstage.org.
Sat. Nov. 1 -- SASSAS's "Soundspark" series for the subversion of youth presents rad viola player Cassia Streb. At the Children's Theater in West Hollywood Library, 625 N. San Vicente Blvd., West Hollywood 90069; noon; FREE.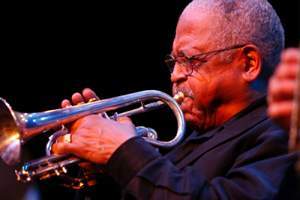 Sun. Nov. 2 -- Holy moly, what an astounding version of the Bobby Bradford Mo'tet, featuring the senatorial cornetist plus Vinny Golia (playing clarinet on tunes by late Bradford foil John Carter), windman Chuck Manning, trombonist Michael Vlatkovich, pianist Don Preston, guitarist Ken Rosser, bassist Roberto Miranda and drummer Christopher Garcia. It's like the Texas avant meets Zappa in Horace Tapscott's living room. Jeffrey Winston interviews Bradford at 1pm, with music for 2-3 hours after that. At the Mayme Clayton Museum, 4130 Overland Ave., Culver City 90230; music 2pm; $20 tickets here; limited seating; (310) 202-1647.
Sun. Nov. 2 -- Here's a fortuitous deal where windman Peter Kuhn and baritonist Dave Sewelson, a couple of veteran New York avantists you may recognize from the bands of William Parker, Wayne Horvitz, et al., hook up with prime locals Dan Clucas (cornet), Scott Walton (bass) and Alex Cline (drums), calling themselves Dependent Origination, cuz why not. I'm not familiar with liberal improvisers Surrealist Automaton (bassist Will Mack, drummer David Edward and guitarist Daniel Coffeng), but I do know Alex don't book no slackers. At Center for the Arts, 2225 Colorado Blvd., Eagle Rock 90041; 7pm; $10; (626) 795-4989.
Mon. Nov. 3 -- New Orleans sludge founders Eyehategod reopened the spigot last year following the death of their drummer. With Power Trip (the Dallas metal dudes, not Jeff Dahl's punk band), punky thrashers Iron Reagan, Cali black thrashers Witchaven, Dead Beat. At Club Los Globos, 3040 Sunset Blvd., Echo Park 90026; 8pm; $20; www.clublosglobos.com; (323) 207-6686.
Tues. Nov. 4 -- Long-running Tremé second-line/funk/hip-hop amalgamators Rebirth Brass Band rock their goodtime stuff. With The Earful. At the Mint, 6010 Pico Blvd., LA 90035; 9pm; $28; (323) 954-9400; www.themintla.com.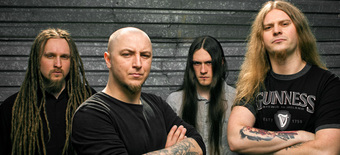 Thurs. Nov. 6 -- With the current "Blood Mantra," Polish metalmen Decapitated (pictured) have augmented their core of death & blackness to reach unprecedented levels of compositional connection and rhythmic complexity while maintaining an irresistible energy and forward motion; when I put it on I always listen to the whole damned 39 minutes, which has not an ounce of lard in it. Theatrical metal grossouts GWAR headline, figuring that continued liquid-spew and the presence of bizarre headgear will compensate for the absence of front man Oderus Urungus (who died this year); the fans will decide, it's a collective after all. American Sharks open. At House of Blues, 8430 Sunset Blvd., West Hollywood 90069; 8pm; $32; (323) 848-5100; www.livenation.com.
* * *
Read Don Heckman's jazz picks here and MoshKing's metal listings here. Read John Payne's plutonic Bluefat.com here.