Fri. Oct. 3 -- The murk! The never-ending drum rolls! The satanic bark! The whip-guitar accents! New York's Pyrrhon (on Relapse Records) push the level of metal abstraction to 11. With Gigan, Artificial Brain. At Complex, 806 E. Colorado St., Glendale 91205; 9:30pm; $10; 21+; full bar; www.complexla.com; (323) 642-7519.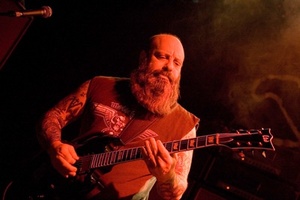 Sat. Oct. 4 -- Crowbar co-created the whole '90s scene of big bald guys playing sludge-metal, even supplying Black Label Society with a drummer and Down with a bassist. Vocalist-guitarist Kirk Windstein's still got the wheel. With Revocation, Havok, Fit for an Autopsy, Armed for Apocalypse. At Club Los Globos, 3040 Sunset Blvd., Echo Park 90026; 7pm; $20; www.clublosglobos.com; (323) 207-6686.
Sun. Oct. 5 -- Superelectronified atmospheric guitarist G.E. Stinson returns to those thrilling days of yesteryear (1992) when he led a transformational improvising quartet featuring bassist Steuart Liebig and drummer Alex Cline (not that he's ever strayed far from those two); the obvious choice to stand in for original trumpeter John Fumo is the lyrical and FX-savvy Kris Tiner. Opening is the drums-electro duo of Joseph Berardi & Rick Potts, with roots going way back to the Fibonaccis and the notorious Pasadena experimental cabal. At Center for the Arts, 2225 Colorado Blvd., Eagle Rock 90041; 7pm; $10; (626) 795-4989.
Sun. Oct. 5 -- The "Brilliant Strings" music & paint series tosses together a mess of fascinating artists: the vibes-marimba duo of Nick Mancini & David Johnson, plus guitarist Ryan Ayers, pianist Tex Miller, the duo of Richard Ickard & Bing Martin, and, splashing the watercolors around, Pete Morris. At Curve Line Space Gallery, 1577 Colorado Blvd., Eagle Rock 90041; 4-6pm; $12; (323) 478-9874.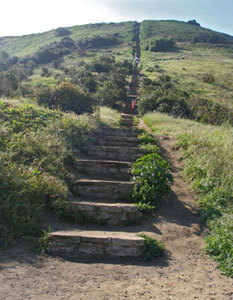 Sun. Oct. 5 -- Go up on an urban mountain and experience sounds designed just for that site and those sights by Matt Barbier, Sarah Petersen and SCSE. Looks like they're shooting for sunset, which should be great. A SASSAS presentation at Baldwin Hills Scenic Overlook, 6300 Hetzler Road, Culver City 90232; 7pm; FREE (but you can donate to the Kickstarter here.
Thurs. Oct. 9 -- Rad keyboardist Joshua White has hooked up with a hell of a band: phenomenal bassist Mark Dresser, outleaning trombonist Michael Dessen, Ornettefied saxist Gavin Templeton (he's got a hot new CD) and percussionist Kjell Nordeson. At the Blue Whale on the third level of Weller Court Plaza, south of East First Street between South Los Angeles Street and South San Pedro Street, Little Tokyo 90012; 9pm-midnight; $10; 21+; parking $5 underneath off Second Street at the sign of the P in a circle; (213) 620-0908; www.bluewhalemusic.com.
* * *
Read Don Heckman's jazz picks here and MoshKing's metal listings here. Read John Payne's plutonic Bluefat.com here.