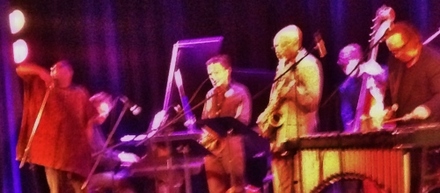 On a temperate autumn day, we climbed a hill with a 360-degree view of the city. We hung out on a spacious lawn studded with Mayan-influenced Frank Lloyd Wright buildings. There was good Indian and Mexican food. There was choice wine and beer (from Lou and Angel City Brewery).
Wish you'd been there, right? But what if I told you there was also a spectacular array of the most adventurous jazz, co-presented by Jazz Bakery and booked by the big-eared team of Rocco Somazzi and Jeff Gauthier? And that half of it was free? And that the paid part benefited a star musician in ill health? Now you're really kicking yourself, but don't blame me; I nagged you plenty. Just mark your calendar for 2015, and don't blow it next time.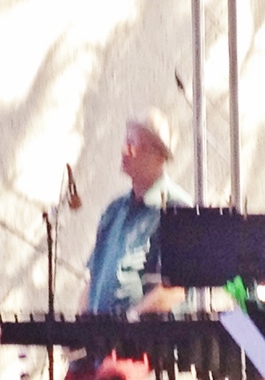 The chamber jazz of the opening Brad Dutz Quartet (marimba, clarinet, oboe, cello) looked eggheady on paper, and observant eggheads surely noticed the contrapuntal compositions, the odd rotational accents and the lack of what's usually considered a groove. But we also noticed how appropriate the open, calm music was to the grassy space under the breeze-tossed trees, and we noticed the toes tapping reflexively all around us. Howbout that.
Alto man Gavin Templeton often sounded like a more cooled-out Ornette, spooling out long boppish/Latinate lines as downtown bassist Richard Giddens fought it out with the heavy-thwopping drums of big Gene Coye, the most impressive youngish drummer I've heard lately. They delivered tunes from their brisk new Orenda Records album and closed with a Coltranelike prayerful ballad, turning our ears stageward again and again. Long a valued Vinny Golia and Daniel Rosenboom band member, Templeton is finally reaping some deserved solo recognition.
Listeners who wanted to relax & heal found relief in the trio of veteran violinist Michael White, with singer Leisei Chen supplying the samba invitations and beach towels. They reminded us to breathe, which sounds simpler than it is.
Like most fest patrons, I had few clues about young Cuban pianist Aruán Ortiz, despite his dates with Wallace Roney, Greg Osby et al.; now we won't forget his shy, gap-toothed smile as he basked in our shocked admiration after his trio's tumultuous heart assault. Beginning with foreboding dissonances, more Russian than Caribbean, Ortiz gathered bassist Eric Revis and drummer Gerald Cleaver into a rumbling, thundering groove packed with obsessive riff repetitions and boundless rhythmic variations. A quieter interlude of prepared pano (paper on the strings) and cymbal etching cleared a moment to gasp before Ortiz mopped the floor with us and wrung us dry. The impression: Vladimir Horowitz's momentum mixed with Cecil Taylor's palette, underlining Taylor's debt to Cuba more than Ortiz's debt to Taylor. Ortiz even mined a bit of Bud Powell bop at the end, just so we knew he knew. Gaw-DAMN.
More than most fusionistic jazzers, trumpeter Daniel Rosenboom rocks -- which doesn't mean his quintet plays simple or heavy, more like hard, intense and eclectic. The five started with African inspiration (Kai Kurosawa stalking and soaring on tapped extra-stringed Warr guitar) and ended with nervous jump (Dan Schnelle rustling the drums, Gavin Templeton wrangling the alto), while guitarist Alex Noice rode feedback and Rosenboom cattle-prodded with his assertive horn.
Azar Lawrence doesn't shrink from his Coltrane discipleship, but the saxist appropriately gave the Trane thing added emphasis in an outdoor set with his all-star quartet featuring pianist Theo Saunders, bassist Henry Franklin and pound-slashing drummer Alphonse Mouzon. Lawrence's new album "The Seeker" contains what he must recognize as a new signature tune, the spirit-aching "Rain Ballad," whose echoes of John Coltrane's famous take on Billy Eckstine's "I Want To Talk About You" Lawrence reinforced with exquisite renditions of both. Beauty, tradition, tenor mastery -- this vet always connects.
Having bicycled across the country to get here, gigging all the way, trumpeter Taylor Ho Bynum challenged us to perceive him as more than a gimmick, and he slammed doubts to the ground with his hair-raising ensemble of local all-stars. Jeff Gauthier released his logistical frustrations via fierce violin. Flutist Nicole Mitchell knew just the spot to focus her breath against a Shure SM58 microphone so she'd cut through the jungle with sunset Arabic laments and New Orleans blues. Guitarist Jeff Parker stroked McLaughlin spider webs on the Miles Davis atmo-poem guaranteed to unite everyone's border-breaking tastes, "In a Silent Way." Magic man Mark Dresser on bass, energy-centered Michael Dresser on trombone, Alex effin Cline on drums -- they all roiled with this crew as if they'd been together for years. What made them so co-intuitive? Maybe they share with hard-blowing Bynum the artistic condition of our time, a certain uncoolness that allows them to play what they feel without worrying how it fits in the public pixel frame. Bravo.
Some of the above great music happened on the lawn at the same time as other great music by Craig Taborn and Josh Nelson was happening in the downstairs theater. So far I can't be everywhere at once, but I'll work on it.
Now it was time to close the festival with a tribute to and benefit for saxist Arthur Blythe, who's been struggling with Parkinson's for over a decade. Tuba player Bob Stewart, featured on some of Blythe's most notable recordings, shared MC duties with Blythe's friend and frequent vibraphonist Gust Tsilis; tall World Saxophone Quartet mate Oliver Lake stood next to small but potent alto acolyte David Binney. Afro-robed Dwight Trible meditated pre-wail; Andy Langham crouched at the piano. Still-young Nick Rosen, a Blythe ally when he was but a teen, clutched his bass and smiled; Alex Cline waited behind the drums with stoic intensity.
And they played Blythe's difficult tunes well -- not perfectly, but with feeling. Blythe wrote riffs with jumpy, off-balance rhythms, and his changes were sneaky. Still, the vamping structures provided plenty of opportunities for Langham to mix crossover beauty with brainy harmonies; Rosen to pop clean funk; Stewart and Tsilis to center things with their intimate knowledge; Lake, Binney and Azar Lawrence to provide parallel visions; and Trible and Cline to remind us of their history with Horace Tapscott, who gave tadpole Blythe a crucial showcase. "Lenox Avenue Breakdown," "Odessa," "Elaborations" and "Faceless Woman" made us wonder how a composing talent like Blythe's could have remained so sketchily recognized, but then we remembered that he was black, American and peaking at a time (the late '70s) when edgy jazz had been forgotten here.
Tsilis kept checking behind the curtain. He said Blythe's car had gotten lost. Blythe arrived near the end, but the honoree didn't want to face us. After the last number, though, the applause persisted and persisted, and Blythe, his stocky frame bent over, was slowly led onstage. Haltingly, he thanked us and God, showing himself a better man than Job.
* * *
ALEX CLINE ADDS:
During Mr. Bynum's set, the phenomenon of instant ensemble chemistry was certainly noticed by the musicians themselves as well. One theory I have for this is Bynum himself, who, besides being massively talented as a musician, is an extraordinarily energetic, upbeat, supportive and appreciative person, qualities he brought in abundance to his role as a bandleader. Of course, he hired a bunch of capable artists, but he also ignited and inspired us. It was fun!
Craig Taborn's set probably blew me away more than any other -- it was absolutely staggering (and in a very different way than Ortiz's -- Ortiz himself, by the way, was sitting next to me in the wings taking photos of Taborn with his smart phone during Taborn's set). It penetrated me to my core; I was very thankful I got to experience it.
And one of the truly wonderful aspects of a day like that was the many new connections and welcome reconnections among all the musicians present, something very nourishing and precious.
* * *
Donate to Arthur Blythe's fund here.
* * *
PHOTOS BY FUZZY BLOKE.