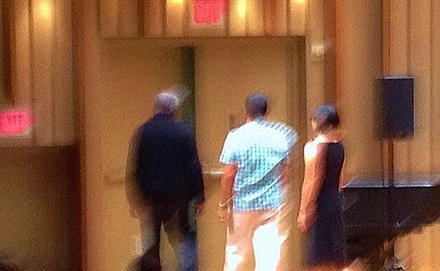 You could check off some common boxes between Anthony Braxton and Wadada Leo Smith -- their longtime connection with Chicago's AACM, their passion for abstraction, the nontraditional ways they diagram their scores/structures, their rumpled-professor mode of dress. But musically, they're almost strangers.
During Smith's segment of the Angel City Jazz Festival, the trumpeter-composer demonstrated his main concern: the human connection. He showed it in Jesse Gilbert's video projections, which wove live musician shots, historical faces and rural landscapes together with yarnlike strands that embraced and obliterated the earthbound images. He showed it in the musical structures, which shot clear messages of anger, pain, disorientation and resolve. He showed it in his sustained chords, which made every part of our bodies vibrate. He briefly showed it in his warm and penetrating trumpet tone.
The nearly 20 players commenced with primordial oozing/popping like the bubbles in a tar pit; Mark Trayle squiggled DNA patterns on his Mac with a stylus. Strings scraped and whined with static dread; Lynn Varten's drums thumped a jungle warning. Violence subsided into sadness. John Lindberg yanked incredible variations from his upright bass while Woody Aplanalp's electric guitar spun aluminized noise loops and the strings yelped in disbelief.
While investigating a road confrontation, occupying the world, paying tribute to late colleague Marion Brown and scaling Mt. Kilimanjaro, Smith's Silver Orchestra sounded like a Town Hall meeting -- many voices, not all agreeing but roughly harmonizing. At the end, we felt that they had often spoken for us, not just to us. Smith's ambitious orchestral career ride (2012's "Ten Freedom Summers," 2004's "Lake Biwa") continues.
During all of his five decades in the non-entertainment non-business, Anthony Braxton has assumed the role of the avant explorer -- not a mere Columbus, more like the nameless scout who preceded the first ancient Asian tribe across the frozen Bering Strait. He has used his enormous store of musical and cultural knowledge to show us where it's possible to go, and like every trailblazer, he has blazed paths to many places no one wants to go.
Braxton has even gone to Los Angeles sometimes, although his reception in our cowtown has not always been rapturous (see Vinny Golia's comments below). I recall a 1989 Braxton visit at McCabe's, where he and bassist Buell Neidlinger were met with devotion, puzzlement and walkouts; I don't think he's performed in our region since then. So at the Zipper on Saturday, it was interesting to observe the standing ovation at the end of his very challenging (and sold out) concert. Belated recognition? Supply and demand? Whatever -- I wish plaudits came packaged with gold ingots.
Braxton's trio included Taylor Ho Bynum on trumpet and Kyoko Kitamura on voice -- you didn't think it was going to be bass and drums, did ya? Before switching among alto sax and two tiny straight saxes, he set things up with a gauzy electronic loop that continued (with interactive variations) through close to an hour of uninterrupted group intensity.
All three were reading from some kind of score, and there were moments of unison and tight harmonic interplay, but the score must have laid down parameters rather that strict notation, because the music had the sound and feel of improvisation. Clad in white pants and a flinch-inducing green-checked short-sleeve shirt, Bynum stayed tight on Braxton's tail, showing superhuman chops and sensitivity in the midst of endless fast arpeggiations. The extremely facile Kitamura, in a black sleeveless dress between the two men, blipped, hiccuped and scatted like the Juilliard hepgrad she is.
Indefatigable at 68, Braxton explored a wide palette of honed/gritty tones while sprinting through every option of scale; halfway he veered from the onslaught to slide out a few measures of unwinking urban blues (haw-haw, we get it). There was little attempt at dynamics; the effect was more like a mass information download, but if anyone present had the RAM to process it, I'll buy him/her a silicon cocktail. Yet the trio hove together at times into a genuine brain sweat, and at times I heard things that probably weren't there (was that a real gnat in my ear?).
In a split second, the cardiganed Braxton moved from his final sax phrase to a quick thanks-and-'bye. He'd been doing all the work, so why were we the tired ones?
* * *
In 2004, Anthony Braxton was scheduled for a series of L.A. performances engineered by none other than Wadada Leo Smith, but ended up having to cancel. For an L.A. Weekly article that never got finished due to the absence of shows to plug, I asked Vinny Golia, a rare mate in the Braxton field of multiple woodwinds and avant compositions, to talk about his mentor. (Golia, Brad Dutz and Steuart Liebig got to the Zipper early Saturday to grab the best seats.) I figure, why waste the thoughts? So here's some of what Vinny said back then.
"I took two lessons with Anthony in 1971, when I was just learning to play. Then in 1978, he hired me to be in his Creative Music Orchestra, and he actually gave me my first real big break, going to Europe with a 23-piece group of his, which was like an all-star Who's Who -- George Lewis, Kenny Wheeler, Wadada, Ray Anderson, James Emery, Bob Ostertag. My favorite concert was the Paris one, which was just spectacular; it had been sold out two months in advance.
"Anthony was the first guy I heard who broke away from the Coltrane mode. Most of the horn players in New York -- this is a long time ago, before I actually even had a horn -- were pretty influenced by the Trane thing. And when Anthony came through, it was like, 'Whoa, this guy's sound is totally different. He plays a lot of weird instruments, like clarinet and contrabass clarinet, and he uses, like, a set of tuned garbage cans.' Most of the people were composing or playing real free energy music, and their compositions were more toward the bop spectrum, or kind of modal. Anthony's tunes were sectional and very textural, and maybe the same melody might be repeated by instruments with a totally different octave disposition.
"He wasn't that accepted in New York; I think his best shot at the time was the European scene. It's funny, my first trip to California was in 1971, and it just turned out that Anthony was in a band that showed up here in L.A. called Circle, and I went to see him. Both times that that group came here, '71 and I think later around '72 or '73 maybe, the reviews were scathingly bad. Leonard Feather was the critic for the Times, and he wrote really nice stuff about the other members of the band, and when he got to Anthony he just crucified him. And it happened at the same time that this review came out in a Blindfold Test with Phil Woods in DownBeat, where they played him some cuts from Anthony's solo album at the time, "For Alto," which was another groundbreaking thing in solo language, and much more akin to classical music than anything else. And Woods just raked him over the coals; it was really disturbing. It was like, 'Who is this guy? Don't play me that! Take that off!'
"It's the kind of stuff Anthony has taken throughout his career, and you have to give him credit for sticking to his conception. The orchestra music he wrote was just spectacular, and his small-group music at the time was equally spectacular. There was nothing really like those working groups into the '70s. Later on he got a little more project-oriented, and all those projects are quite good also. So he's been a very consistent artist his whole career.
"Anthony played Schoenberg Hall at a creative-music festival, two nights around 1981. My trio opened for Anthony, and the next night was John Carter and Bobby Bradford opening for the Art Ensemble of Chicago.
"I have a good time when I talk to Anthony, because he has wonderful energy, and he's so buoyant.
"One time we stopped at a bakery to get something, and the lady was impressed at the amount of baked goods that he had bought, so she offered him a rum ball. He took a bite and went, 'Oh my god, I've never had one of these!' She said, 'Oh, would you like some?' And he said, 'I'll take them all!' It's just the way he is. I mean, why have one saxophone when you can have the entire family of saxophones?
"He has a piece for four orchestras, and it's just amazing. Why have just a solo with puppets when you can have an orchestra and an opera? That's what makes him so unusual. Not only does he think of these things, but he actually does them!"
* * *
PHOTO BY FUZZY BRUX.