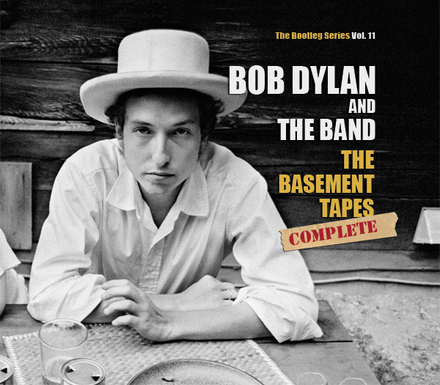 Q: Why would anyone want to listen to rehearsal tapes? A: If the rehearsals are Bob Dylan's. But not necessarily then, either.
Tujunga Dave said, "I'm not going to buy this for myself, you're not going to buy it for yourself, so I'm buying it for you. Let me know when I can borrow it."
Good idea, and I intend to pass it around to any friend who asks. Not many non-rich music fans will want to drop a C-note on the six-disc "The Basement Tapes Complete," which pulls together most every scrap of songstuff Dylan & The Band committed to magnetic memory in the Big Pink House and elsewhere around 1967, when Mr. D. was recovering from his famous motorcycle accident, hiding out and making demos of new songs for other people to record. And contemporaries like the Byrds, Manfred Mann, and Peter, Paul and Mary did record a lot of it: "I Shall Be Released," "You Ain't Goin' Nowhere," "Quinn the Eskimo," "This Wheel's on Fire," "One Too Many Mornings," more.
Of course, nearly all the best of this trove has been available almost from Day One, first as bootlegs, then as the official 1975 Columbia double LP "The Basement Tapes," for which Band guitarist Robbie Robertson has been criticized because he added material that wasn't necessarily from 1967, and included songs such as "Don't Ya Tell Henry" (with Levon Helm singing lead) and "Bessie Smith" (with Richard Manuel singing lead) that had little direct connection to the sacred historical Pinkness.
I say good on you, Robbie: You took music never intended for distribution and, using mixology and the original musicians, made it sing. You made it, in fact, into one of my top 50 albums of all time, and one of my top five Dylan albums.
The completist mania, I git it. My shelves hold hunks of complete Charlie Parker, John Coltrane and Bud Powell, and I even listen to them sometimes, because when a genius takes his licks for real, he rarely whiffs. The difference is that those jazz boxes are 98.3 percent full songs recorded under professional studio conditions, not rehearsal tapes. "The Basement Tapes Complete," though often ear-grabbing, are largely just rehearsals and early hacks at songs that never got arrangements or lyrics.
So here I am with Dave, talking about football while Disc 1 plays. Here I am with my wife, paying bills while Disc 3 plays. Here I am by myself, practicing my bank shots while Disc 5 plays. No, I'm not focusing all the time, but I don't feel bad about it. Dylan wasn't focusing either.
Half-assed blues with mumbled random syllables. Covers of Hank Williams, Johnny Cash, Curtis Mayfield and Tim Hardin to which Dylan doesn't know the lyrics. Half-remembered folk chestnuts. Promising originals waved at and forsaken. Even violent stabs at his own "Blowin' in the Wind" and "It Ain't Me, Babe." Am I happy to hear the alternate takes of fine songs like "Goin' to Acapulco" and "Apple Suckling Tree"? Sure. Are they better than the more familiar versions? No, except maybe "Too Much of Nothing," a title that many reviewers will surely use to describe this boxed set, but me, I'm just too big a man for that.
The swellest value of "Complete" is that it got me sucked into the Dylan magic for the millionth time. Now I was watching the stylish live bonus videos included with 2006's "Times Have Changed." Now I was remembering raw gems like the clumsy but powerful 1965 solo piano version of "I'll Keep It With Mine" from the 1985 "Biograph" box compilation, and the crazy thump of "Watching the River Flow," from 1971's "Greatest Hits Vol. 2." I was thinking about what a creative triumph 1970's "New Morning" was. Hell, I was even savoring the mythic folk of "Copper Kettle" (same year!) from the generally awful "Self Portrait" -- hadn't heard that in DECADES.
Once again I'm pondering the fact that it took another brush with death to produce the dark "Time out of Mind" (1997), Dylan's best album since the '70s. I'm wondering why the dauntless "cast-iron songs and torch ballads" of Dylan & The Band's 1974 "Planet Waves" are mostly ignored, while its more tepid 1975 follow-up, "Blood on the Tracks," is considered a classic. I'm swilling tequila to the rich live legacy of the 1976 "Rolling Thunder" tour, featuring Mick Ronson fer gawdsake. Hell, I may even ask around if any of my friends has a bootleg VHS of the buried "Renaldo and Clara," which I dozed through in '78.
So, y'know -- thanks, Dave.
* * *
My top five Dylan albums? Why not:
1. Blonde on Blonde
2. The Basement Tapes
3. Hard Rain
4. Planet Waves
5. Time out of Mind