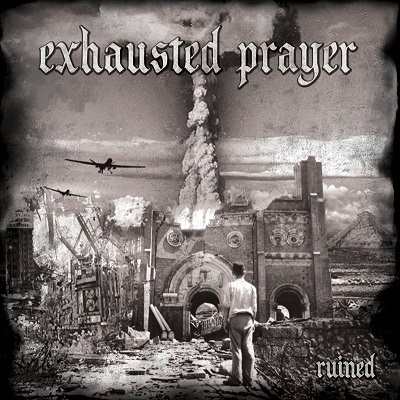 BY ALEX DISTEFANO
Listen to Exhausted Prayer blind, and you might think you can instantly peg this brand of metal. Must be from the icy forests of Norway, right? No, the smoggy freeways of Los Angeles County. Satanic church burners? No, atheist stoners. Ritualistic blood slurpers? No, mostly long-haired vegans. But their grimness? Universal.
Formed in the late '90s in the South Bay, where I went to high school with bassist Richard Vullich and drummer Mike Caffell, Exhausted Prayer (rounded out by guitarists Emmanuel Masongsong and Chris McCarthy) has been a staple of the underground L.A. death-metal scene since around 1999, and "Ruined" is its fourth self-released full-length. Since independent bands have to finance their own records, these dark characters have raised the money through trafficking in slaves and munitions. (Actually, Vullich is a professor of philosophy at several Southland universities, Masongsong is a research scientist, Caffell works with people suffering from autism, and McCarthy teaches guitar.)
Mere human utility aside, the members of Exhausted Prayer perform very, very well together. Splicing raw black metal with melodic death metal, doom metal and experimental rock, they're one of the tightest units around. Though brutal and despairing, their extreme metal hybrid hides symbolism within sounds, beauty within intricacy.
Like Mastodon, Exhausted Prayer exploits the songwriting ability of each member and offers dual vocal performances in each song. In just over half an hour, the foursome's ravenous, raw attack may make you flash on epic bands like Darkthrone, Emperor, At the Gates, Enslaved, Opeth, Tool and Intronaut. In other words, Exhausted Prayer sounds like itself.
On the title track, Vullich's bass stands out in a funky, catchy intro that leads into a doomy passage before building to a relentless rollercoaster ride of venom and anguish. If you get too caught up in the album's psychedelic twister to think of My Dying Bride, Morbid Angel, Hella, Marduk and even Yes, maybe you'll make those connections later. The thrashy guitar solos, full of hypersonic emotion, evoke heavy hitters like Dismember, Slayer and Nile.
"Ruined" ventures into faster, darker, heavier places, while a surprisingly atmospheric, almost jazzy vibe pervades. If you want catchy songs, you get them, as the opening "Not Complacent" (with its thought-provoking, headbanging middle riffs) travels through a spacy, precisely timed buildup to the irresistible rhythmic chant of the ensuing "Redacted." Other highlights include the roaring thunder of "Orthdoxy" and the contrasting clean and brutal vocals on "Wasting Games."
"Ruined" showcases Caffell's inhuman speed and stamina on drums, a talent well known to the other bands that employ his services -- Dreaming Dead, House of Rabbits and newly re-formed L.A. grind veterans Terrorizer. McCarthy also shreds guitar in Dreaming Dead as well as grindcore miscreants Murder Construct, and plays bass in House of Rabbits.
With "Ruined," Exhausted Prayer serve notice that they are the real deal -- intellectual, mystifying and ethereal yet accessible, filled with just enough hatred, speed, melody and beauty to leave listeners wanting more.
* * *

Exhausted Prayer performs with local black thrash assault crew Witchaven, Steel Bearing Hand, Livin Alive and Damnatoque on Thursday, November 20 at the Five Star Bar, 267 S. Main St., downtown 90012; doors 8pm; $7; 21+; fivestarbardtla.com; (323) 428-4492.