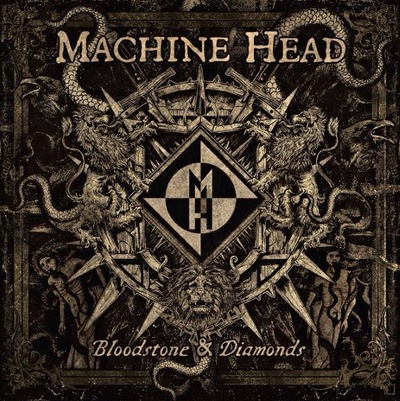 Robb Flynn must have a lot to prove, because he sure does prove a lot, again and again. After launching Machine Head's recorded career in 1994 with the dynamic Oakland thrash of "Burn My Eyes," the ex-Vio-lence vocalist-guitarist proved he could retool for the nu-metal/emo-metal currents of the later '90s, eventually deciding over the last decade that he would ignore whatever trend was trending and use all his band's very sharp tools to jettison subgenres and capture ears as rock musicians, period. If that meant Machine Head employed a children's chorus or a French horn or a Mellotron, you could hug your Slayer albums and criticize Flynn for lack of purity, but only an idiot could deny that he put it all together like a Porsche: "The Blackening" (2007) and "Unto the Locust" (2011) were heavy melodic masterpieces.
Lining up the same combat-proved production/mixing team (Flynn with Juan Urteaga, Colin Richardson and Andy Sneap), "Bloodstone & Diamonds" maintains the ridiculously high standards -- the band even canceled a tour and pushed back the release date so they could fine-tune the thing. Dave McClain's punishing but versatile drums hit you right in the face, with "Beneath the Silt" set aside as a rhythm showpiece. I like the moment after the bayonet charge of "Killers & Kings" where waves of Jared MacEachern's bass billow out just so you can delectate the fine grain of his tone. Flynn and co-axman Phil Demmel pull off some of their trademark tight twin-harmony arpeggios and scathing, craftily constructed solos.
And Flynn has set himself up as about the most expressive singer of the modern-metal age. He's not a technical virtuoso; you often sense the notes rather than hear them. But that enhances the intimacy of his confessional whispers, tortured screams and Hetfieldian croons, and he can pull off the melody of a strong chorus (the slugging, Mansonesque "In Comes the Flood") when he wants to.
On the soundscape side, "Bloodstone" arrays a smorgasbord: carefully curated guitar tones, a lovely string quartet, celestial background vocals, firing-squad drum paradiddles, a spoken sound collage. Spaciousness and sensuality alternate with pitiless aggression. It's a ride, all right.
Will you listen to it a lot? Depends on how your passions align with Flynn's. Depressive? Furious about war and global injustice? Then you can spend many an ungleeful hour with Flynn. But his mission demands no distance; despite his musical skill, he's 95 percent artist and only 5 percent entertainer. Which might be why this arrived closer to Halloween than Xmas.