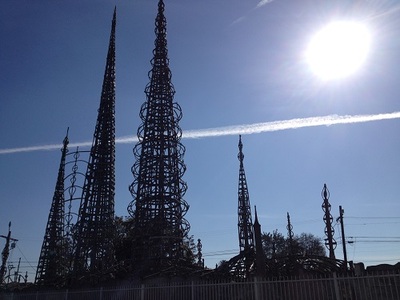 The Watts Towers are a musical place. The site hosts a yearly jazz festival, where I first saw Horace Tapscott's Arkestra about 1977. Bass great Charles Mingus, in his autobiographical "Beneath the Underdog," said he was inspired as a youth by the one-man creations of Sabato "Simon" Rodia; the Towers have an arts center named after Mingus. When you look at the Towers, you feel vibrations -- the music of the spheres, pulled in by Rodia's space antennae.
I've visited the Towers many times, but hadn't hit the spot for a decade until a recent visit, and now's a good time to go. Restorations have tidied up the crumbling cement that holds the thousands of decorative bric-a-brac shards. The repair scaffolding is gone. Making up for the lack of open access (an iron fence surrounds it now) is an excellent $7 hands-on tour.
The guide taught me a lot about the Towers, which immigrant Rodia built between 1921 and 1954. Not the naif as which he's often portrayed, the short, wiry Rodia was a trained and busy tilemaker. Much of his design represented the masts of a ship, central image of a local myth celebrated in his native town of Serino in Campania, Italy. Mass was often said at the Towers, and the baptismal font Rodia constructed saw plenty of use.
The adjacent arts center currently houses an exhibit of Alison Saar's paintings and sculptures -- stark metaphors of black women's perseverance and the complex implications of slave heritage for ghetto motherhood. A short 1950s documentary is in constant rotation; though a bit corny and inaccurate, it has value for showing Rodia at work and talking.
As my gang walked in, another gang rolled up in four cars -- a dozen young black men piling out, all braids, tattoos and baggy couture. A videographer documenting the incursion took some of the edge off. A hip-hop tribe? A track team? Whatever, they wanted themselves seen with the Towers, symbols of inspiration and aspiration. We saw their spokesman inside the gallery a few minutes later, politely asking for permission to shoot. Sorry, not without a permit.
Mr. Rodia, please show your documents.


* * *


PHOTOS BY DIANA DIAZ (MAIN PAGE) AND D.D. DOORZ (ABOVE).