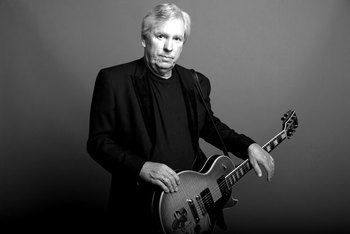 Fri. Jan. 16 -- James Williamson made rad-rock history in 1973 when he slung evil riffs with the Stooges on "Raw Power" (which I've bought four times); now he's got a star-bedecked, Stoogecentric album called "Re-Licked," and he celebrates its release with a staggering crew of extreme guests including Alison Mosshart (The Kills), Jello Biafra (Dead Kennedys), Lisa Kekaula (BellRays) and more. The ridiculously star-spangled bill also includes Dead Boys axman Cheetah Chrome with the Streetwalkin' Cheetahs, plus The Richmond Sluts. The Fold at Bootleg Hi-Fi, 2220 Beverly Blvd. near Alvarado, L.A. 90057; doors 8pm; $35; foldsilverlake.com.
Fri. Jan. 16 -- Beatman Christopher Garcia takes a non-Quarteto Nuevo stab at imagining how ancient acoustic Mesoamerican music might sound in our messed-up modern world with Lost Tribes Ix Ra Ga, his trio with guitarists-vocalists (etc.) Luis Perez Ixoneztli and Ixel Rajchenberg. At Alva's Show Room, 1417 W. Eighth St., San Pedro 90732; 8pm; $20; www.alvasshowroom.com; (800) 403-3447.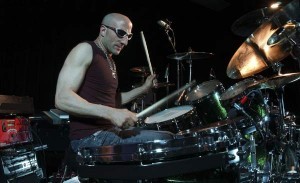 Sat.-Wed. Jan. 17-21 -- When the NAMM convention's in Anaheim, major fusionistos are on the prowl at the Baked Potato. Like, you got heavy drummer Kenny Aronoff (Sat., pictured), guitarist Josh Smith no longer advertising a certain popular six-stringer he's recorded with (Sun.), ex-Megadeth ax king Chris Poland's Ohm (Tues.), and ingenious post-Zappa omnivore Mike Keneally (Wed.). At the Baked Potato, 3787 Cahuenga Blvd. West, Studio City 91604; 9:30 & 11:30pm; $20-$25; (818) 980-1615; www.thebakedpotato.com.
Sat.-Fri. Jan. 17-23 -- Dunno if the NAMM connection prevails, but it's a suspicious coincidence that the Whale has slated a huge week including smart saxist Dave Binney (Sat.), warm-stroking guitarist & CalArts piano wheel Larry Koonse & David Roitstein (Sun.), the stoked quartet of keysman Isamu McGregor featuring wind legend Bennie Maupin (Tues.), vibist Nick Mancini presenting his truly groovin' new organ-soaked album (Wed.), and honed saxist Ben Wendel in a star quartet with Taylor Eigsti, Harish Raghavan and Charles Lloyd drummer Eric Harland (Thurs.-Fri.). At the Blue Whale on the third level of Weller Court Plaza, south of East First Street between South Los Angeles Street and South San Pedro Street, Little Tokyo 90012; 9pm-midnight; $15-$20; 21+; parking $5 underneath off Second Street at the sign of the P in a circle; (213) 620-0908; www.bluewhalemusic.com.
Mon. Jan. 19 -- Celebrate MLK Day with transcendent singer Dwight Trible and his always soul-inspiring band. At Catalina Bar & Grill, 6725 Sunset Blvd., Hollywood 90028; 8:30pm; $20; (323) 466-2210; www.catalinajazzclub.com.
Thurs. Jan. 22 -- I dig djent mavens Periphery when they kick technical ass but less so when they whimper. Am I wrong? With Nothing More, Wovenwar, Thank You Scientist. At House of Blues, 8430 Sunset Blvd., West Hollywood 90069; doors 6pm; $27; (323) 848-5100; www.livenation.com.
Thurs. Jan. 22 -- Dino Cazares and '90s industro-shredders Fear Factory top a hard-crankin' homegrown bill with Soulbleed, Grimefield, Darwen's Theory, Fused by Defiance. At the Whisky, 8901 Sunset Blvd., West Hollywood 90069; doors 6:15; $20; www.whiskyagogo.com; (310) 652-4202.
* * *
Read Don Heckman's jazz picks here. Read John Payne's plutonic Bluefat.com here.