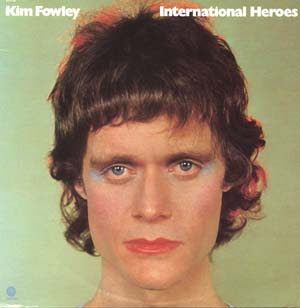 If Kim Fowley was a vampire, he's not really dead, so be careful. If not . . . well, though the music mastermind had a reputation as a bloodsucker, sorrowful tributes from members of the Runaways, the band he created in 1974, suggest some revisionism may be in order. And his long list of credits shows that Fowley possessed a magnetism that led many to override their instinctive repulsion. Here are some things I remember about him.
1973. In Rolling Stone, I see an ad featuring a picture of a man who looks like Frankenstein's monster with glam makeup. (This is before "The Rocky Horror Show.") The blurb reads, "Kim Fowley went to London to visit the queens. He came back with this album," which is revealed to be "American Heroes," an unsuccessful attempt to cash in on David Bowie's look and sound. At the time, I have no clue who Fowley is, I'm just disgusted by his cynicism. But I remember him.
1974. Fowley promotes a "Death of Glitter" show at the Palladium featuring the New York Dolls (on their last legs), Iggy Pop (with Ray Manzarek and Hunt & Tony Sales) and Silverhead. It occurs to me that Fowley is sabotaging a bandwagon that failed to give him a ride. In the parking lot afterward, a shivering groupie complains that Iggy has stolen her fur coat.
1974-1976. I attend shows by bands Fowley is promoting: the Runaways at the Roxy and the Whisky; the Hollywood Stars at the Roxy; the Quick at the Troubadour, the Starwood and some big place with fake stalactites whose name I don't remember. I like the bands and start to think Fowley has solid instincts.
1976. At "Radio Free Hollywood," a non-Fowley show featuring the Motels, the Pop and the Dogs at Troupers Hall in Hollywood, I see Fowley up close for the first time, recognizing him because he, ever the self-publicist, has always gotten his picture in magazines. I observe that Martha Davis of the Motels drips with charisma and ask Fowley if he's scoping her out. He shrugs off the idea, but later I hear he fruitlessly tried to get involved with the band. He exudes an attitude of regal distance and heavy-lidded corruption.
1977. Fowley emcees a "Punk Rock Fashion Show" at a Palladium concert featuring Devo and Blondie. Somehow he has persuaded Darby Crash (then Bobby Pyn) of the Germs to strut pouting onto the runway wearing only a leopard jockstrap, his hair outlandishly mohawked. The crowd, smelling unpunkness, boos Fowley and pelts him with coins and cups. Before the headliners play, security ejects me for disorderly conduct unrelated to the pelting.
2001. Fowley has spent a decade or so lying low, in the desert some say, but one night he hosts a talent show at Highland Grounds in Hollywood for his country-music discoveries, "dreamers hoping to become product." He insults the audience between performers, all of whom are good -- I even buy a CD by Patrick Brayer, who has written songs for Reba McEntire.
2003. In "Mayor of the Sunset Strip," George Hickenlooper's documentary about Rodney Bingenheimer, Fowley talks about his quiet pal the KROQ DJ -- for decades, tall Kim and short Rodney hit every club in town together, and often helped each other out. But the film is a sad commentary on the evanescence of fame and fortune.
2010. When word of a docudrama called "The Runaways" spreads, everyone I know says, "I want to play Kim Fowley!" The role goes to Michael Shannon, who succeeds in representing Fowley's amorality and manic energy, but not his hypnotic appeal.
2011. Fowley celebrates his 72nd birthday by hosting a "ResBox" night of avant improvisation at Hollywood's Steve Allen Theater. The event is booked by synth player Hans Fjellestad, who met Fowley while making a documentary, "Sunset Strip" (released in 2012). Fowley needs a cane to get onto the stage. He talks about surviving prostate and bladder cancer, and says the secret to longevity is being an asshole. "I'll die before any of you," he tells the audience in the little performance space. "And when you get to heaven/hell/purgatory, I'll be waiting for you in a club just like this."
2013. Driving in South-Central Los Angeles near Arlington and Adams, I spot Fowley hobbling down the sidewalk with his cane, and wonder what he's doing away from Hollywood.
2015. Kim Fowley dies of cancer. Read Rolling Stone's obituary here. Back in '73, did he ever pay them for that ad?