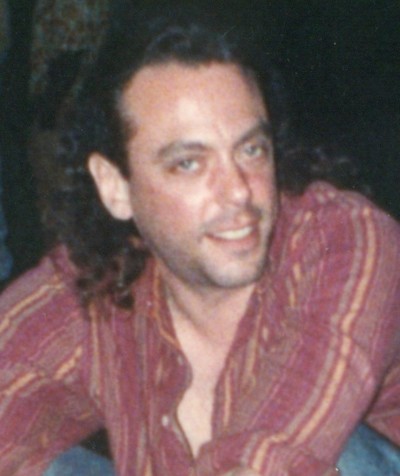 Kyle had dark eyes and a shy smile (though he was not that shy) and wore a beret sometimes. He played drums in the Skulls, the Eyes, the Willys, the Motels, the Skanksters, the Wild Stares, Listing Ship and about 200 other bands, including my group Dred Scott for four years in the early '80s. He was pessimistic about all of them, but he liked playing drums and was very good at it.
Kyle died in Oregon on January 23 of liver failure. He was 59.
A slave to funk and jazz, Kyle inserted black accents into anything he played. The first time I noticed him, around 1981, he was with Charles Duncan & the Willys, which would have been a rootsy rock band except that Kyle and the bass player didn't quite hear it that way. Although Dred Scott had a couple of funky numbers, we mostly ran straight rock rhythms, which Kyle would embellish with trademark counterhitches. He had a big, jumpy foot on the kick drum; if I requested that he hit four on the floor, he would comply in a way that made the drums express with great wordless eloquence, "Is this stupid enuf for you?" Never stupid enuf for the singer, brother man.
Kyle enjoyed recording and mixing music, and editing film. He enjoyed those activities so much, in fact, that he never considered any project finished. Delays notwithstanding, he could amaze you with what he accomplished by overdubbing 30 tracks on a cheap 4-track tape machine, if you could yank a "rough mix" from his clutches.
I wish I had recorded some Kyle conversations, which tended to be laced with bitter humor unless he was even more pissed off than usual. It would be impossible anyway to replicate in print his drawling, chortling, almost sinister mode of talk, so I'll just quote some stuff he wrote me in emails last November.
On the healthcare system: "they just sliced up my benefits, apparently deciding i was too rich. i guess i must have been."
On his doctors: "they will seemingly leave no stone unturned before requesting the hep cure for me. so, consequently, i now have many gallstones."
When I told him I was reading a biography of Walt Disney: "i know firsthand the anaheim park is equipped with a decently sophisticated police force and jail."
Kyle wanted to break out of artist prison on his own terms, and the deck was stacked: Although the world's Johnny Cashes, Ornette Colemans and Jackson Pollocks might temporarily get away with their crimes, for every free outlaw a thousand stay locked up; hell, even total conformists rarely see the light of day in the wild frontiers of creativity. What we call success requires talent, perseverance and luck, and God gave Kyle only the first two.
Wait, it sounds as if I'm trying to explain, when all I want to do is remember. So thank you, Kyle, for being yourself.
* * *
CLOSEUP PHOTO BY DAVE VAN HEUSEN, 1992. COLOR PHOTO WITH MARSHALL BY UNKNOWN SNAPPER, c1984. BLACK-AND-WHITE PHOTO ON MAIN PAGE BY ROBBIN KOHN, c1982.