Fri. Feb. 13 -- Otep keeps changing her look (often several times a night) and her sound (death rasp, melodic sensitivity, stripped-down heaviness), but her poetic sensibility and commitment to the underbitch remain constant. With Terror Universal, Dirty Machine, Ninth Plague, The Inner Bright, Besieged by Demons. At the Whisky, 8901 Sunset Blvd., West Hollywood 90069; doors 7pm; $20; www.whiskyagogo.com; (310) 652-4202.
Fri. Feb. 13 -- Guitarist Jon Landau cranks big fusiony subtle noise with his power trio featuring bassist Jimmy Johnson and drummer Duke Gadd (son o' session great Steve). At the Baked Potato, 3787 Cahuenga Blvd. West, Studio City 91604; 9:30 & 11:30pm; $30; (818) 980-1615; www.thebakedpotato.com.
Fri. Feb. 13 -- Stoneworthy Cali cowpokes I See Hawks in L.A. team up with noted guitarist-songwriter Tony Gilkyson to swap songs & stories and surprise themselves, as they put it. At the Coffee Gallery Backstage, 2029 N. Lake Ave., Altadena 91001; 8pm; $20; reservations (626) 794-2424; cash or checks only; no booze; www.coffeegallery.com.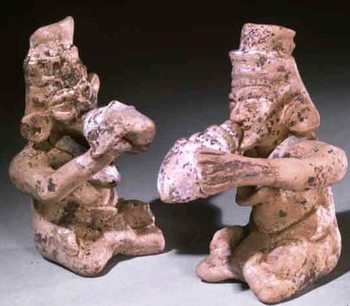 Sat. Feb. 14 -- Get yer pre-Columbian rattle-&-hoot on when Christopher Garcia & Luis Perez-Ixoneztli perform "The Infinite Expansion of Sound" on instruments with ancient Mesoamerican roots. A presentation of lthe Carriage House Concert Series at 1215 Garfield Ave., South Pasadena 91030; 8pm; $20 (students & seniors $10).
Sat. Feb. 14 -- Omnitalented conceptual/groove pianist Billy Childs assembles a topflight modern-mainstream quartet with the involving alto star Steve Wilson, plus bassist Hans Glawischnig (Bobby Watson, David Sanchez) and drummer Johnathan Blake (Tom Harrell, Kenny Barron). A presentation of the Jazz Bakery's Movable Feasts at the Colburn School's Zipper Hall, 200 S. Grand Ave., downtown 90012; 8:30pm; $35 (add $25 for each student); www.jazzbakery.org.
Sat.-Sun. Feb. 14-15 -- When I was 23, Sparks' pop-rock opus "Kimono My House" rarely left my turntable, and apparently it's left a big enough impression on other fans that L.A.-bred Ron & Russell Mael can play the whole thing 40 years later with a 38-piece orchestra. Hollywood lives. At the Theatre at Ace Hotel, 929 S. Broadway, L.A. 90015; 9pm; $44-$133; www.goldenvoice.com.
Tues. Feb. 17 -- The Lost Trio, featuring the extraordinary Bay Area sax mutator Phillip Greenlief, bassist Dan Seamans and drummer Tom Hassett, could shed new light on a standard or travel way out. Hit the store after work if you're in the neighborhood. At The Battery Books & Music, 1005B Mission St., South Pasadena 91030; 7pm; free I'm guessing; (626) 376-9913.
Tues. Feb. 17 -- This version of Anthony Wilson and the Curators is the trad-plus guitarist plus violinist Petra Haden, keyboardist Patrick Warren, drummer Matt Chamberlain and bassist Mike Elizondo, playing jazz you didn't realize would fit your earholes so nicely. At the Blue Whale on the third level of Weller Court Plaza, south of East First Street between South Los Angeles Street and South San Pedro Street, Little Tokyo 90012; 9pm-midnight; $15; 21+; parking $5 underneath off Second Street at the sign of the P in a circle; (213) 620-0908; www.bluewhalemusic.com.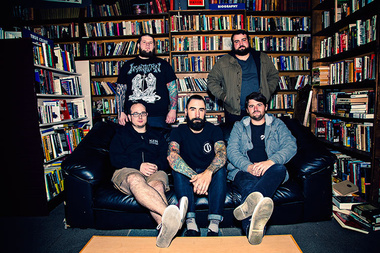 Tues. Feb. 17 -- Colorado's Call of the Void sound like a metal-punk cross between Cannibal Corpse and the Dicks, writing songs with real hooks and tempo shifts (even a dark piano interlude); good call by Relapse Records to sign them. With Enabler, Panties, Brucexcampbell, Aputasos. At Five Star Bar, 267 S. Main St., downtown 90012; 8:30pm; $8; fivestarbardtla.com; (323) 428-4492.
* * *
Read Don Heckman's jazz picks here. Read John Payne's plutonic Bluefat.com here.