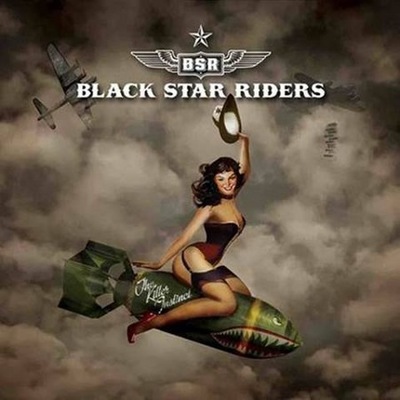 Begorra, they did it again. No longer narrowcastable as a Thin Lizzy spinoff, Black Star Riders have followed up 2013's nearly flawless "All Hell Breaks Loose" with a classic hard-rock blast that can knock even a militant octopus out of its combat boots.
Multidecade LizRider Scott Gorham and friends execute a formula every group would copy if it could: a star at every position, dynamic yet stable chemistry, a bottomless songwriting well, Navy Seals-level producers and a history of persistence. Even all that doesn't guarantee longevity for a new band (cf. Black Country Communion) in a World That Forgot How To Rock & Roll, but despite losing bass vet Marco Mendoza, BSR have continued their fissionable entrée onto the global stage with an expeditionary-force round of concert halls and festivals.
On "The Killer Instinct," the Black Star formula extends to echoing some of the songs from "Hell," while actually improving on them. The title track charges through its hardbitten yet idealistic philosophy harder than "Bound for Glory." Though eschewing pennywhistles, "Soldierstown" dances with a cohesion and fierceness missing from the similarly Celtic "Kingdom of the Lost." The swaggering "Charlie I Gotta Go" stands as one of the new album's best tracks because it's got better hooks & riffs than "Hoodoo Voodoo," which tapped the same jumpy rhythm. Some would criticize these self-tributes for lack of imagination; I just call it having a Sound.
And BSR expand their sound plenty beyond the straight-ahead rock of "Hell." What an epic ballad, for instance, is "Blindsided," with its slippery acoustic-guitar work and moaning electric solos from Gorham and Damon Johnson, who mesh like ax twins throughout the record and show off a polished range of vintage-plus tones. What a brisk reminiscence is "Finest Hour," recalling "Brown Eyed Girl" by Van Morrison (whose hometown, like that of Black Star's Ricky Warwick, is Belfast) in emotion and feel, but not form. The capper: Rarely will you experience a final track as satisfying as the 7-minute "You Little Liar," a showcase for Jimmy DeGrasso's inventive drum work in the midst of leisurely tempo changes, fiery improvisations and a repeated vocal declamation you never get tired of.
Warwick, indeed, has claimed a spot in the front rank of rock singers. His voice is rough and warm, his lyrics vivid: "I'm through pulling you out of the fire, so pull me into the flame"; he portrays a girl "on the bathroom floor of a Texaco." Most of all, he means every word.
Producer Nick Raskulinecz stepped in last year when the previously announced helmsman, Def Leppard's Joe Elliott, stepped out, and since N.R. helped shaped some of my favorite-sounding albums (Danzig's "I Luciferi," Marilyn Manson's "Holy Wood," Alice in Chains' "Black Gives Way to Blue," Queens of the Stone Age's "Songs for the Deaf," My Ruin's "The Brutal Language"), I can't help but see that as a lucky break. Although Raskulinecz's sound horizon may not run quite as deep as the one sculpted by Kevin Shirley on "Hell," its modern crispness, hardness and shading make the comparison a toss-up.
Black Star Riders, please keep making records. I love a lot of new metal and jazz and world music, but there's a hole in my soul that's never filled unless I dig up some obscure vinyl by Spooky Tooth or Crow (or Thin Lizzy). A discovery feels even better when it's NOT old.