Fri. Apr. 24 -- Double Naught Spy Car instrumentalize radically in multiple genres, tonight adding improvisational vocals from Greg Franco and YOU. Bikos close. In the bar of Taix Restaurant, 1911 Sunset Blvd., Silver Lake 90026; 10:30pm; free; www.taixfrench.com.
Fri.-Sat. Apr. 24-25 -- Miguel Atwood-Ferguson is playing "five-string violin" rather than viola, but his varied nontraditional semi-improvisational Cali postjazz (and his personalized approaches to Madlib and J Dilla) don't mind, this time with a dozen or so local stars including Dwight Trible, Kamasi Washington, Jeff Parker and Nick Mancini. DJ sets by Carlos Niño, too. MAF will be recording for a live DVD, so come naked. At the Blue Whale on the third level of Weller Court Plaza, south of East First Street between South Los Angeles Street and South San Pedro Street, Little Tokyo 90012; 9pm-midnight; $25; 21+; parking $5 underneath off Second Street at the sign of the P in a circle; (213) 620-0908; www.bluewhalemusic.com.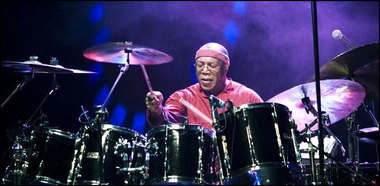 Fri.-Sun. Apr. 24-26 -- Drummer Billy Cobham helped invent metaljazz with his 1973 "Spectrum"; this weekend he powers it out with an all-star quartet he's calling Spectrum 40 with bassist Ric Fierabracci, guitarist Dean Brown and keyboardist Gary Husband. At Catalina Bar & Grill, 6725 Sunset Blvd., Hollywood 90028; 8:30 & 10:30pm; $25-$35; (323) 466-2210; www.catalinajazzclub.com.
Sat. Apr. 25 -- The '70s fusion concentration intensifies with guitarist Al Di Meola, of Return to Forever but also the author of the 1977 solo landmark "Elegant Gypsy," on which he refocuses tonight. Zakk Wylde says he learned tons from ADM as a child. At the Saban Theater, 8440 Wilshire Blvd., Beverly Hills 90211; 8pm; $34-$48; www.ticketmaster.com. Also Sun. at Canyon Club.
Sat. Apr. 25 -- What the hell, bassist Marco Mendoza (Whitesnake, Black Star Riders, Derek Sherinian) has the chops for fusion, so why not jam out with El Trio, his fallback outfit with drummer Joey Heredia and keyboardist Renato Neto? Don't pick a fight with Marco; he's buff and armed. At the Baked Potato, 3787 Cahuenga Blvd. West, Studio City 91604; 9:30 & 11:30pm; $25; (818) 980-1615; www.thebakedpotato.com.
Sat. Apr. 25 -- Pasadena's New Town celebrates its multidisciplinary art crusade and raises funds at an Arroyo Seco home with an all-afternoon orgy of installations, site-specific performances, art sales and music featuring names like Non Credo, Pat Payne, Amy Knoles and Miroslav Tadic. Score the full dope here.
Sat. Apr. 25 -- Reliably transcendent saxist Azar Lawrence gathers some of the foremost names in SoCal jazz: trumpeter Oscar Brashear, trombonist George Bohanon, drummer Roy McCurdy, pianist Theo Saunders and bassist Jeff Littleton. Like the late '60s, except you don't got acne no more. At Roscoe's Seabird Jazz Lounge, adjacent to Roscoe's Chicken & Waffles, 730 E. Broadway, Long Beach 90802; $15; 9pm-1am; (562-787-0899); www.seabirdjazzloungelbc.com.
Sun. Apr. 26 -- Guitarist and pedal-steel man Adam Levy & Rich Hinman break out of the studio to exploit their world-class chops; the Modern Morals duo goes pop; Pete Morris paints right in front of yer face. Brilliant Strings at First Presbyterian Church, 2775 Lincoln Ave., Altadena 91001; 4pm; $12 (kids $3); (626) 791-4271.
Tues. Apr. 28 -- Pianist Gary Fukushima joins vibraphone conjuror Nick Mancini to do something different that won't make non-masochists flee. At WitZend, 1717 Lincoln Blvd., Venice 90291; 7pm; $10 (bring a guest for free, one item minimum); bar & food; all ages; (310) 305-4792; www.witzendlive.com.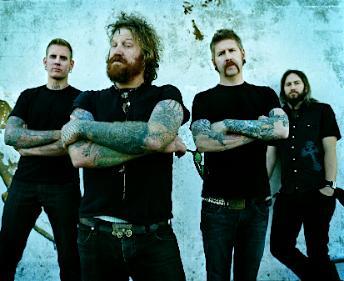 Wed. Apr. 29 -- The mix of modern metal proggers Mastodon, accessible heavymen Clutch and satanic Swedish moaners Graveyard was bound to sell out, so you'll have to pay scalpers through the anus, which is the correct mode. At Hollywood Palladium, 6215 Sunset Blvd., Hollywood 90028; 8pm; www.livenation.com; (323) 962-7600.
Wed. Apr. 29 -- Guitar slinger Tracii Guns rips & tears his L.A. Guns hits, and dresses the leathery part for his Strip legions. With Devilskin, LA Story, Briarhill. At the Whisky, 8901 Sunset Blvd., West Hollywood 90069; www.whiskyagogo.com; doors 7pm; $15; (310) 652-4202.
* * *
Read Don Heckman's jazz picks here. Read John Payne's plutonic Bluefat.com here.