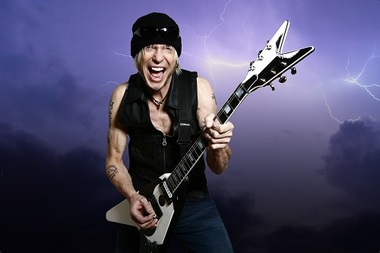 Fri. Apr. 3 -- With the new "Spirit on a Mission," Michael Schenker's Temple of Rock has really pulled it together. The blazingly weird, hard-rocking, formerly bloated but now emaciated guitarist has conscripted drummer Herman Rarebell and bassist Francis Buccholz, his classic Scorpions bandmates circa 1979. He's got Doogie White, the powerful yet uncartoonish singer who's done great work with Rainbow and Yngwie. Utility guitarist-keyboardist Wayne Findlay completes the picture. And "Mission" drives fast and hooky; hope they draw from that album and not just the reliable catalog of Schenker's other most famous band, UFO. With Gundriver, Big Bad Rabbit, Frostfire, Omegament. At the Whisky, 8901 Sunset Blvd., West Hollywood 90069; doors 7pm; $30; www.whiskyagogo.com; (310) 652-4202.
Fri. Apr. 3 -- The Shrine rock hard and crude and have long hair and beards and smoke bombers in their videos. Any questions? With New York's Dirty Fences and an Olivia Jaffe photo show. At the Paper Agency, 1050 S. Olive St., downtown 90066; 7-10pm; cheap or free I'm guessing, but info on this show is scarce.
Fri. Apr. 3 -- The key's in the keys, my son, and English expat Brian Auger has had his fingers on 'em for 50-some years, teasin' out the bluesy jazz. This version of his Oblivion Express features original singer Alex Ligertwood plus drummer Karma Auger and bassist Dan Lutz. At the Baked Potato, 3787 Cahuenga Blvd. West, Studio City 91604; 9:30 & 11:30pm; $25; (818) 980-1615; www.thebakedpotato.com.
Sat. Apr. 4 -- What have I dug about the way John Abercrombie played guitar with Charles Lloyd or in a Jim Hall tribute or on his own many ECM records? The masculine sensitivity, the concise phrasing, the surprising note that you think might be a mistake, but he makes it into a revelation. His star quartet includes pianist Marc Copland, drummer Joey Baron and bassist Drew Gress (whose open, spontaneous style will fit well with Mr. A's). A presentation of the Jazz Bakery's Movable Feast at the Musicians Institute, 1655 N. McCadden Place, Hollywood 90028; 8pm; $25; www.jazzbakery.org.
Sun. Apr. 5 -- An experienced trio with an infinite palette: David Witham, G.E. Stinson & Norton Wisdom, drawing their colors from keyboards, electronified guitar and actual paint, respectively. Opening is the percussion trio Boorbaar, wherein Cory Beers, Mike Robbins and John Wash IV beat on things what don't normally git beat on. At Center for the Arts, 2225 Colorado Blvd., Eagle Rock 90041; 7pm; $10; (626) 795-4989.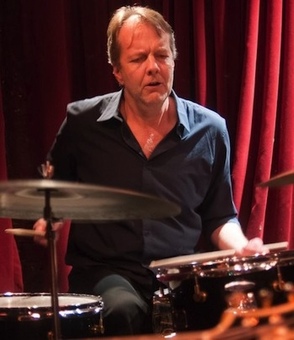 Mon. Apr. 6 -- Open Loose sounds like how I might have described the ingenious subliminal rhythmics of drummer Tom Rainey, who's assembled a stunning trio with big-chested tenor man Tony Malaby and avant bass resource Mark Helias. At the Blue Whale on the third level of Weller Court Plaza, south of East First Street between South Los Angeles Street and South San Pedro Street, Little Tokyo 90012; 9pm-midnight; $15; 21+; parking $5 underneath off Second Street at the sign of the P in a circle; (213) 620-0908; www.bluewhalemusic.com.
Tues. Apr. 7 -- Fusion? I guess, but guitarist Chris Poland's Ohm fuses more stuff than most, like funk, metal, jazz and sci-fi. With bassist Robert Pagliari and drummer David Eagle. At the Baked Potato, 3787 Cahuenga Blvd. West, Studio City 91604; 9:30 & 11:30pm; $20; (818) 980-1615; www.thebakedpotato.com.
Thurs. Apr. 9 -- Vibraphonist NIck Mancini cruises through his highly accessible new album "Impulse" with his semitraditional organ band: Ty Bailie on B3, Zack Albetta on drums and special guest Danny Janklow on sax. At the E Spot Lounge (formerly Upstairs at Vitello's), 4349 Tujunga Ave., Studio City 91604; 8 &10 pm; $15; (818) 769-0905; www.vitellosjazz.com. (I'm assuming that the times and price are the same as Vitello's used to do; call to confirm.)
* * *
Read Don Heckman's jazz picks here. Read John Payne's plutonic Bluefat.com here.