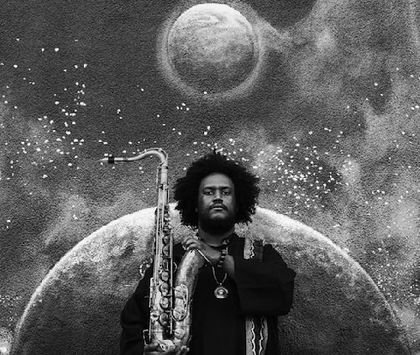 If 34-year-old L.A. saxist Kamasi Washington propagated only the three hours of "The Epic" in his entire life, he would deserve a permanent fixture in the Church of Jazz -- a big illuminated Bible, maybe a chalice, even a side chapel. This music is glorious.
"The Epic" can make you smile, breathe, feel optimistic. It unfolds with boundless generosity, as if we can relax past doomsday to receive inspiration after inspiration, and as if we deserve the gift.
Think: A jazz epic with strings, vocal choruses and no creative limits seemed impossible in our world of 99-cent virtual bazaars, and it would have been a nonstarter without the alliance of Washington's childhood friend and sometime musical collaborator Kendrick Lamar, who's a marketplace slugger in the field of rap. Whatever way "The Epic" comes to us, we should take it and kneel.
A few examples.
Good idea to lead off with "Change of the Guard," a more leisurely take on the vibe of John Coltrane's "Impressions," alternating between power jog and trance. Massed violins and swooning vocal sections make the whole thing lift off and hover midair between improvisational excursions, such as trumpeter Igmar Thomas' lyrical languor and tenor man Washington's punchy bebop (a form that sounds fresh when it pours from his unjaded lungs). The track fades out with psychedelic synth, which somehow doesn't feel incongruous. Wow.
"Leroy and Lanisha" rambles jauntily along, a conversation (plus tuneful call & response riffs) between Washington's exuberant tenor and Ryan Porter's convivial trombone. Pianist Cameron Graves turns your head throughout the "Epic" sessions with his joyfully sparkling dissonances, and when he butts in here, he's like some street genius on crack, except, y'know, WELCOME. A true tune!
One of the record's deepest offerings is Debussy's "Clair de Lune," somehow transformed into an organ-oozing slice of sentimental blues. When the chorus wells up, the thing opens onto Cinemascopic vistas, pure beauty. Remember Slam Stewart, the '40s bassist who bowed his standup bass so it sounded like some distorted heavy-metal whoopee cushion? Miles Mosley plays that part here, injecting just enough champagne to assure the royal ball steers clear of melancholy. Makes you want to WALTZ.
The Juice Award goes to the drums and percussion of Ronald Bruner Jr., Tony Austin and Leon Mobley, who seize your feet and make 'em twitch time after time. Their major contribution is no accident, since Washington himself blows like a stone rhythm fiend, making up in deadly-accurate groove whatever he may lack in subtlety. (Passion, though, he's got buckets of that.)
A longtime member of Gerald Wilson's big band, Washington has planned each long track on "The Epic" like a journey, with contrasting introduction, surprising conclusion and plenty of dynamic twists in between. The great Wilson taught many lessons, among them a sure knowledge of what audiences liked, and variety ranked high on his list. So Washington gives you energy, intellectuality, tradition, revolution and soul, and he gives it to you not because it's "The Message" (the title of the blasting, percolating final track), but because he thinks you'll dig it. He knows you've got struggles, and he steps up with the healing, the hope and just some ultra-fine jamz. On top of all that, flash your lamps on that cosmic cover image -- damn!


* * *


Kamasi Washington plays the Blue Whale on Thursday, May 28. He's been getting a lot of attention, so make a reservation if they let you.
Read Chris Barton's fine L.A. Times article here and Chris Hoard's Variety article (which covers Washington's May 4 performance of "The Epic" at the Regent) here.