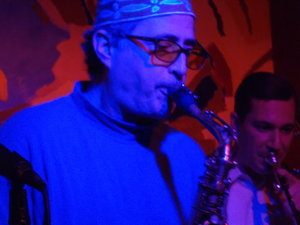 Fri. May 22 -- Saxist Richard Wood, an avantist with a heart, pays tribute to the inspirational electronic pioneer Mark Trayle, who died in February of pancreatic cancer. Wood's improvising/channeling trio includes cornetist Dan Clucas and baritone blower Richard Walker. Read CalArts colleague David Rosenboom's Trayle appreciation here. At The Battery Books & Music, 1005B Mission St., South Pasadena 91030; 8pm; cheap; (626) 376-9913.
Sat. May 23 -- Alan Pasqua has rocked the keyboard with Tony Williams, but we generally experience his more lyrical acoustic side, as here with his extremely sensitive all-star tio featuring Weather Report drummer Peter Erskine and Charles Lloyd bassist Darek Oles. At Alva's Show Room, 1417 W. Eighth St., San Pedro 90732; 8pm; $20; www.alvasshowroom.com; (800) 403-3447.
Sat. May 23 -- Wild Don Lewis a.k.a. Small Drone Orchestra performs magical rites with electric bass as part of the all day/evening Open Studios event at Santa Fe Art Colony, 2421 S. Santa Fe Ave., downtown 90058; scope the day's schedule here.
Thurs. May 28 -- For the last 15 years, I've watched Kamasi Washington mainly as a young saxist with Gerald Wilson, Phil Ranelin, the Pan Afrikan Peoples Arkestra and more, and I've always been impressed with his full-force tenor work. Now, with the release of the three-CD "The Epic," I'm fully forced to be impressed with his boggling chops as a composer and arranger, mature and unignorable. Read my record review here. With Washington's sudden coast-to-coast recognition, reservations may be necessary for this one. At the Blue Whale on the third level of Weller Court Plaza, south of East First Street between South Los Angeles Street and South San Pedro Street, Little Tokyo 90012; 9pm-midnight; $15; 21+; parking $5 underneath off Second Street at the sign of the P in a circle; (213) 620-0908; www.bluewhalemusic.com.
Thurs. May 28 -- Sufi-derived Iranian modern folklorists Niyaz crank up the mournful Middle Eastern dance music. At the Skirball Cultural Center, 2701 N. Sepulveda Blvd., LA 90049; 8pm; $35; www.skirball.org.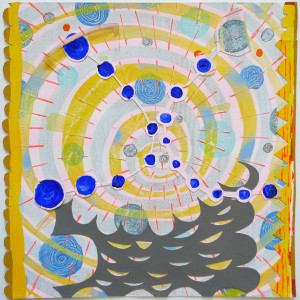 Thurs. May 28 -- The edge-pushing arts organization SASSAS is raising funds by selling "bootleg" album-cover art inspired by old LPs. The many visualizers include music-related names known by non-artists such as me, so let's mention some: Sarajo Frieden (above, flashing on Alice Coltrane), Fredrik Nilsen (remembering the Velvet Underground), Gary Panter (Mothers), Joe Potts (Grateful Dead), Rick Potts (Buddy Colette?), Tom Recchion (Henry Cow), Steve Roden (Fluxus), Eddie Ruscha (Cochin Moon), Michael Uhlenkott (his own Monitor, cheater). It's fun just to check out the selections online and bid until May 31 here. Tonight is the artists' reception at 1301PE, 6150 Wilshire Blvd., L.A. 90048; 6-9pm; free; the covers are viewable here in person May 27-30.
Thurs.-Fri. May 28-29 -- Speed-demon guitarist and keyboardist Tony MacAlpine (Planet X, Steve Vai), a leader in technical fusion for 25+ years, leads a trio with bassist Bjorn Englen and drummer Aquiles Priester. At the Baked Potato, 3787 Cahuenga Blvd. West, Studio City 91604; 9:30 & 11:30pm; $25-$30; (818) 980-1615; www.thebakedpotato.com.
* * *
Read Don Heckman's jazz picks here. Read John Payne's plutonic Bluefat.com here.