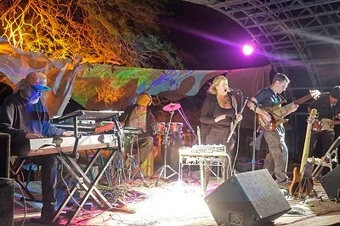 Fri. May 29 -- Socko double bill featuring two generations of L.A. border stretchers: vet flutist Emily Hay's highly abstract Hay Fever (with Steuart Liebig, Wayne Peet and Lucio Megon) plus the more rock-flavored Daniel Rosenboom Quintet (with Gavin Templeton, Alexander Noice, Kai Kurosawa and Gary Novak), a prime breeding ground of individualistic bandleaders. At Art Share, 801 E. Fourth Pl., downtown 90013; 8pm; not too expensive; free parking across the street at 321 S. Hewitt; (213) 687-4278; www.artsharela.org.
Fri. May 29 -- Speed-demon guitarist and keyboardist Tony MacAlpine (Planet X, Steve Vai), a leader in technical fusion for 25+ years, leads a trio with bassist Bjorn Englen and drummer Aquiles Priester. At the Baked Potato, 3787 Cahuenga Blvd. West, Studio City 91604; 9:30 & 11:30pm; $25-$30; (818) 980-1615; www.thebakedpotato.com.
Fri. May 29 -- Distorto rockedelic guitarist Sylvia Juncosa (11pm) celebrates her new record, encouraged by Man-Wray (mid.), The Probe (10pm) and It's OK (9pm). At Café NELA, 1906 Cypress Ave., Glassell Park 90065; 8pm; $10; beer only; 21+; www.cafenela.net.
Fri.-Sun. May 29-31 -- The last classic Blue Note guitarist left standing, Kenny Burrell leads a quintet. At Catalina Bar & Grill, 6725 Sunset Blvd., Hollywood 90028; 8:30pm (7:30 Sun.); $30-$35; (323) 466-2210; www.catalinajazzclub.com.
Sat. May 30 -- MicroFest presents microtonalist Wolfgang von Schweinitz molesting Bach and offering his own compositions via Formalist Quartet + Richard Valitutto. At the manorial Villa Aurora, 520 Paseo Miramar, Pacific Palisades 90272; 8pm; $25; shuttle service from Los Liones Drive & Sunset Blvd; (310) 454-4231; details here.
Sat. May 30 -- If you've been digging on Kamasi Washington lately, don't neglect his brilliant forebear in the L.A. Coltrane cult, saxist Azar Lawrence, here with another all-star group: trumpeter Oscar Brashear, trombonist George Bohanon, drummer Roy McCurdy, pianist Theo Saunders and bassist Jeff Littleton. Hey, Long Beach ain't that far. At Roscoe's Seabird Jazz Lounge, adjacent to Roscoe's Chicken & Waffles, 730 E. Broadway, Long Beach 90802; $15; 9pm-1am; (562-787-0899); www.seabirdjazzloungelbc.com.
Sat. May 30 -- For just pure fun jamming on the rockier end of riffy '70s-influenced improv, line up for Chili Peppers drummer Chad Smith and Bombastic Meatbats, with guitarist Jeff Kollman, keyboarist Ed Roth and bassist Kevin Chown. At the Baked Potato, 3787 Cahuenga Blvd. West, Studio City 91604; 9:30 & 11:30pm; $30 (tables sold out, limited SRO availalble on show night); (818) 980-1615; www.thebakedpotato.com.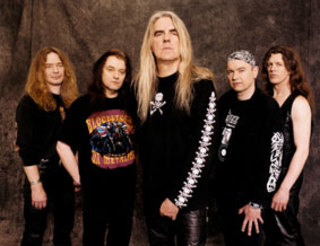 Sat. May 30 -- Brit metalmen Saxon thud hard and ever more skillfully over the years; always respected L.A. Strip standbys Armored Saint kick it with a new album arriving this week, their first in five years. At House of Blues, 8430 Sunset Blvd., West Hollywood 90069; 8:30pm; resale tix only remain; (323) 848-5100; www.livenation.com.
Sun. May 31 -- Any band with titles like "Brazen Bull of Phalaris" gets my attention, but Oregonian doomsters Usnea also ooze a wonderfully textured lava flow. With Italian sludgemen Ufomammut (first U.S. tour!), plus KATA. At Complex, 806 E. Colorado St., Glendale 91205; 8:30pm; $15; 21+; full bar; www.complexla.com; (323) 642-7519.
Sun. May 31 -- You need a sizable chamber (and the Whale may not qualify) to contain the Vardan Ovsepian Chamber Ensemble, a coloristic 13-member outfit featuring the classical-jazz (etc.) pianist and admired local stars such as violist Miguel Atwood-Ferguson, cellist Artyom Manukyan, bass clarinetist Brian Walsh, bassist Dave Robaire and drummer Gene Coye. At the Blue Whale on the third level of Weller Court Plaza, south of East First Street between South Los Angeles Street and South San Pedro Street, Little Tokyo 90012; 9pm-midnight; $20; 21+; parking $5 underneath off Second Street at the sign of the P in a circle; (213) 620-0908; www.bluewhalemusic.com.
* * *
Read Don Heckman's jazz picks here. Read John Payne's plutonic Bluefat.com here.