Fri. May 8 -- Garretson & Gorodetsky spring their sprung poetic jazzishness and don't kill bugs. At Stories Bookstore, 1716 Sunset Blvd., Echo Park 90026; 8pm; free.
Sat. May 9 -- Garretson & Gorodetsky open for auldtime O.C. surf-art instrumentalists Lawndale, and Ssssss!. At Café NELA, 1906 Cypress Ave., Glassell Park 90065; 8:30pm; $5; beer only; 21+; www.cafenela.net.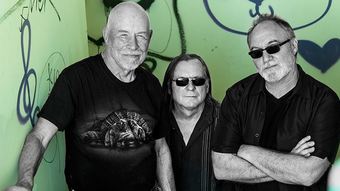 Sat. May 9 -- The well-pedigreed TriAngular Bent give ya something different with Mothers keyboardist Don Preston, cellist-electronicist Jeff Boynton and guitarist-synthdude Philip Mantione. At South Pasadena Music Center and Conservatory, 1509 Mission St., South Pasadena 91030; 8pm; $10; free parking behind; (626) 403-2300; events page here.
Sat. May 9 -- Call it Crow Nuts or Cronos or anything you want if we get to experience the most textured psychedelic fusion in town with keyboardist Jeff Babko, bassist Tim Lefebvre, keyboardist Louis Cole and heavy-trippin' guitarist Tim Young. At the Baked Potato, 3787 Cahuenga Blvd. West, Studio City 91604; 9:30 & 11:30pm; $20; (818) 980-1615; www.thebakedpotato.com.
Mon. May 11 -- Will pianist Vijay Iyer revisit the tumultuous yet precise virtuosity of previous solo performances, condense his own compositions and standards into conceptual sketches as on his current "Break Stuff," or trend toward the more accessible and meditative approaches he's taken lately? Whatever, the man never seems to put a finger wrong. At REDCAT, 631 W. Second St., downtown 90012; 8:30pm; $35 (students $25); www.redcat.org.
Mon. May 11 -- LATE ADD. A special world-music event: Avishai Cohen's Triveni, featuring the Near Eastern-inflected trumpeter (not the bassist-pianist of the same name) and his all-star trio mates, bassist Eric Revis and drummer Nasheet Waits. Atmospheric. At the Blue Whale on the third level of Weller Court Plaza, south of East First Street between South Los Angeles Street and South San Pedro Street, Little Tokyo 90012; 9pm-midnight; $20; 21+; parking $5 underneath off Second Street at the sign of the P in a circle; (213) 620-0908; www.bluewhalemusic.com.
Mon. May 11 -- The Cavalera-less version of Sepultura (Andreas Kisser, Paulo Pinto and Derrick Green have been carrying the name for many years) is a somewhat more technical and less Brazil-rhythmed outfit, but plenty extreme. Great bill with German thrash vets Destruction, supercomplex metal gymnasts Arsis, plus Boris the Blade, Micawber, New Eden, Thrown Into Exile. And I apologize for wrongly listing this last week (sob). At the Whisky, 8901 Sunset Blvd., West Hollywood 90069; doors 6pm; $30; www.whiskyagogo.com; (310) 652-4202.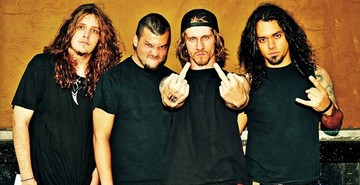 Tues. May 12 -- Brit black-metal multigenre screamers & (en)chanters Anaal Nathrakh churn it out; woofer Richie Cavalera and the melodic-riffin', hard-stompin' Incite (pictured) complete a week of Cavalera and Sepultura incursions. Plus Secrets of the Sky, Beasthrone, Luna Oc Culta. At Complex, 806 E. Colorado St., Glendale 91205; 8:30pm; $20; 21+; full bar; www.complexla.com; (323) 642-7519.
Wed. May 13 -- The most famous drums & bass team in roots reggae, Sly & Robbie, jam down with The Taxi Gang, plus Brit lovers-rock voxman Bitty McLean and the magnificent house DJs. Dub Club at the EchoPlex, 1154 Glendale Blvd., Echo Park 90026; doors 9pm; $20; 21+; www.attheecho.com.
Thurs. May 14 -- Reckless instrumentalists Paul Lacques and Double Naught Spy Car (10pm) log the second of their month o' Thursdays here. With Furniture Daniel (11pm) and Nahneen Kula (9pm). At Café NELA, 1906 Cypress Ave., Glassell Park 90065; 8pm; $5; beer only; 21+; www.cafenela.net.
* * *
Read Don Heckman's jazz picks here. Read John Payne's plutonic Bluefat.com here.