Fri. June 26 -- Ball hog or tugboat? Minuteman or Stooge? Bassist Mike Watt & the Missingmen (11pm) know there's no single answer. With the welcome return of '80s multipercussive L.A. postpunk all-stars Radwaste (10pm), plus The Freeks (9pm). At Café NELA, 1906 Cypress Ave., Glassell Park 90065; doors 8pm; $8; beer only; 21+; www.cafenela.net.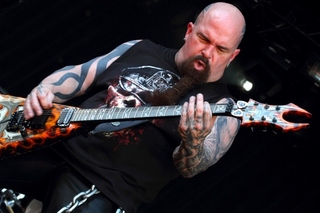 Sat. June 27 -- Mayhem Fest inflicts Slayer, thrashing very doomy with the advance title track of their upcoming "Repentless" despite the death of essential guitarist Jeff Hanneman (Exodus' Gary Holt fills in) and yet another split with drummer Dave Lombardo (Paul Bostaph is back). With classic shrieker King Diamond, soulful pounding from Pantera drummer Vinnie Paul and Hellyeah, plus solid attractions The Devil Wears Prada, Whitechapel, Thy Art Is Murder and plenty more homicide-related entertainers. At San Manuel Amphitheater, 2575 Glen Helen Parkway, San Bernardino 92407; 1pm; $10-$130; (909) 880-6500; www.livenation.com.
Sat. June 27 -- Expansive pianist Mark de Clive-Lowe's Church brings back a hint of the jazz '60s with his Afro-tinged blossoms; tonight his trio with bassist Brandon Owens and drummer Gene Coye is augmented by Miguel Atwood-Ferguson's string quartet and singer Nia Andrews; Carlos Niño deejays. At the Blue Whale on the third level of Weller Court Plaza, south of East First Street between South Los Angeles Street and South San Pedro Street, Little Tokyo 90012; 9pm-midnight; $20; 21+; parking $5 underneath off Second Street at the sign of the P in a circle; (213) 620-0908; www.bluewhalemusic.com.
Sat. June 27 -- Elliott Caine's quartet plays original post-bop; you don't gotta listen while you gnaw, but if you do you'll be rewarded. At Colombo's Restaurant, 1833 Colorado Blvd., Eagle Rock 90041; 9:30pm-midnight; no cover; (323) 254-9138.
LATE ADD: Sat. June 27 -- Reliable artistic adventurers such as Rika Ohara, Will Salmon and Brad Dutz present "Dream of the Other," an operatic words/music/dance work in progress about Lord Byron! At Live Arts Los Angeles, 4210 Panamint St., Eagle Rock 90065; 8pm; $15 ($10 students); details here.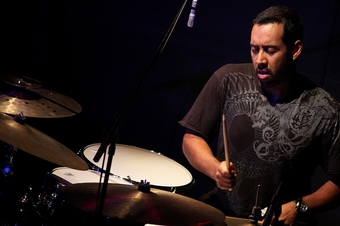 Sun. June 28 -- Briskly whisking drummer Antonio Sanchez, a man of layered beats and many abstract ideas, presents his Migration quintet with saxist Seamus Blake, pianist John Escreet, bassist Matt Brewer and singer Thana Alexa. At Moss Theater in the Herb Alpert Educational Village of New Roads School, 3131 Olympic Blvd., Santa Monica 90404; 8pm; $35 (add a student for $25); www.jazzbakery.org.
Sun. June 28 -- All-star avantists Brainchildren of Xenog (Vince Meghrouni, Dan Clucas, Brian Christopherson, Michael Alvidrez) conclude a varied bill with poet S.A. Griffin and originality preservationists Garretson & Gorodetsky; one-man bandLoose Leash opens. At Art Share, 801 E. Fourth Pl., downtown 90013; 7pm; $5; free parking across the street at 321 S. Hewitt; (213) 687-4278; www.artsharela.org.
Wed. July 1 -- Call her Ms. Shamaya or just Otep, the metallic voxster has a way with words and 100 ways to deliver 'em. With The Reaktion, Downfall 2012, Killset. At the Roxy, 9009 Sunset Blvd., West Hollywood; $31.50; (310) 278-9457; www.theroxy.com.
Wed. July 1 -- John Mayall always was one of the jazzier Brit bluesbreakers; early boss of Eric Clapton, Peter Green, Jack Bruce and so many more, he's a slice of history whose vibe might hit you as deep as his music. He's celebrating the release of "Live in '67," assembled from lost Bluesbreakers tapes; the harmonicat-singer often leads a quartet, but I dunno if he's got 'em here. With The Lightfighters, Brigitte DeMeyer. At the Whisky, 8901 Sunset Blvd., West Hollywood 90069; 9pm; $25; www.whiskyagogo.com; (310) 652-4202. Also at the Canyon Club July 5.
* * *
Read Don Heckman's jazz picks here. Read John Payne's plutonic Bluefat.com here.