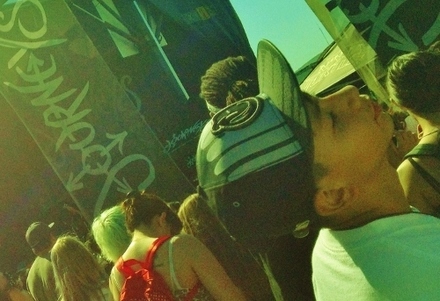 THE BIG PICTURE. Never got to a Warped Tour event before; had not been young enough. Mostly hard guitar churn with pissed vocals. Some white rap. Judicious distribution of eight rock stages and a few smaller ones. Twenty-five-minute sets scheduled like Mussolini trains. Literally 100 bands, most sharing back-line amps. Civilized atmo. Attendees not treated like criminals (cf. metal fests). Asphalt, some lawn, some shade, no dust clouds. Easy loo access. Limited moshing. Not crowded until late. All races except black. Sprinkling of chaperones. Zillions of merch booths. Average overpriced food. Vegan activists competing with reps passing out free jerky. Drinkers behind fence in Beer Prison. Not much weed. Cops in knots shooting the shit rather than the citizens. Convenient Amtrak train stops right at the entrance. Car traffic manageable. Mild sun with breeze from the nearby beach. Pleasant!!??
Some of the bands, in order seen:
ALIVE LIKE ME. Tight, crafted if generic heavy pop. Good first impression.
THE WONDER YEARS. Vet pop-punkers had their fans yowling along. Nobody cared if they were in tune. They have earned their beards and beer guts.
BEAUTIFUL BODIES. Bad name, major revelation. Won Ernie Ball's Battle of the Bands against 32,000 competitors. Kansas City frontchick Alicia Solombrino: blond speed freak, shredded stockings, crazy smile, zapsocket charisma, party dancer, raspy untrained tuneful voice. Hooky raw rock. First album just dropped. Guitarist leaped from highest platform of the day. Solombrino jumped off the stage, bounced around the crowd and burned through the set. Then she posed with converts in the merch tent for two hours. She will be a star.
HAVE MERCY. They ain't been around long enough to earn those beards, and if they earn the beards, they should donate 'em to Alaskans.
JULIET SIMMS. Proficient pop anguish, but her throat was giving her heck.
DRAMA CLUB. Creepbeat from industrogoth duo in kabuki masks. Audience puzzled. Bold move to play Warped.
MALLORY KNOX. Brit rockers throw rhythmic knuckleballs with a fuggit attitude. Talented young pros.
YOUTH IN REVOLT. Skilled and charged on every front. Songs with twists. High-voiced front man who can grab ya. "Everyone's talking about Father's Day. Well, this one's for you, Dad. You scumbag!" And they raged.
BLACK VEIL BRIDES. Vampire rockers condemned themselves to playing 41 Warped days in the sun. Did we hear longing in their rendition of "Coffin"? Top musicianship. Deft guitar solos. Studied stage presence. But a tad hollow, like their teeth. (Side note: Guess I half believed Warped's claim that band time slots were subject to daily lottery, thereby risking that popular bands like BVB and PTV would perform at noon. Silly me.)
PIERCE THE VEIL. Little Vic and the guys (minus a guitar player benched with smashed ribs) probably delivered their passionate, epic metallo-pop with plenty verve in their home state, but I couldn't tell cuz of the crowd crush and all the girls singing every word -- louder than the band and exactly on pitch, which must be another reason chix dig castrati singers. Also, PTV had the worst P.A. sound I heard all day. Vic wished a happy Father's Day to his pop "in the sound booth"; hope the old man wasn't to blame for the amateur knobsmanship.
Five and a half hours on site. Gotta catch the last train back to L.A. Satisfied, but not tired. Huh.
* * *
PHOTOS BY DIANA DIAZ.