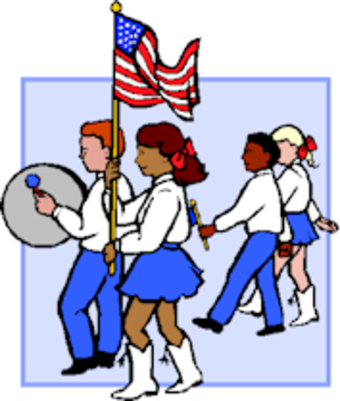 American sport acts as a healthy yet zesty outlet for our aggression. So in the Olympics, in soccer's World Cup and in golf's Ryder Cup, patriots get to root for Our surrogates to crush Their surrogates. At baseball games, we play our national anthem to show our teams' readiness to form one big athletic army -- its hats mostly red or blue, its uniforms nearly all white, its leagues National and American. We regularly wheel our actual war veterans into sporting events to show the public what it's really all about.
Too bad the U! S! A! is such a diverse nation, because it's hard to unite Us against Them when We so often look and think like Them. In an effort to homogenize the conscript pool, the City of Los Angeles has provided wonderful free multicultural mixers such as the Friday summer concerts at California Plaza, the Barnsdall Park art classes and the Pride Parade. And look: no riots lately!
The Fourth of July fireworks display at the Coliseum, however, made for a special case. Presented by Councilman Curren D. Price Jr., Supervisor Mark Ridley-Thomas, State Senator Holly Mitchell and Assemblyman Reggie Jones-Sawyer, the event mixed things up the way a melting pot oughta be mixed. It was a patriotic event at a sports facility. It played out in a poor, nonwhite neighborhood a pop fly away from a privilege-soaked private institution (USC). Attendees, especially if they took the Metro train as we did, got to experience the compacted sweat and breath of every race, as well as a dense concentration of the homeless, the infirm, the mentally ill, the indigent, the young, the old, the slumming elite, and the greatest challenge, militant bicyclists.
So far, so good. Every American fragment had gathered to celebrate our country's birthday (4%) or to go ooh at colorful explosions (96%).
Then somebody had to defile the thing with music. Whether it blared from a weak P.A. or somebody's powerful boombox, the playlist made such a pathetic attempt at diversity that it could not help but inspire hatred. We endured obvious stuff like "The Stars and Stripes Forever" and "The Caissons Go Rolling Along." But we also had to accept a conglomeration of soul, hip-hop, peppy modern pop and flag-waving neocountry pap. It hurt.
The cornball sound collage clashed hard enough, but why did it also have to compete with the fireworks? Although the aerial whoosh-bang tore through the music like shrapnel, the songs, like zombies, continued to march feebly forward as if trying to gnaw the brains of war. Didn't the music master know that bringing us together with a dose of fake combat was half the point? Far from reinforcing our coalescence, the tunes crippled it.
Only one hero has wrought a complex wholeness out of music, freedom, patriotism and war, and that was an ex-Army paratrooper named Jimi Hendrix. Hendrix made a transcendent generational protest out of "The Star-Spangled Banner"; the playlist guy just made a mess.
If the DJ had shown his face, though, he might have achieved accidental union another way: We all would have risen up as one to launch him over a goalpost.