Fri.-Sat. July 24-25 -- The 1990s fuse with the 1880s when notable heavy rockers Derek Sherinian (keys), Doug Aldrich (guitar), Tony Franklin (bass), Brent Woods (guitar) and Brandon Fields (sax) whip up the music for Alex Semenov's theatrical concept "Heart of Storm," while honest-ter-gawd Russian ballet dancers illustrate the story. Timely email responders get in free, with the opportunity to attend a meet & greet afterparty for a $100 donation to an autism charity. Creative thinking all around. At the Orpheum Theater, 842 S. Broadway, downtown 90014; 8pm; tickets here.
Fri.-Sat. July 24-25 -- Rich-toned blues-rock guitar star Joe Bonamassa throws a Rock Candy Funk Party with drummer Tal Bergman, bassist Mike Merritt, guitarist Ron DeJeus, keyboardist Fred Kron and percussionist Daniel Sadownnick. At the Baked Potato, 3787 Cahuenga Blvd. West, Studio City 91604; 9:30 & 11:30pm; $40 (sold out but limited SRO available at door); (818) 980-1615; www.thebakedpotato.com.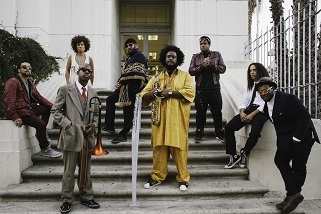 Sat. July 25 -- Saxist Kamasi Washington and two separate bands tune in to the L.A. rebellions of 1965 and 1992 in a conceptual program touching on Ornette, Mingus, 2Pac, Cypress Hill and more. Read my review of Washington's fantastic new "The Epic" here. At Grand Performances in California Plaza, 350 S. Grand Ave., downtown 90071; 8pm; FREE; www.grandperformances.org.
Sat. July 25 -- The stalwart Los Angeles Jazz Society hosts a fundraiser featuring Bill Cunliffe, Denise Donatelli, Jonathan Richards, Jake Reed, Spencer Lemann, John Miller, Jamael Dana Dean and Danny Janklow. Wine, food, all that, at a luxurious local estate. 4-8pm; $75/$100; details at www.lajazz.org.
Sat. July 25 -- Urban folkjazzers Garretson & Gorodetsky, abetted by windman Vince Meghrouni, mingle conflictedly with the adjacent riverside fauna in a pleasant patio atmosphere. With Violet Nova, Blues for Buddha. At the Frog Spot, 2825 Benedict St., L.A. 90039 (east of the 2/5 junction, near the river); 5-8pm; snax, beer & wine;
Sat. July 25 -- Turn-o'-the '80s L.A. punk returns with The Weirdos, The Adolescents and hey, is that Channel 3, too? Plus my favorite band name of the week, Bad Cop Bad Cop (younger melodic femme punk). At the Roxy, 9009 Sunset Blvd., West Hollywood; 8pm; $22; all ages; (310) 278-9457; www.theroxy.com.
Sat.-Sun. July 25-26 -- As usual, this year's Central Avenue Jazz Fest has a swell trad/Latin lineup including Henry Franklin, the late Gerald Wilson's Orchestra and Poncho Sanchez (Sat.); and Barbara Morrison, John Beasley Monk'estra and Kenny Burrell Big Band (Sun.). Food, crafts, sun. On the asphalt along Central Avenue from Vernon Ave. to MLK Blvd., L.A. 90011; 11:30am-6pm; www.centralavejazz.org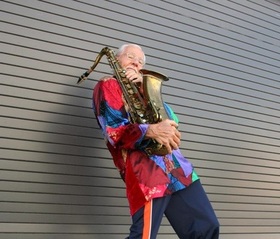 Sun. July 26 -- The Grand Mothers of Invention reinvent some early Zappa material via '60s members Don Preston and Bunk Gardner (pictured), plus sympathetic conscripts Christopher Garcia, Eric Klerks and Max Kutner. At Catalina Bar & Grill, 6725 Sunset Blvd., Hollywood 90028; 7:30pm; $20; (323) 466-2210; www.catalinajazzclub.com.
Tues.-Thurs. July 28-30 -- It's about time there was a film like "The Damned: Don't You Wish We Were Dead," documenting the career of the first Brit punk band to invade the States. (Yep, I saw 'em at the Starwood in '77.) It's being screened at the Laemmle NoHo 7 on Tuesday, Westwood's Laemmle Royal on Wednesday and Pasadena's Laemmle Playhouse on Thursday, all at 7:30 I think.
Wed. July 29 -- Its imminent demise long anticipated, the Strip HoB hosts its final metal concert with ever-changing '80s New York thrashers Anthrax. At House of Blues, 8430 Sunset Blvd., West Hollywood 90069; 7:30pm; $39.50; (323) 848-5100; www.livenation.com.
Wed. July 29 -- Of the late-'70s Jamaican dub crew, King Jammy continues strong, tonight riding a new DVD/CD retrospective box. With '80s dancehall DJ Flourgon. At the EchoPlex, 1154 Glendale Blvd., Echo Park 90026; d oors 9pm; $15; 21+; www.attheecho.com.
Thurs. July 30 -- Straight outa Mali, n'goni ba master Bassekou Kouyate and lilting singer Amy Sacko hit ya with the danceable jump pluck; I learned about them from their many collaborations with Leni Stern, and they do rock it. At the Skirball Cultural Center, 2701 N. Sepulveda Blvd., LA 90049; 7pm set by KCRW DJ Tom Schnabel, concert 8pm; $20; www.skirball.org.



* * *
Read Don Heckman's jazz picks here. Read John Payne's plutonic Bluefat.com here.