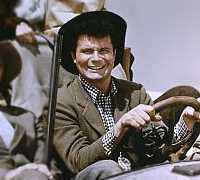 Fri. Aug. 21 -- With a hotrodded electric steel guitar in his lap instead of a seat belt, Paul Lacques recklessly drives the instrumental muscle machine known as Double Naught Spy Car. Two sets! In the bar of Taix Restaurant, 1911 Sunset Blvd., Silver Lake 90026; 10:30 & 11:30pm; free; www.taixfrench.com.
Fri.-Sat. Aug. 21-22 -- Michael Landau gets big, bad guitar sounds and shapes them like a sculptor. With bassist Reggie Hamilton and drummer Gary Novak, plus keyboardist Larry Goldings on Friday and other guests on Saturday. At the Baked Potato, 3787 Cahuenga Blvd. West, Studio City 91604; 9:30 & 11:30pm; $25; (818) 980-1615; www.thebakedpotato.com.
Sat. Aug. 22 -- Forget his pop credits, drummer Terry Bozzio is one smart, inventive fusionist, apparently doing his one-man avalanche tonight. At Catalina Bar & Grill, 6725 Sunset Blvd., Hollywood 90028; 8:30 & 10:30pm; $30; (323) 466-2210; www.catalinajazzclub.com.
Sat. Aug. 22 -- Trumpeter Elliott Caine's ensemble plays '50s-influenced jazz; you relax in a real throwback steakhouse. At Colombo's Restaurant, 1833 Colorado Blvd., Eagle Rock 90041; 9:30pm-midnight; no cover; (323) 254-9138.
Sat. Aug. 22 -- After his busy days as a session pianist in the legendary L.A. Wrecking Crew, Leon Russell proceeded to influence Eric Clapton, George Harrison and half the rock world in the early '70s with his gospelized R&B; his 1970 album, "Leon Russell," ranks among the very best of that era, and I still play it more than my Cream and Beatles records. McKail Seely and Jordan Booth open at 7pm. At the Canyon Club, 28912 Roadside Drive, Agoura Hills 91301; 9pm; $38-$58; (818) 879-5016; www.canyonclub.net.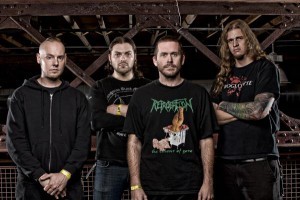 Mon. Aug. 24 -- Swedish melodic croakers Arch Enemy continue credibly thanks to ex-vocalist Angela Gossow handpicking her replacement, Alissa White-Gluz of the Agonist. Excellent bill featuring Born of Osiris, Veil of Maya, Beyond Creation and the twisting prog-metal of The Acacia Strain. But I'm most excited by the always topnotch vegan deathmen Cattle Decapitation (pictured), oudoing themselves with the new "Anthropocene Extinction," whose surging, flowing, ever-changing assault benefits greatly from the organic yet dynamic soundscaping of one of my favorite producers, Dave Otero (Cephalic Carnage). At the Regent Theater, 448 S. Main St., downtown 90013; 2:30pm; $28-$47; 18+; www.ticketfly.com.
Thurs. Aug. 27 -- Pianist Josh Nelson, who seems able to please most anybody's taste, gathers a quartet with vibesman Tyler Blanton, bassist Dan Lutz and drummer Joe LaBarbera. At the Blue Whale on the third level of Weller Court Plaza, south of East First Street between South Los Angeles Street and South San Pedro Street, Little Tokyo 90012; 9pm-midnight; $15; 21+; parking $5 underneath off Second Street at the sign of the P in a circle; (213) 620-0908; www.bluewhalemusic.com.
* * *
Read Don Heckman's jazz picks here. Read John Payne's plutonic Bluefat.com here.