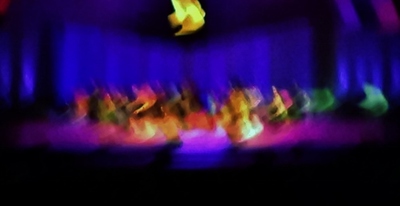 I gotta stop pretending that rhythmic sophistication is good or useful. Especially in a big outdoor concert.
In my own defense, it seemed natural to make an exception for reggae and jazz, which were invented with lewd shades of beatmanship in mind. But a nanosecond's worth of reflection would have suggested what three hours of observation confirmed: Mass audiences give less than a single colonic discharge what the music's called, they just wanna dance to it, and the simpler it is, the more their asses locomote.
Long ago the people spake, and they did declare that in mass situations, they preferred Kiss to the Stones, the Trammps to Aretha, and Harry to Duke. And now, they prefer Inner Circle to Bob Marley.
Ain't nothing new (or bad) in accommodating a reggae crowd that consists of grandpas, teens and tourists. I was kinda bored 500 years ago when I saw videos of Peter Tosh playing fests in the early '80s with a gang of 20 mechanistic backup musicians, but what did I think, that the former Wailer didn't know his biz? He made it big and simple, and the fokes were down wid it.
Similarly, the Skatalites' roots stretch back to the '60s, but the members who debuted the Jamaican jerk are nearly all deceased. No surprise that the current outfit's take on "The Guns of Navarone" and "My Boy Lollipop" seemed slick and busy; still, vet singer Doreen Shaffer glowed with charm, and as openers they got our blood pumping with full energy. Although drummer Trevor "Sparrow" Thompson is a pretty recent substitution, the O.G. Jamaican rootsman's solo showed he can lay down the vintage hipcheck with plenty truth -- great lazy cymbal work.
Second up, Inner Circle (also a crew with a long and uneven history) are most wanted for the righteously funky crossover blockbuster "Bad Boys," the theme from "Cops." Burly front man Errol Bonnick strode the stage like a star, and founding member Roger Lewis' fuzzy Ernie Isley guitar delivered a psychedelic kick. Mostly, though, this Circle was a cover band drawing from the Jah Klasix, boiling down the reggae hits into a curious reduction of four-on-the-floor disco. A couple of times they tossed in five seconds' worth of rapid beat-flexing counterpoint -- just to show, y'know, that they could. The Bowl danced.
The incredibly diverse crowd skanked less for the Bob Marley catalog presented by sons Ziggy and Stephen "Ragga" Marley. Partly this was cuz the occasion encouraged more of a sing-along vibe. And partly it came down to the Marleys' insistence on locking in to what creaky old bastuds like me think of as "authentic" roots-reggae riddims, which are more subtle and less metronomic than the legions demand. No clearer distinction could be drawn than in the moment when charismatic Ziggy and earthy Stephen began their tribute set as a duo with the aching "Redemption Song": Ziggy's gently pushing guitar chords and Stephen's lagging hand drum told us everything we needed to know about the organic musical metaphor of roots, resistance and revolution. Although more was less when the brothers' large ensemble swelled up behind them, the group interplay retained some of the Jamaican yard essence: sophisticated rhythm is a consensus, not a dictatorship. And easy-singing Ziggy is also a damned fluid, tasteful plucker. "Buffalo Soldier," "Stir It Up," "One Love," "Jammin'," "No Woman No Cry," "Exodus" -- well, they were not about to mess up that banquet.
So the whole thing was fun, if harmless, and we were not there for harm. More than the usual number of attendees, however, were inevitably present to suck weed, and a job as a security person at a nominally smokeless outdoor reggae fest has gotta be one of the most conflicted you can imagine. How they handled it in our section: Late in the evening, four securitoids descended on a pair of small, quiet white women, escorting them out without their baskets and blankets and sweeping the floor with a broom and dustpan behind them, while completely ignoring the 300-pound bwai in the aisle seat next to them who had been the very first patron of the evening to light up. That's what I call safety first.
* * *
PHOTOS BY FUZZY BUGG.