Sat. Sept. 19 -- Dublab and the Music Center present "Sleepless," a late-night slumber party featuring electronic music, other performances, dancing and chilling of many varieties; well, I just gotta let them describe it. Tonight's RSVPs are used up; standbys only at this point if you want to wait in line; now would be a good time to reserve your spot at Part 2 of this event, Sat. Oct. 10, but if you can figure out how to do that here, you're smarter than me. At Dorothy Chandler Pavilion, downtown, 11:30pm-3am; FREE; all ages.
Sun. Sept. 20 -- After a few years off, early-2000s SoCal metalcore magnets Atreyu are back together with a new album, playing with one of the best compatible bands from that era and this, semimelodic hyperchargers Unearth, plus Wovenwar. Just to add to the general frustration, I've decided to concentrate on sold-out shows this week. At the Troubadour, 9081 Santa Monica Blvd., West Hollywood 90069; doors 7pm; $27 (sold out); www.troubadour.com.
Sun. Sept. 20 -- Enjoy an evening of noise, experimentation and multisexuality with Throbbing Gristle founder Genesis P. Orridge and Psychic TV, plus High-Functioning Flesh, Cairo Pythian Trans FX. At Complex, 806 E. Colorado St., Glendale 91205; doors 8pm; $22; 21+; full bar; www.complexla.com; (323) 642-7519.
Sun. Sept. 20 -- Elliott Caine returns to this big ol' rejuvenated gastropub with his trumpet and his in-the-pocket jazz. At the York Bar and Restaurant, 5018 York Blvd., Highland Park 90042; 7:30-10pm; no cover; (323) 255-9675.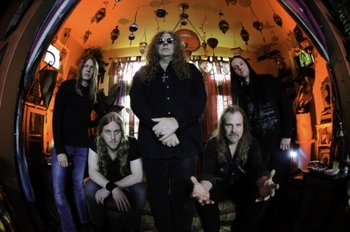 Tues. Sept. 22 -- Big-ass doom bill: The Skull (mighty Trouble spinoff), plus Sasquatch, Yidhra. At the Satellite, 1717 Silver Lake Blvd., Silver Lake 90026; 9pm; $15; 21+; (323) 661-4380; www.thesatellitela.com.
Just cuz the autumn leaves are drifting by your window doesn't mean you can sleep on the ever-adventurous Angel City Jazz Festival, this year featuring the likes of Miguel Atwood-Ferguson (9/25), Liza Mezzacappa/Mark Dresser (9/26), Empty Cage (10/1), Yosvany Terrry (10/2), Ambrose Akinmusire/Motoko Honda (10/3), Jon Armstrong (10/9), John Beasley (10/10) and Alex Cline (10/11). Grab details and tix here.
* * *
Read Don Heckman's jazz picks here. Read John Payne's plutonic Bluefat.com here.