Fri. Oct. 30 -- Not every industrial metal band from the '90s had a guitarist who could both shred and churn, but with Dino Cazaras, Fear Factory was equipped; Cazares and original voxman Burton C. Bell remain to tag-team yer ass. With Darksun, Caustic Method, Note to Self, Encryptions in Black. At the Whisky, 8901 Sunset Blvd., West Hollywood 90069; doors 7pm; $25; www.whiskyagogo.com; (310) 652-4202.
Fri. Oct. 30 -- Garretson & Gorodetsky (10pm) know so much cabaret, jazz, rockabye and whatever that it's all mixed up in their singin' & songwritin' heads, like a cocktail they invented themselves. With Dream Apes (11pm). In the bar of Taix Restaurant, 1911 Sunset Blvd., Silver Lake 90026; 10pm; free; www.taixfrench.com.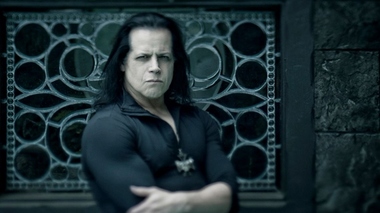 Sat. Oct. 31 -- Ghouls who've been thirsting to hear Danzig sing the Everly Brothers, Elvis and the Troggs (as well as more obvious stuff like Sabbath) get slaked when Glenn exposes his "Skeletons" cover album Nov. 27; the king of metal croon will be previewing that tonight, along with his own quintessentially Halloweeny back catalog -- I'm requesting "How the Gods Kill" and "Kiss the Skull." This Blackest of the Black Tour event also features guitarist-singer Tommy Victor's rad & raspy Prong (guess he'll be doing double duty in Danzig), former Pantera croaker Phil Anselmo's Superjoint, plus deathcore howlers Veil of Maya and femme-fronted retro doomsters Witch Mountain. At L.A. Live's Microsoft Theater (formerly Nokia Theater), 777 Chick Hearn Court, downtown 90015; doors 6pm; $30-$55; www.microsofttheater.com.
Sat. Oct. 31 -- John Daversa Big Band 'weens it up with the modern-plus trumpeter-composer's 18 warlocks. At the Baked Potato, 3787 Cahuenga Blvd. West, Studio City 91604; 9:30 & 11:30pm; $25; (818) 980-1615; www.thebakedpotato.com.
Sun. Nov. 1 -- Guitarist John Schott, whom I recall fondly from his klezmer tweaking with Ben Goldberg, leads a virtuosic improv trio with bassist Dan Seamans and drummer John Hanes. Opening is Throttle & Drift, a typically spontaneous handle for the well-marinated duo of electric bassist Steuart Liebig, slide guitarist Scott Ray and their mysterious stomp boxes. Prepare your mind by downloading Unique Cheerful Events, a brain-fuzzing 1996 artifact of Liebig's electronic tornado quartet with G.E. Stinson, Kaoru and Joe Berardi (sample title, "Paper Sex Smell"), here.. At Center for the Arts, 2225 Colorado Blvd., Eagle Rock 90041; 7pm; $10; (626) 795-4989.
Sun. Nov. 1 -- Guess I thought Danava had hung it up, but I really dug the Portlanders' psychedelic prog nine years ago, as you can read here. Some personnel changes since then, but leader Gregory Meleney (a.k.a. Dusty Sparkles) remains. Virginia stoners Windhand close; Monolord opens. At the Roxy, 9009 Sunset Blvd., West Hollywood; 8pm; $15; (310) 278-9457; www.theroxy.com.
Mon. Nov. 2 -- Busy John Daversa fronts his "powerhouse" small band with windman Katisse Buckingham, bassist Jerry Watts, drummer Gene Coye and guitarist Zane Carney, in concert and in clinic; bring your ailments. At the Garage at Los Angeles College of Music, 300 S. Fair Oaks Ave., Pasadena 91105; 8pm; FREE with RSVP here.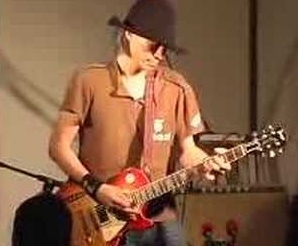 Tues. Nov. 3 -- Experienced electrono-freakers jam it together: guitarist Tetuzi Akiyama, mixologist Toshimaru Nakamura, saxist Bryan Eubanks and drummer Jason Kahn. At REDCAT, 631 W. Second St., downtown 90012; 8:30pm; $20 (students $16); www.redcat.org.
Tues. Nov. 3 -- Dave Davies wrote, co-wrote and sang some of the best (and weirdest) Kinks songs, like "Mindless Child of Motherhood," "Strangers" and "Death of a Clown." Not to mention all those neat guitar parts. He's got several solo albums and a quite entertaining autobiography, too. At the Roxy, 9009 Sunset Blvd., West Hollywood; 8pm; $33; (310) 278-9457; www.theroxy.com.
Thurs. Nov. 5 -- Veteran Japanese hard rockers Dir En Grey bring the theatrics, the atmospherics and damn good songwriting. At the Mayan Theater, 1038 S. Hill St., downtown 90015; 9pm; $30; www.ticketmaster.com.
Thurs. Nov. 5 -- Guitarist John 5 (Marilyn Manson, Rob Zombie) has mindblowing technique from bluegrass to metal, but more important, he plays (but doesn't sing) SONGS. Former Misfits muscle monster Doyle supports via his ultraviolent rock primitivism. With Scurvy Kids, Powertribe. At the Whisky, 8901 Sunset Blvd., West Hollywood 90069; doors 7pm; $25; www.whiskyagogo.com; (310) 652-4202.
Thurs. Nov. 5 -- Metallic/atmospheric instrumentalists Zinngeschrei (9pm) roll out the intelligent armor; Japanese modern rockabillies Inazuma (10pm) shred the roots. At Café NELA, 1906 Cypress Ave., Glassell Park 90065; doors 8:30pm; $5; beer only; 21+; www.cafenela.net.
Thurs.-Fri. Nov. 5-6 -- It's still close enough to Halloween to enhance the makeup, shrieking and dark message of satanic Danish metal voxregent King Diamond, who'll be performing his whole 1987 classic, "Abigail." At the Wiltern, 3790 Wilshire Blvd., LA 90010; 8pm; $29-$62; (213) 388-1400; www.livenation.com.

* * *
Read Don Heckman's jazz picks here. Read John Payne's plutonic Bluefat.com here.