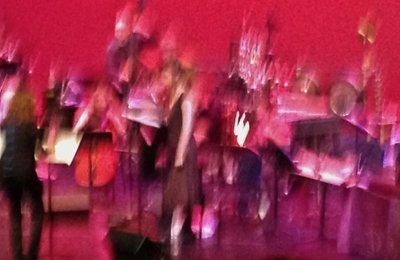 Everything is one. Beyond the musical conventions of meter and melody, how do you communicate that feeling most deeply?
As a Buddhist, drummer-bandleader Alex Cline had a special stake in the matter. He had chosen to honor Thich Nhat Hanh on the occasion of the stroke-afflicted Vietnamese Zen master's 90th birthday, expanding on and contracting from sacred sutras and Hanh's related poetry via a 13-member ensemble. It had to be something more than music.
Much of the unity converged in Cline's own brain. Most of the musicians, including Alex's twin brother, Nels, had performed with him regularly for decades. Intuitive common ground pre-established.
Then there was the unity of execution. Each of the two sets began with Cline ringing a bowl bell, its waves of resonance purifying the air for the ensuing solemnity. We heard renunciation of ego: ensemble drones; a stringed instrument easily mistaken for a human voice; electronic effects of different instruments blurring borders. We also heard plenty of sympathetic solos: guitarist Nels' rippling Jerry Garcia runs and stomp-box effusions; Maggie Parkins stroking complex low overtones from her cello; Will Salmon launching a spirited flute flight. Mini-multiplicities -- duos, quartets -- manifested, then the instruments were repeatedly subsumed into the shimmering "Oceans of Vows" as the backdrop screen slowly cycled from sky blue to crimson and back between the bam-stops that ended the music's segments. The overall composition and the players' interactions succeeded in the difficult endeavor of folding musicians and audience into a shared prayer.
Considering everyone's abstractionist bent, Asian-inflected melody played a substantial part, with songlike moments often surfacing to great emotional effect. I've admired Areni Agababian with Tigran Hamasyan's group, and the austere way she sang the Zen poetry ("Let the song be continued on the lips of the child"), with a voice containing an infinity of fine-grained sand, was perfectly appropriate. Maybe there could have been fewer words, but their declaratory vividness rarely clashed.
In retrospect, Alex Cline's achievement -- the variety of rhythms, from intense to processional, combining with structure, strong individual voices and the sense of commonality -- becomes even more memorable. Even the cool, modern environs of the clean-sounding concert hall, with its simple, slightly bent design like a detail from a Picasso townscape, seemed like a proper meeting ground for all these people and prayers, a present place haunted by peaceful spirits of past and future.
* * *
The musicians:
Areni Agbabian (voice)
Nels Cline, G.E. Stinson (guitars)
Jeff Gauthier, Miguel Atwood-Ferguson, Maggie Parkins (strings)
Will Salmon (flutes)
Wayne Peet, Yuka C. Honda (keyboards, electronics)
Scott Walton (upright bass)
Brad Dutz (hand drums, vibraphone, percussion)
Chi Li (Asian strings etc.)
Alex Cline (drums, percussion)
Vicki Ray (conductor)
* * *
PHOTOS BY FUZZY BARDO.