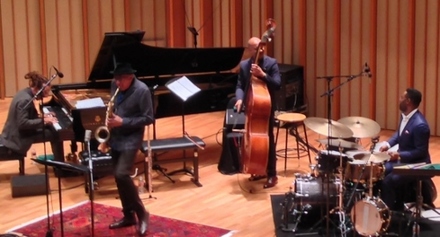 The great wind player Charles Lloyd always has chemistry with his bandmates. Does that mean he chooses players because of a vibe he gets from them? Or is Lloyd's own presence the catalyst for the desired chemical reaction? Probably both, but a musician must possess the right refinement to start with.
Take the ultrasensitive pianists who've collaborated with Lloyd over the last couple of decades: Brad Mehldau, Geri Allen, Jason Moran and now Gerald Clayton. Like, damn.
Although 31-year-old Clayton played on this year's moody, stirring Lloyd live album, "Wild Man Dance" (recorded in 2013), I had not seen him in the Lloyd Quartet before. He has performed many times with his father (bassist John Clayton), as well as with trumpeter Roy Hargrove, drummer Kendrick Scott (also onstage with Lloyd tonight) and trumpeter Ambrose Akinmusire, and the Lloyd collaboration gave him a chance to use everything he's got.
Which he did. With an abstract tangle of braids stuck at the back of his head, Clayton moved through many modes -- Tynerish openness, telegraphic bursts, Ray Charles earth, cinematic lyricism, crosshanded agitation. He sounded most original when he filled in the spaces left by the absence of the two Greek string players who contributed to "Wild Man," his magic fingers coaxing often chromatically adjacent notes into a somehow unclashing interaction of Greek, Spanish and blues flavors, and even reaching under the Steinway's lid to pluck a sitarlike effect. This was world music that truly blurred borders, and in search of the right balance, the thin, hermetic Clayton seemed to withdraw into a dimension shared only by his bandmates. At set's end, standing with glazed eyes beside Lloyd, he looked like a man who had gone to the mountain.
As the only remaining member of Lloyd's previous Quartet, bassist Reuben Rogers elevated his centering role to another level. He did it not by thumping predictable rhythms or patterns -- he was just as inventive in ensemble as during his several solos -- but through the natural goodwill of his presence. In contrast to Clayton's inwardness, he lit up his shaved head with a smile of enjoyment; his ease made him the music's lungs (and breath holds special value for a seasoned meditator like Lloyd). Yet Rogers' legato bowed solo, full of oppressed dignity, could also express a kind of sorrowful Exodus.
The drums of Kendrick Scott (who replaces another Houstonian, Eric Harland) reinforced the impression of a band that has played together for years, though in fact the Quartet's lineup has been somewhat modular of late. He jabbed his toms and scraped his cymbals with avantish spontaneity while never undercutting the group momentum, and he wasn't too shy to throw down with a couple of bashing solo spotlights that brought the wild man to the dance.
Indeed, though Lloyd intended the "Wild Man Dance" suite (which he presented whole tonight) as a tribute to the Howling Wolfs who shaped his youth, it has more incense than whisky in it. The calm, of course, suits Lloyd's saxophonic delicacy and Coltrane-informed spirituality, and if his tenor tone seemed a bit harder-edged than usual, wife Dorothy Darr explains that he wanted to get a natural sound without monitors and therefore blew harder than usual so he could hear himself.
The extra push added more grit to Lloyd's simpler, bluesier riffs, and lent definition to his improvisations, which in recent decades have often leaned toward a whispery intimacy -- it was fascinating to get another perspective, and nothing was lost. Whether engaging in "Impressions"-like call & response or thoughtful plaints, he showed focused economy, saying as much as he wanted to and then stepping away from the microphone to leave space for the band. His soft boots glided to this and that part of the stage, where he listened carefully and at one point hovered right over Clayton's shoulder in a way that would surely have made the pianist uncomfortable if the gesture weren't so loving. When Lloyd put down his sax to shake maracas in both hands above his porkpie hat, he personified the kind of wild man he wanted us to imagine -- half shaman, half ecstatic.
Lloyd applied himself to the rich registers of alto flute for the first time on a Sahara-flavored "Booker's Garden," during an encore that also included bits of angular bop and his always gorgeous take on Duke Ellington's "Come Sunday." Every day feels like Sunday with Charles Lloyd, and tonight the calendar happened to concur.
* * *
PHOTOS BY DEBI DOORZ.