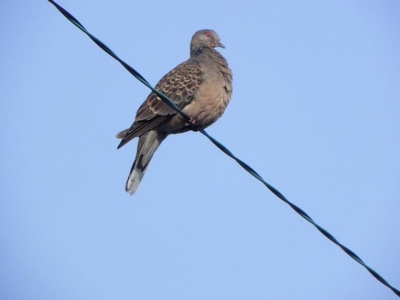 You want to know how a couple of skilled & sensitive Asian musicians feel about their émigré experience? Pianist Motoko Honda (Japan) and string player/singer Vanessa Vo (Vietnam) spent a year and a half figuring it out together, and their abstract answer turned out to be even more complex than you'd think.
Both women emphasized America the Beautiful, which might surprise those Yanks who watch too much TV news. Honda's classically flavored improvisations have always contained a strong lyrical thread, and she made us hear our own mountains' majesty and our occasional openness to a stranger's call, alongside echoes of Japanese melody. Vo, too, used her plaintive voice and sympathetic plucks on her dan tranh (long horizontal harp) to communicate peace and perspective.
Beauty was only half the story, of course. Honda placed glass objects inside her piano to demonstrate how a transparent foreign presence can build both dissonance and richness; when she pounded the keys at times, however, her frustration and anger were far from metaphorical. Vo's clattering on the dan trung (a tree of tuned wooden resonators) reverberated with organized agitation, while the way she stretched her dan bau's single string showed how tension can lead a soul to the breaking point but also push it to exquisite moments of transcendence. The two performers embodied cooperation, one offering subtle support while the other made her statement. And when their most extreme energies united, we knew there was no denying them.
It was unprecedented music, as striking as the duo's gold-accented black gowns.
In my previous exposure to Jen Shyu, she leaned toward the dance side of her skills in duo with bassist Mark Dresser, so her more vocal-oriented closing performance tonight, in her distinguished Jade Tongue trio with trumpeter Ambrose Akinmusire and violist Mat Maneri, opened a whole different door.
Performing literally outside the box -- a suspended, glowing cloth cube occupied a patch of darkened stage space -- the crimson-scarfed Shyu spent most of her set seated on the floor, singing dreamily and stroking simple chords on her Taiwanese moon lute. A quizzical Maneri flanked her with clean arpeggiations and pizzicato punctuations on one side, while a serious Akinmusire maintained intelligent low-key commentary on the other.
With cool reserve, Shyu sang of a broken romance -- I think so anyway, though the English portions of her story were few and oblique ("There was light," "Tired father curses us"). The music flowed like a stream through a garden, but didn't twist enough to keep us focused. Or at least those of us who watch too much news.



DUO PHOTO BY MISUZU KITAZUMI-BURNS


Motoko Honda comments: "The dresses were a coincidence! We were too busy to discuss it, but before the performance we looked at each other's gowns, then -- 'Wow, we match!!' This collaboration presented lots of challenges, especially balancing both of our strong personalities and musical tendencies, and respecting instruments while speaking with our own voices. Vietnamese instruments are so delicate compared to the mechanical modern piano, which was also a challenge to balance both in sound and musical contexts. We come from different backgrounds, too, and we are Asian but from different cultures. During one rehearsal, I played 'rain' in my Japanese way, then Vanessa said, 'No, no, rain is like this . . ." and showed me her Vietnamese rain, which was like a storm hitting the banana leaves and cheap metal roof of common homes. I was very happy that most people told me we hit that delicate balance while creating new sounds together, instead of just adding one personality on top of another."