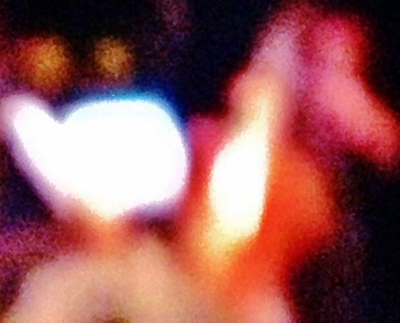 Four years ago, Lisa Mezzacappa got grabbed by a big concept: The Bay Area bassist-composer wanted to write epic music inspired by the last 150 years' female explorers/adventurers, employing 14 musicians and four filmmakers. Now we got to experience the realization, and it was impressive all right.
Mezzacappa didn't omit many musical options. The music rolled, roiled, staggered, even swung, with the phenomenal voice of Fay Victor delivering lyrics and sounds with an unusual combination of soul and abstraction. Soloists poked through the storm: windman Vinny Golia's flowing challenges, pianist Myra Melford's feints and jabs, keyboardist Tim Perkis' complementary carvings. We eavesdropped on an instrumental conversation between Mezzacappa and Mark Dresser, the two bassists' bows tapping the strings in resonant Morse code.
The music amplified the somewhat literal images of the films, where ships sailed, natives displayed their non-Europeanness, naturescapes unfolded and paper-doll humans scampered across eye-boggling terrain. It all cooperated well, each segment drawing us in with its own story and language.
The 80-some minutes ran way too long for an opening slot, though, leaving us little energy to absorb the challenging individuality of Mark Dresser's own quintet. Hardy vultures that we are, we took a good peck at it.
Dresser carried over a couple of Ravagers, giving us another chance to appreciate the energetic coherence of Michael Dessen's trombone and the fierce lightness of Nicole Mitchell's flute -- who else can nail the essence of the blues on a piccolo? Joshua White flopped over the piano keys, amazing us with his meaty touch and chromatic magic; he plays with lots of groups and ought to be known about a thousand times more widely, cuz he's an effin genius.
It's also taken the world too long to catch up to Dresser himself, whose low thunder, orchestrations of harmonic pings and defiance of convention rivet and twist the ears. His "Hobby Lobby Horse" parodied its subject's inconsistency and duplicity; his "Parallels" wafted into delicate regions of harmonic color; his "Digestivo" was a shot of hallucinatory mariachi mezcal like you've never gulped. Subtle drummer Kjell Nordeson was right in there like half of Dresser's brain.
Oh, and Dresser's rhythms. I talked afterward to Steuart Liebig, a bassist who can do practically anything. He said he might be able to figure out how Dresser pulled off his prestidigitations, and he might even be able to play some of them, but what really mystified him was the way Dresser led his band through tortuous accelerations and slowdowns, and how he locked the group into almost mystical time signatures. Even one Mark Dresser tune is an education.
I went home, collapsed and dreamed I was an ant.
PHOTOS BY FUZZY BLURK.