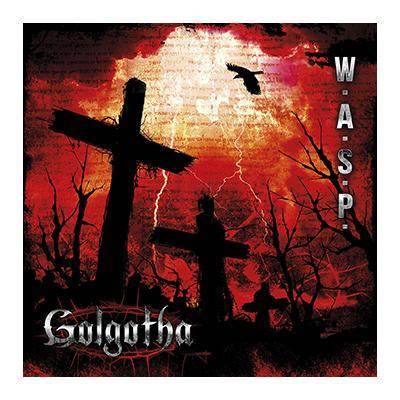 Blackie Lawless has one claim over Bob Dylan: When Blackie got born again, his music did not go to hell.
On "Golgotha," WASP's first deposit in five years, Lawless testifies to what fans have long suspected: The Beast has defected to the Light Side. Onstage a decade ago, between screams about fire and lust, he was already semidiscreetly crossing himself like a Capuchin. He had stopped playing "Animal: I F*ck Like a Beast." He had stopped simulating the rape of pregnant nuns.
Oh, you're saying, Blackie was no fun anymore. Not so; he had just boiled everything down to his music, which over the course of 15 studio albums has never sunk below his Olympian standards. It has always rocked with demonic fury. It has always forged the hooks. It has always pumped the passion.
Now it pumps another kind of Passion, again and again. Blackie wails about fearing redemption -- FEARING it, the way even the worst rut dweller fears change. He insists he wants to walk on water like the Savior instead of sinking into the sea of his own pain and self-doubt. He even prays it straight: "Jesus, I need you now."
Amidst all the self-abnegation, we still hear the pride of a survivor. The most self-serving moment arrives with "Eyes of My Maker," where the career darkman not only bleeds sympathy for the devil but even identifies with the Fallen One, begging to be admitted within the pearly gates and wondering if he was guiltlessly chosen for his role -- Blackie's not the first to imagine he was born bad. But judging by certain other references to "the head that wears the crown," the "lying king" and the rottenness of the plantation's cotton, Blackie joins a dubious evangelical legion in identifying the real Antichrist as a particular national leader somewhat darker than himself.
"Golgotha" blasts basic personal emotion, too. Intended more than two decades ago as a fictional sibling's lament for a fallen brother on "The Crimson Idol," the long ballad "Miss You" finally finds a home here after the 2012 death of Blackie's own brother, and Lawless sings his soul out, allowing guitarist Doug Blair an extended elegiac coda unlike anything else in the WASP catalog. Blackie also permits himself an unusual moment of romantic loss (as opposed to his history of romantic hatred) on the opening "Scream," slipping in a deft biblical reference to himself as one of the "idols of stone" who, unlike the one true God, never respond to screams or pleas.
Mainly, though, "Golgotha" just rocks. No band does "Quadrophenia"-era Who like WASP, which has sometimes even improved on that model, especially when, as on 1992's big-concept "The Crimson Idol," Frankie Banali has been around to hammer out a more focused version of Keith Moon. Nine-year drummer Mike Dupke carries the same Moon torch, and your shoulders will spaz along as he slams through "Shotgun" and "Slaves of the New World Order." Though a brilliant axman and a longtime ally, Doug Blair never sounds insane, so at times the brutal mayhem of Chris Holmes is missed. Inventive and subliminally solid bassist/backup singer Mike Duda, on the other hand, has become so essential to the WASP experience over the last 20 years that it's hard to imagine the band without him.
You could call WASP formulaic, but what a formula! Blackie has always struck the chords that best suit his sandpaper operatics, and he tools his product like a perfectionist. If that means lack of novelty (the touches of churchy Hammond organ have become a welcome part of the formula), it also means incredible consistency. Blackie knows who he is. He will never make a "Blonde on Blonde" or an "Exile on Main Street," but he can outdo Kiss' "Destroyer" anytime he wants, because he goes for not just entertainment, but myth.
The only real change with "Golgotha" is the Jesus thing, which had to be a very individual matter. Like Zakk Wylde, Blackie returned to the faith of his youth in the midst of physical collapse and moral confusion. It's too bad he took down the autobiographical material he posted a couple of years back on waspnation.com, because it explained a lot about his motivation (drive and self-confidence), his relationships with fellow rockers such as Gene Simmons and Nikki Sixx (role model and peer), his renunciation of the occult (it was too destructive for a control freak) and finally his pre-born-again state of mind (desperate and homicidal). This was plainly a man who needed a new spiritual direction, not a new new musical one.
Dylan's rebornness didn't stick, to the point where fundamentalists have taken a 2005 "Sixty Minutes" statement about his deal with "the chief commander of this world and the one we can't see" to mean that he sold his soul to Satan. Given Blackie's legendary singlemindedness, though, his realignment will stick. So the former Steven Duren needs another new name: Let's call him Whitey Lawman.


* * *

For Blackie's own words on the making of "Golgotha," check here. He's a super storyteller.