Sat. Nov. 28 -- The soaring voice of Dwight Trible is the right vehicle for transmitting holiday thanks, this time in tribute to his mentor Oscar Brown Jr., a singer, songwriter and actor of great power. Joining Trible is Oscar's vocalist daughter Maggie Brown, plus Trible's outstanding ensemble featuring windman Charles Owens, bassist Trevor Ware, percussionist Breeze Smith and drummer Paul Legaspion. At Moss Theater in the Herb Alpert Educational Village of New Roads School, 3131 Olympic Blvd., Santa Monica 90404; 8pm; $25; (800) 838-3006 x1.
Sat. Nov. 28 -- Saxist Azar Lawrence maintains the great Trane tradition with tasteful yet adventurous pianist Bill Henderson, palm-tree flexing bassist Jeff Littleton and universal multigenerational drum star Marvin "Smitty" Smith. At Roscoe's Seabird Jazz Lounge, adjacent to Roscoe's Chicken & Waffles, 730 E. Broadway, Long Beach 90802; $15; 9pm-1am; (562-787-0899); www.seabirdjazzloungelbc.com.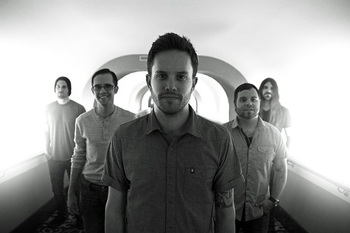 Sun. Nov. 29 -- Heavy densities tell the tale when prog-metal complexitarians Between the Buried and Me (pictured) meet pinging contrapuntal texturalists Intronaut and Norwegian semimelodic chainsaw rockers Enslaved, plus Native Construct. Check here to observe Intronaut's tragic love story of a beautiful girl and a dolphin-headed man. At the Mayan Theater, 1038 S. Hill St., downtown 90015; 7pm; $28; tickets here.
Sun. Nov. 29 -- Be despised and condescended to by Sex Pistols contemptmaster John Lydon and the sprung grooves of Public Image Ltd., which now features Pistols contemporary drummer Bruce Smith (the Pop Group), longtime guitarist Lu Edmonds and well-traveled bassist Scott Firth. I request "The Suit." At the Henry Fonda Music Box Theater, 6122 Hollywood Blvd., Hollywood 90028; 9pm; $35; (323) 464-0808; www.fondatheatre.com.
Mon. Nov. 30 -- Sax conceptualist Steve Coleman begins a three-week residency wherein he plays five or six nights a week. The lineups haven't been announced, but Coleman has broken ground for 30 years beginning with the M-Base Collective (Greg Osby, Cassandra Wilson) and exposing many durable talents such as Vijay Iyer, Andy Milne, Yosvany Terry and Dafnis Prieto, so it's bound to be a fascinating (and rare) run. Wish I could go every night. At the Blue Whale on the third level of Weller Court Plaza, south of East First Street between South Los Angeles Street and South San Pedro Street, Little Tokyo 90012; 9pm-midnight; $20; 21+; parking $5 underneath off Second Street at the sign of the P in a circle; (213) 620-0908; www.bluewhalemusic.com.
* * *
Read Don Heckman's jazz picks here. Read John Payne's plutonic Bluefat.com here.