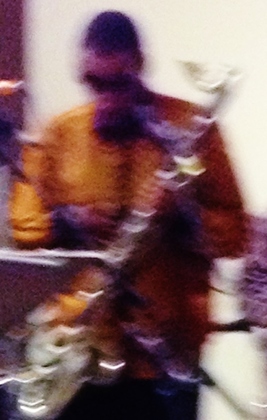 Black history was converging all over the place, and it wasn't even February. In a pre-show talk, Jesse Sharps, deep-voiced conductor of the Gathering, talked about his musical life: meeting Pan Afrikan Peoples Arkestra leader Horace Tapscott in 1966; studying with Art Pepper and Cecil Taylor; teaching in Germany but returning to sleep in Tapscott's garage in 2005 while helping to organize Horace's postmortem archive; using his repatriation to form the Gathering as a kind of Ark continuation project. Down the hall, this community center was exhibiting images from '60s-'70s black revolt. In Missouri, students were protesting racial insensitivity. And a well-educated black presidential candidate was trying to gain cred by bragging on his violent youth.
It would take too long to run down the history of the Gathering's 15 members, more than half of whom actually performed with Tapscott. But several sagas stood out in the music.
Maximalism: Dwight Trible made every vibration of his powersilk voice permeate the stark little auditorium on "Mother" (by frequent Tapscott pianist Nate Morgan, who died two years ago) and the protest standard "Strange Fruit." Since Billie Holiday and Cassandra Wilson have nailed down minimalist interpretations of the latter, Trible felt free to wring the lynch-tree lyrics ("the bulging eyes and the twisted mouth") like a sweat rag. And given the current racial climate, that seemed appropriate.
Incantation: More and more over the years, big Kamau Daáood's rough, forceful voice has become as much a rhythm instrument as a vehicle for his passionate poetry ("How many faceless clocks?"; "Dance with your fists balled up"). Having acted as the late Billy Higgins' primary partner in Leimert Park's invaluable World Stage, Daáood is the community's most recognizable face, and he got a hot response from the mostly mature crowd.
Valuable addition: With a skull cap covering his gray hair, Theo Saunders displayed an ideal of how to play jazz on the free side. His complex chordings laid out a posh rug that could support the whole ensemble; his solos told vivid stories; when another soloist grabbed his attention, he answered with wit and spark. Saunders has played with a boggling list of major names -- locally he's often up there with Azar Lawrence and Henry Franklin -- so the Gathering hookup, as Sharps gratefully acknowledged, is a natural.
Torch passing: Young Nick Rosen picked up the bass when Tapscott stalwart Roberto Miranda put it down to conduct Roberto's own "At Peace With the Monk," a gorgeous bouquet of swaying magnolia melody. Adjacent onstage, the two also paired with brotherly sympathy on cello and standup respectively throughout the event. Sharps credited Rosen with helping put the Gathering together, much as Nick has contributed the re-emergence of jazz masters such as Henry Grimes and Arthur Blythe.
More torch passing: Serious young alto player Mercedes LaRay laid out her considered, unindebted improvisations on Woody Shaw's difficult contrapuntal hesitation swinger "Stepping Stone" with a blunt mahogany tone and an air of quiet confidence, as multiwindman Sharps looked on approvingly.
Still more torch passing: Between sets, the Mimi Melnick Double M Award for Young Jazz Talent was presented to pianist Jamael Dean, the grandson of longtime Tapscott drummer Donald Dean. Then, eyes closed, head nodding, he took the piano bench to demonstrate his independent two-handed skill, firm touch and effortless rhythm. At 17, this well-spoken kid is already astonishing.
And: Maia's uninhibited flute, Fritz Wise's jumpgrooving drums, Amos Delone's polished tenor, Danny Cortez's flag-waving trumpet, Greg Ramsey's sensuous tuba, Phil Ranelin's viby trombone, Fundi Legohn's liquid French horn. Every time I see South L.A.'s jazz musicians, I think two things: 1) What a cornucopia of talent, and 2) Hardly anyone outside of Los Angeles has ever heard most of them. Guess we're just lucky, but fortune should get spread around.
Closer: Derf Reklaw's African congas pounded the earth to introduce "Freedom's Suite," a mass uprising by a certain Horace Tapscott.
When wrong notes are right: They call it "dissonance," something of a slur but a handier term than "nonstandard harmony." When the Gathering slathered dissonances all over the place, nowhere more more aggressively than in Sharps' soprano-sax and bass-clarinet solos, it was a Stravinskyan-Coltranian-Tapscottian political statement as well as a musical one. It said, "We do not feel harmonious." It said, "We will play any note, any time, and we will play it hard." It said, "We include, and it's exciting." Which was much the same as "We shall overcome."
* * *
PHOTOS BY FUZZY BALK.